Cloud 9 Spa Suite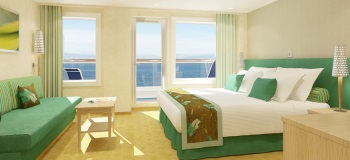 Category SS
These staterooms have private access to the spa and come with exclusive spa amenities - two fitness classes per individual (up to 2 people) and priority in booking spa appointments. Details below. (Stateroom: 275 sq. ft., Balcony: 65 sq. ft.)
Guests in Cloud 9 Spa accommodations have exclusive entry access to the adjacent Cloud 9 Spa and will receive a wide array of special offerings. These perks apply to the first two-adult guests in each Cloud 9 Spa stateroom only: Priority spa appointments for reservations made by 6:00pm on embarkation day, Cruise-long pass to our Thermal Suites, Complimentary scrub kit with 8 luscious body scrubs to choose from to use in our Thermal Suites (one per guest), Complimentary Pathway to Yoga or Pathway to Pilates fitness classes (two per guest), Complimentary Body Composition Analyses (one per guest), Enjoy 10% off your first, 20% off your second and 30% off your third signature spa treatment when booked together or 20%, 30%, 40% when signature spa treatments are scheduled while the ship is in port (three treatments per guest), Spa-branded bathrobes and slippers for use during the cruise, Cloud 9 Spa Carnival products in stateroom: Elemis Carnival Shampoo and Conditioner, Sharp Shower Gel and Vitamin Rich Body Lotion and hand and body Elemis Soap Disk
Cloud 9 Spa Balcony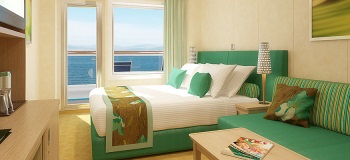 Category 8T
These staterooms have private access to the spa and come with exclusive spa amenities - two fitness classes per individual (up to 2 people) and priority in booking spa appointments. Details below. (Stateroom: 185 sq. ft., Balcony: 35 sq. ft.)
Guests in Cloud 9 Spa accommodations have exclusive entry access to the adjacent Cloud 9 Spa and will receive a wide array of special offerings. These perks apply to the first two-adult guests in each Cloud 9 Spa stateroom only: Priority spa appointments for reservations made by 6:00pm on embarkation day, Cruise-long pass to our Thermal Suites, Complimentary scrub kit with 8 luscious body scrubs to choose from to use in our Thermal Suites (one per guest), Complimentary Pathway to Yoga or Pathway to Pilates fitness classes (two per guest), Complimentary Body Composition Analyses (one per guest), Enjoy 10% off your first, 20% off your second and 30% off your third signature spa treatment when booked together or 20%, 30%, 40% when signature spa treatments are scheduled while the ship is in port (three treatments per guest), Spa-branded bathrobes and slippers for use during the cruise, Cloud 9 Spa Carnival products in stateroom: Elemis Carnival Shampoo and Conditioner, Sharp Shower Gel and Vitamin Rich Body Lotion and hand and body Elemis Soap Disk
Cloud 9 Spa Ocean View (Obstructed)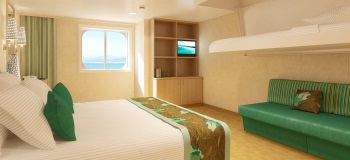 Category 6T
These staterooms have private access to the spa and come with exclusive spa amenities - two fitness classes per individual (up to 2 people) and priority in booking spa appointments. Details below. (220 sq. ft.)
Guests in Cloud 9 Spa accommodations have exclusive entry access to the adjacent Cloud 9 Spa and will receive a wide array of special offerings. These perks apply to the first two-adult guests in each Cloud 9 Spa stateroom only: Priority spa appointments for reservations made by 6:00pm on embarkation day, Cruise-long pass to our Thermal Suites, Complimentary scrub kit with 8 luscious body scrubs to choose from to use in our Thermal Suites (one per guest), Complimentary Pathway to Yoga or Pathway to Pilates fitness classes (two per guest), Complimentary Body Composition Analyses (one per guest), Enjoy 10% off your first, 20% off your second and 30% off your third signature spa treatment when booked together or 20%, 30%, 40% when signature spa treatments are scheduled while the ship is in port (three treatments per guest), Spa-branded bathrobes and slippers for use during the cruise, Cloud 9 Spa Carnival products in stateroom: Elemis Carnival Shampoo and Conditioner, Sharp Shower Gel and Vitamin Rich Body Lotion and hand and body Elemis Soap Disk
Note: Category 6S and 6T staterooms have an obstructed view.
Cloud 9 Spa Interior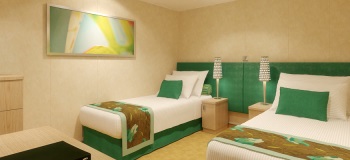 Category 4T
These staterooms have private access to the spa and come with exclusive spa amenities - two fitness classes per individual (up to 2 people) and priority in booking spa appointments. Details below. (185 sq. ft.)
Guests in Cloud 9 Spa accommodations have exclusive entry access to the adjacent Cloud 9 Spa and will receive a wide array of special offerings. These perks apply to the first two-adult guests in each Cloud 9 Spa stateroom only: Priority spa appointments for reservations made by 6:00pm on embarkation day, Cruise-long pass to our Thermal Suites, Complimentary scrub kit with 8 luscious body scrubs to choose from to use in our Thermal Suites (one per guest), Complimentary Pathway to Yoga or Pathway to Pilates fitness classes (two per guest), Complimentary Body Composition Analyses (one per guest), Enjoy 10% off your first, 20% off your second and 30% off your third signature spa treatment when booked together or 20%, 30%, 40% when signature spa treatments are scheduled while the ship is in port (three treatments per guest), Spa-branded bathrobes and slippers for use during the cruise, Cloud 9 Spa Carnival products in stateroom: Elemis Carnival Shampoo and Conditioner, Sharp Shower Gel and Vitamin Rich Body Lotion and hand and body Elemis Soap Disk
Note: Cabin 14227 twin beds do not convert to a queen.
---
Legend:

Twin bed and single sofa bed

2 Twin beds (convert to king) and single sofa bed

2 Twin beds (convert to king) and 1 upper pullman

2 Twin beds (convert to king) and 2 upper pullmans

2 Twin beds (convert to king), single sofa bed, and 1 upper pullman

2 Twin beds (convert to king) and double sofa bed

2 Twin beds (convert to king), single sofa bed, and 2 upper pullmans. Beds do not convert to king when both upper pullmans are in use.

2 Twin beds (convert to king), double sofa bed and 1 upper pullman

Stateroom with 2 porthole windows

Connecting staterooms

Twin beds do not convert to king bed

Unisex wheelchair accessible restroom

All accommodations are non-smoking
Deck Plan Feedback (VTG Agent Use Only)