Penthouse Suite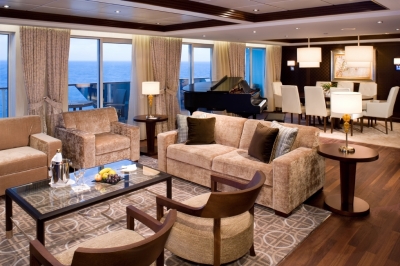 Category PS
Floor-to-ceiling sliding glass doors; master bedroom features king-size bed, 52" LCD TV, vanity, walk-in closet, marble master bathroom with whirlpool tub, shower stall with dual shower heads, double washbasins and 26" LCD TV; separate living room with dining area; baby grand piano; sofa queen sleeper; full bar; lounge seating; Surround sound entertainment system with 52" LCD TV; full guest bathroom; veranda with whirlpool and lounge seating. (stateroom: 1,291 sq. ft., veranda: 389 sq. ft.)
Royal Suite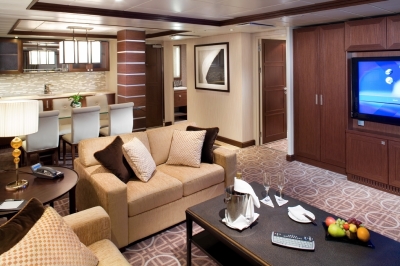 Category RS
Features include floor-to-ceiling sliding glass doors; bedroom with a queen-size bed and 40" LCD TV; a vanity, walk-in closet, master bathroom with whirlpool tub, shower stall, and double washbasins; separate living room with dining area; sofa queen sleeper; lounge seating; wet bar; surround sound entertainment system with 52" LCD TV; powder room; veranda with whirlpool and lounge seating. (stateroom: 590 sq. ft., veranda: 158 sq. ft.)
Celebrity Suite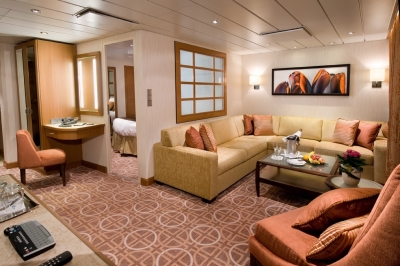 Category CS
Features include floor-to-ceiling sliding glass doors; bedroom with two beds convertible to queen-size, 40" LCD TV, vanity, walk-in closet, dual access bathroom with shower/tub combination and washbasin; living room with sectional sofa queen sleeper, lounge seating, mini refrigerator, and vanity; surround sound entertainment system with 52" LCD TV; veranda with lounge seating. (stateroom: 395 sq. ft., veranda: 104 sq. ft.)
Sky Suite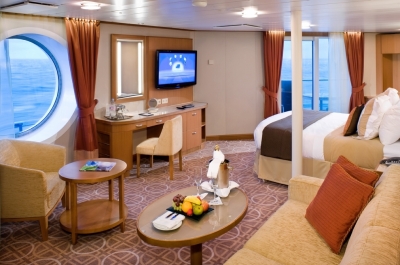 Category S1
Category S2
Features include floor-to-ceiling sliding glass doors, two beds convertible to queen-size, bathroom with shower/tub combination and washbasin, living room with sofa queen sleeper and vanity, mini refrigerator, 40" LCD TV, and veranda with lounge seating. (stateroom: 300 sq. ft., veranda: 79 sq. ft.)
Note: Staterooms 2130, 2132, 2134 and 2136 have roll-in showers, no bathtubs.
AquaClass Stateroom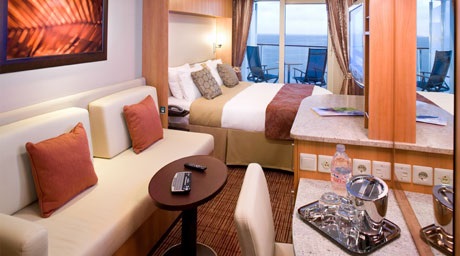 Category A1
Category A2
Features include floor-to-ceiling sliding glass doors, sitting area with sofa, two beds convertible to queen-size, vanity, Hansgrohe shower panel, 32" LCD TV and veranda. (stateroom: 194 sq. ft., veranda: 54 sq. ft.)
Note: Staterooms 1547, 1549, 1552 and 1554 have partially obstructed views.
Concierge Class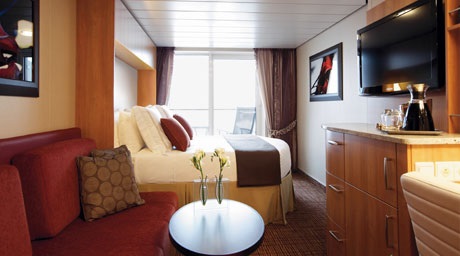 Category C1
Category C2
Features include floor-to-ceiling sliding glass doors, sitting area with sofa, two beds convertible to queen-size, vanity, 32" LCD TV and veranda. Some staterooms may have a trundle bed. (stateroom: 194 sq. ft., veranda: 54 sq. ft.)
Inside Stateroom
Category 09
Features include two beds convertible to queen-size, vanity, 32" LCD TV and sitting area with sofa. Some cabins may have a trundle bed. (183-200 sq. ft.)
---
Legend:

Convertible sofa bed

One upper berth

Two upper berths

Interlocking staterooms

Inside stateroom door location

Wheelchair accessible stateroom
Deck Plan Feedback (VTG Agent Use Only)