Ship Rating: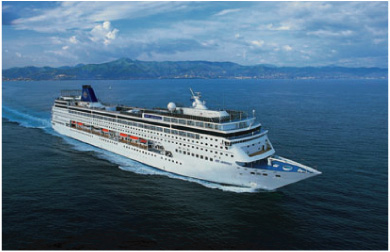 MSC Armonia has an onboard ambiance that is refined and casually elegant with the Italian sense of style that has always been a hallmark of MSC Cruises. The ship can accommodate 2,200 passengers and boasts a high crew to guest ratio, with 765 crew members. Guests enjoy a range of amenities and services including two outdoor pools, health and fitness center, spa and beauty salon, disco, theater, casino, Internet Café, video arcade and children's playroom.
Year Built
2001
Last Refurbished
2014
Tonnage
65,542 tons
Registry
Panama
Length
902 feet
Beam
104 feet
Passenger Capacity
2,679
Crew Size
765
Total Inside Cabins
272
Total Outside Cabins
511
Cabins & Suites w/ verandas
132
Suites
132
Maximum Occupancy per room
4
Age Restrictions
One person must be 21 or older
Dinner Seatings
2
Seating Assignments
in Main Dining Room
Assigned
Dining Hours
Dining
Tipping Expected?
Yes
Tipping Guidelines
MSC Cruises will automatically add $8.00-$12.50 per day, per guest to your onboard account (depending on the region and the length of the cruise). These amounts cannot be adjusted onboard. A 15% tip is added to all beverage orders. The service charge for children between the ages of 2 and 11 will be 50% less than adult fees, and no charge is added for children under the age of 2.
Onboard Currency
US Dollar
Onboard Currency Notes
For Mediterranean, Baltic and trans-Atlantic cruises departing from Europe, the onboard currency is the Euro.
Bars/Lounges
10
Beauty Salon/Barber Shop
Yes
Casino
Yes
Chapel
No
Disco/Dancing
Yes
Elevators
Yes
Hot Tub
2
Cell Phone Service
Yes
Internet Center
Yes
Wireless Internet Access
Yes
Laundromats (self service)
No
Laundry/Dry Cleaning
Yes
Library
Yes
Movie Theatre
Yes
Outdoor Movie Screen
No
Onboard Weddings
No
Shops
Yes
Showroom
Yes
Spa
Yes
Video Arcade
Yes
Basketball Court
Yes
Fitness Center
Yes
Golf Driving Net
No
Golf Simulator
No
Ice Skating Rink
No
Jogging Track
Yes
Mini-Golf Course
Yes
Rock Climbing Wall
No
Swimming Pool
2
Tennis Court
Yes
Water Slide
No
Water Sports Platform
No
24-Hour Room Service
Yes
Hair Dryer
Yes
Safe
Yes
Telephone
Yes
Television
Yes
Babysitting
No
Children's Playroom
Yes
Kiddie Pool
No
Supervised Youth Program
Yes
Teen Center
Yes
Water Playground/Splash Park
No
Adjoining Cabins
     (private connecting doors)
No
Kosher Meals
Yes
Single Occupancy Cabins
No
Single Share Program
No
Wheelchair-Accessible Cabins
4