Antarctica Cruise, Part 1: Paying Drake's Toll
"The old man knew he was going far out and he left the smell of the land behind and he rowed out into the clean early morning smell of the ocean."
Ernest Hemingway
---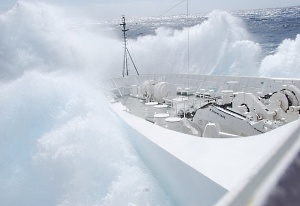 Crrrreeeeeeeeeeeekkk.
The walls and decks grind and groan.
ShuuuweeeuuuWEEEE!!!

The frigid wind howls at our window.
Whump, whump!
The bow of the Minerva rises on the crest of a massive wave before crashing back into the froth and spray, sending shudders from bow to stern.
I am writing today from the heart of the notorious Drake Passage, en route from Port Stanley (Falkland Islands) to Antarctica. After a lifetime of dreaming, a year of anticipation and thousands of miles covered since leaving Houston six days ago, I am 36 hours from setting eyes on the white continent.
Today is our first full day in the passage (a crossing takes two days and two nights), and we are bouncing about in what is referred to as a "whole gale," a 10 on the 1-12 Beaufort Scale, where 12 is a hurricane.
The Drake is known for the world's roughest water, and it is said that crossing her is the tax one must pay to see Antarctica. The Drake Tax is paid in two installments, one down and one back, and some passengers pay more than others.
When we reach the Antarctic Peninsula we will be protected from high seas by the mountainous coastline, but in this 500-mile stretch of open water, motion sickness is a real possibility.
About half of the 198 passengers onboard have failed to make a public appearance since we departed Port Stanley last night. At least their cabins are comfortable and cozy, and those who can raise their heads are able to watch ship lectures, movies and DVDs on TV.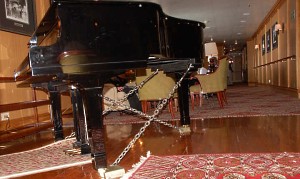 The ship's crew takes numerous precautions before entering such a storm. Metal covers have been installed over portholes on the lowest passenger deck to prevent water from entering as waves slap the sides of the ship. "Sickness bags" have been placed every few feet along hand rails throughout the vessel.
In the sparsely attended dining room, chairs and tables are permanently chained or bolted to the floor, along with most of the rest of the ship's furniture. Tablecloths have been dampened to prevent plates and glasses from sliding, but unattended silverware will dance off your plate in seconds.
Items in our cabin seem to have sprung to life. Drawers swing open and then close on their own, as does one of the closet doors, and hanging clothes slide back and forth on the bar. The curtain over our window hugs the wall as the ship leans to port but as she tilts to starboard, the bottom of the curtain swings away from the wall and the twilight fills the room.
It's impossible to capture the size of these waves in a photograph so I went to an exposed wing of the bridge and took a series of shots of the bow of the ship to give you a sense of the motion we are experiencing. They are in the accompanying slideshow and yes, I was soaked head to foot in the process!
Those of us who were out and about today have learned to work with the pitch and roll of the ship rather than fight it. With feet splayed outward like a penguin for extra stability, we rush forward when our path slopes downhill and pause momentarily when it tilts uphill, and weave from wall to wall as we move along hallways.
Secretly, I am enjoying this new way of walking and also found the shower experience entertaining, slipping and sliding from one side -- thump -- to another -- thump -- of the small enclosure. No doubt sensible people skipped their showers altogether.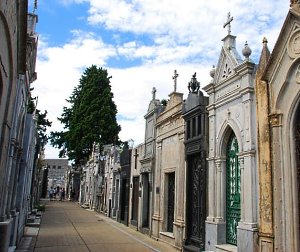 Our trip began with an overnight flight from Houston to Buenos Aires, where Regent Seven Seas had arranged a pre-cruise stay at the upscale and ideally located Melia Hotel. Buenos Aires is a friendly, walkable city, with nice restaurants, spacious parks and pedestrian-only shopping streets.
The highlight of our afternoon stroll was the sprawling and immaculately maintained Recoleta Cemetery, final resting place for Eva Perón and Argentina's famous and well-to-do of the past 150 years.
Mausoleums looming 10 to 20 feet high are packed tightly in a maze of paved sidewalks and alleys that are oddly reminiscent of a 19th-century European town, about 2/3 scale. When the gates close for the evening, a colony of feral cats remain behind, Recoleta's only living inhabitants.
For dinner, we enjoyed Argentine steaks and local wines but with a 3am wakeup call, we were not able to take in the city's most popular tourist entertainment, a tango performance.
The next day, our chartered flight rumbled down the runway well before dawn and four hours later, we found the southern tip of South America shrouded in clouds. We descended through the soft white light and emerged to find the snowcapped mountains of the Andes on the right side of the plane, towering above our heads.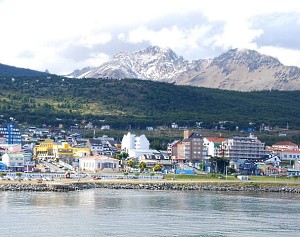 Moments later, we touched down in Ushuaia, Argentina, the southernmost city in the world. It was cool and gray and drizzling rain as we boarded buses for a tour of the area.
Ushuaia has a population of 65,000 and is built around a harbor in the Beagle Channel and ringed by soaring mountains. We and our fellow passengers enjoyed a Gaucho dance performance and stopped by the origin (or termination point) of the Pan American Highway, which runs more than 16,000 miles north to Prudhoe Bay, Alaska.
Ushuaia refers to itself as The End of the World and with its isolation and 160 days of rain or snow each year, it does feel a bit like that. But as the jumping-off point for most Antarctic cruises, it is perhaps more accurate to say that Ushuaia is the end of one world and the beginning of another.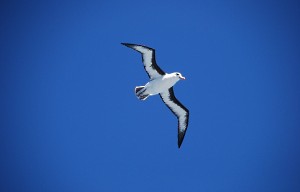 That evening we sailed for Port Stanley, our only planned port call outside Antarctica. We spent a day at sea photographing the albatrosses and petrels following the ship and attending interesting lectures from the ornithologist, marine biologist and other experts and specialists onboard.
Shortly before arriving in the Falklands yesterday, the leading edge of the storm we're now in caught up with us, preventing the ship from docking in Stanley and making the harbor too rough for tender operation. We were in sight of the town of Stanley but unable to reach her, so we spent the day tethered to a tanker, refueling, a very delicate operation in such high winds.
It was early confirmation of what our expedition leader, Suzana, had told us, that in this part of the world, we will always have a Plan A, a Plan A and another Plan A.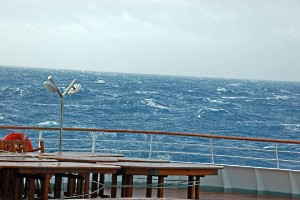 Last night, after dinner in the protected waters of the Falkland Islands, we battened down the hatches (literally) and sailed into the gathering storm.
Crrrreeeeeeeeeeeeekkk.
ShuuuweeeuuuWEEEE!!!
Whump, whump!
The adventure has begun.
Alan Fox, somewhere in Drake Passage
To see photos from this portion of my cruise, please click here.
For a list of Antarctic cruises on expedition cruise ships such as the Minerva, which take passengers ashore, please click here. (Going forward, Vacations To Go will book customers on the Minerva in Antarctica via A&K as Regent Seven Seas is ending their charter program.)
For a list of Antarctic cruises on traditional cruise ships, which take passengers close but do not allow them to go ashore, such as the Regent Seven Seas Mariner, please click here.
Sincerely,
Alan Fox
Executive Chairman
Vacations To Go
To email this newsletter to a friend or friends, click here. To see a copy of our current newsletter, click here. To subscribe to our weekly newsletter, absolutely free of charge, please click here.
Related newsletters:
Antarctica Cruise: On My Way
Antarctica Cruise, Part 2: Landing in Antarctica
Antarctica Cruise, Part 3: The Age of Explorers
Antarctica Cruise, Part 4: Antarctica's Wild Side
Antarctica Cruise, Part 5: Wonderland on Ice
Antarctica Cruise, Part 6: A Place Like No Other