Galapagos Cruise, Part 1: Quito & North Seymour Island
Imagine the world as an apple.
Everything we can see of our planet -- the mountains and valleys and deserts, the oceans and rivers and lakes -- sits on vast tectonic plates that are equivalent in thickness to the skin of the apple.
Each of these plates moves very slowly toward or away from or along the plates that surround it, and this movement causes earthquakes and results in much of the Earth's volcanic activity.
Now imagine a vast pool of molten rock beneath a tectonic plate, magma so hot that it burns through the Earth's crust to the surface, where it appears as a volcanic eruption.
If this volcanic hot spot occurs beneath the ocean, eruptions lasting hundreds or thousands of years can build volcanoes so large they grow out of the ocean and form islands, islands which are slowly and continuously being swept away from the hot spot by the motion of the tectonic plates.
Millions of years ago, such a hot spot appeared under the Pacific Ocean, on the equator, about 600 miles west of what is now called Ecuador. The islands it formed -- and continues to form -- are called the Galapagos.
---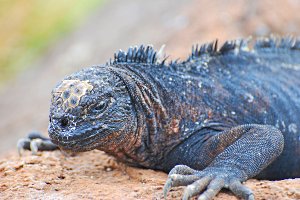 The driver nosed our Zodiac up to a rocky wall on North Seymour Island, pushing just enough fuel to the engine to hold us there, rising and falling with the swells. One at a time, we moved carefully to the front of our raft and stepped into an opening in the rocks.
We scrambled 10 feet up a black wall wet with spray, and at the top, found two sleeping sea lions that did not bother to lift their heads to acknowledge that we were there.
Steps away, a charcoal-colored marine iguana, 3 feet long with a row of spikes down its spine and a head as rough and rugged as lava rock, sat in the path we were restricted to and watched us without flinching as we passed within inches.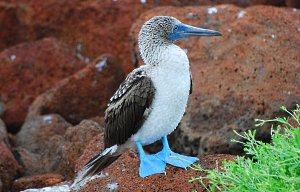 In the sky above, in every direction, enormous birds flapped or floated on air currents, sometimes gliding by within only a few feet of our heads. There were magnificent frigate birds with 7-foot wingspans, swallow-tailed gulls with black heads and bright red circles around each eye, blue-footed boobies with piercing yellow eyes, and many more. There was a prehistoric feeling to the place.
The island is mostly flat with sandy soil, small trees and bushes. The dry season began in June, and most of the trees had lost their leaves and the grass had turned brown. The sky and the land were teeming with birds, sea lions and iguanas, none of which took the slightest notice of our landing party.
At this time of year, North Seymour is like a singles bar for giant birds.
Male frigate birds are black with a red throat pouch that can be inflated like a balloon to attract a mate. We saw many males on bushes near the path, pouches fully inflated and heads thrown back to maximize the view for the females circling overhead. After surveying their options, females land to take a partner, remaining monogamous for that breeding season.
Not to be outdone, male blue-footed boobies spread their wings, stare straight up at the sky and stamp their big blue feet (the bluer, the better) to attract a circling mate. We witnessed this behavior frequently as these birds tend to stand dead center in the path and make the humans walk around them.
I am writing today from the Galapagos Islands, a place that has been called the land of fire and dragons for its active volcanoes and 5-foot-long iguanas. Yet even in this remote and undeveloped wildlife sanctuary, Celebrity Cruises has created an experience of great comfort, even luxury, aboard the best vessel in the region, Celebrity Xpedition.
We arrived in the Andes Mountains of Ecuador four days ago, near midnight, descending through blackness and broken clouds as the city of Quito appeared out our window, a great, rolling swath of tiny lights at the base of soaring peaks and volcanoes.
The sprawling city of nearly 2 million people is situated at an elevation of 9,350 feet, the highest capital city in the world, and serves as the meeting point for guests booked on Celebrity's Galapagos cruises. Our vacation includes two nights pre-cruise and one night post-cruise in Quito, a charter flight to the islands, as well as the seven-night sailing.
We were met at the airport by Celebrity employees and whisked to the nearby Marriott hotel, the finest hotel in the city, where we were welcomed with cool towels, fruit juice and room keys.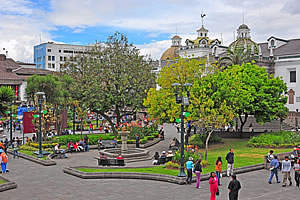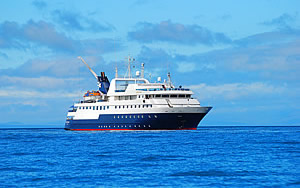 The next day, others in our group took an included sightseeing tour of Quito, but I decided to set out on my own, on foot, to see the local shops and a park filled with vendors and artists. That evening, all Celebrity guests had a fine meal at a local gourmet restaurant.
The following morning we were off to the airport and a two-hour Aerogal charter flight to Baltra, Galapagos, on a brand new Airbus jet. Five minutes from the Baltra airport, we boarded Zodiacs and motored out to the Xpedition, anchored and gleaming in the afternoon sun, but not before noting how impressive she looked compared to other vessels in the harbor.
The Galapagos consists of 18 main islands, of which only five are inhabited, and a hundred rocky islets. The chain of islands is 150 miles long, and each island is unique in appearance, topography, flora and fauna, depending on its age.
The islands are off limits to large cruise ships due to tight restrictions on the number of people who can come ashore in each landing area. The Xpedition is the most upscale and technically advanced ship in the region, holding 98 passengers and carrying a crew of 70, including seven naturalists who are experts in the wildlife, plants and geology of the islands. The ship is immaculately maintained, and all staterooms are oceanview, with a handful of balcony cabins.
Unlike the large Celebrity ships, the cruise fare for Celebrity Xpedition includes soft drinks, beer, house wine and liquor, all shore excursions and gratuities for the onboard staff.
After our two-hour exploration of North Seymour Island, we returned by Zodiac to the Xpedition, where we discussed our first foray ashore over cocktails and hors d'oeuvres on the open deck. Later, we enjoyed a delicious meal in the Darwin restaurant, and tonight, we are sailing southeast, to the oldest islands in the chain.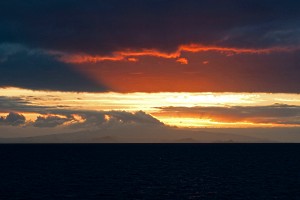 They are full of life today but the islands themselves are slowly dying, breaking up and sinking. In a million years, they'll be gone.
From there we will sail west, to the youngest and highest islands of the Galapagos, including Fernandina, which sits atop the volcanic hot spot now.
Fernandina's last eruption was two years ago, and the locals say that we are overdue. How I would love to see that hot spot in action.
---
To read more about the Galapagos Islands, please click to visit GalapagosCruise.com.
Sincerely,
Alan Fox
Executive Chairman
Vacations To Go
To email this newsletter to a friend or friends, click here. To see a copy of our current newsletter, click here. To subscribe to our weekly newsletter, absolutely free of charge, please click here.
Related newsletters:
Galapagos Cruise, Part 2: Sea Lions, Albatross and More
Galapagos Cruise, Part 3: Santa Cruz, Bartolome, Isabela and Fernandina
Peru Trip, Part 1: En Route to Machu Picchu
Peru Trip, Part 2: Cuzco, Gateway to Machu Picchu
Peru Trip, Part 3: The Lost City of the Incas