French Polynesia Trip, Part 3: Aboard the Paul Gauguin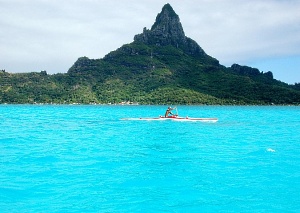 Halfway between California and the land down under, there is a canvas splashed with dazzling shades of blue, vivid greens of the jungle and the gold and red of sunset.
Towering peaks rise from lagoons like silent sentinels, and trade winds that once brought Magellan and Cook wash over the land, spreading the fragrance of tiare flowers and vanilla.
In the evening, stars glitter like diamonds on black velvet, the Southern Cross comforts sailors at sea and the Milky Way whispers -- to those who will listen -- that we are all so very small.
*********************************
We sailed from Papeete just before midnight, having waited past our scheduled 10pm departure for two late passengers. On a warm Tahitian night, we left the lights of the town behind and headed out to sea.
Within an hour, the Paul Gauguin was swaying on a gentle ocean. For some that motion meant they were away, for some it was a sign that they were home.
After several days in overwater bungalows on Tahiti and Bora Bora, my family and friends had embarked on a 7-day cruise within the Society Islands. We would call on Taha'a, Raiatea, Bora Bora and Moorea.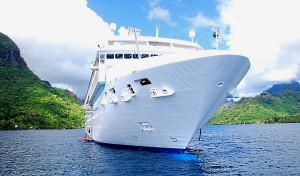 The 5-star Paul Gauguin was christened after the Postimpressionist French painter who first arrived in Tahiti in 1891. Purpose-built for these waters, the vessel sails year-round from Papeete and offers 7- to 14-day itineraries in the Society Islands, Cook Islands, Marquesas and Tuomotus. A handful of sailings venture out to New Zealand or Fiji.
The Paul Gauguin was built in 1998 and refurbished this year. An immaculate ship that gleams white in the harbors, she has become more closely associated with French Polynesia than any other vessel.
With a passenger capacity of 330 and a crew of 211, the ship boasts an excellent passenger-to-crew ratio of 1.5 to 1. All staterooms have an ocean view and nearly 70% have private balconies.
There are three open-seating dining venues as well as 24-hour room service. Both the main dining room, L'Etoile, and the reservations-only La Veranda serve fine French cuisine, while the poolside Le Grill offers (not surprisingly) grilled Polynesian specialties in a casual atmosphere.
For our first dinner onboard, we chose L'Etoile, where the food and the service were excellent.
In contrast to most ships, the evening dress code is always "country club casual": open-neck shirts and slacks for gentlemen, no jacket required; slacks, skirts and blouses, dresses or sundresses for ladies.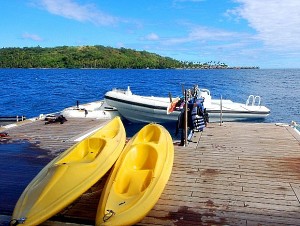 For active passengers, the retractable water sports platform is one of the highlights of the ship. Depending on where the ship is anchored, guests can try water skiing, kayaking or windsurfing, or depart for scuba diving excursions. There is also a fitness center and a full spa.
For guests ages 9-17, the Paul Gauguin offers the Ambassadors of the Environment program, with eco-excursions to coral reefs, rain forests, pearl farms and ancient Polynesian temples.
Most of the entertainment and lectures take place in Le Grand Salon and on the pool deck, and focus on the music, dance and history of the Polynesians. A troupe of Polynesian performers -- Les Gauguines -- travel with the vessel and share local legends and customs, sing and dance.
There is a small casino, a piano bar, a pool bar and a great venue for watching the sunset -- La Palette Lounge -- on the top deck, aft.
Fine wines, cocktails and soft drinks are complimentary throughout the ship, and gratuities are included in the price of the cruise, making the Paul Gauguin one of the most all-inclusive vessels afloat. Only spa treatments, shore excursions and Internet service cost extra.
I've only seen a handful of children on the ship, but quite a number of honeymooners, retirees and everything in between.
On our first morning aboard, the Paul Gauguin dropped anchor off the coast of Taha'a, a quiet island that was once the center for fire-walking ceremonies but has lately been known for vanilla plantations and utter tranquility.
South of the equator it is wintertime, which in French Polynesia is also the dry season, with plenty of sunshine, highs in the mid-80s and lows in the low 70s. Today was just as advertised, with a few white clouds against a deep blue sky.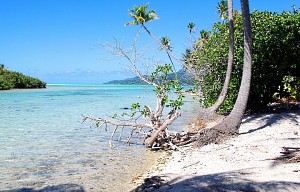 We had breakfast on our balcony and took the ship's tender to its private island, Motu Mahana. A motu is one of a series of small coral islands that together form a coral reef and enclose a lagoon.
We explored the sandy beaches and enjoyed a lavish buffet under swaying palm trees before boarding a motorboat for a trip to another motu and a snorkeling excursion in a coral garden.
As we rounded the coast of Taha'a, the familiar (and now beloved) peaks of Bora Bora came into view in the distance. After three perfect days on that island, my first impulse was to jump from the boat and swim for it.
Then again, I did not want to miss a single minute on the Paul Gauguin. I stayed in the boat but promised myself I'd revisit the idea at the end of the cruise.
Back on board following our snorkeling adventure, I had but one goal for the rest of the day -- to try to capture a Polynesian sunset for my readers.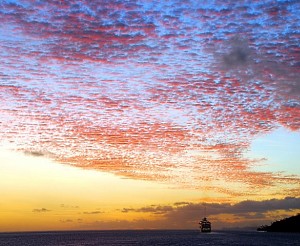 There is something very special about the light at that time of day, the way the colors spread across the sky. In five prior days, I had watched the sun sink behind the peaks of Bora Bora or into clouds above the horizon, both impressive spectacles, but with the current weather and ship's position, I was hopeful that today I'd see the sun disappear directly into the water.
I had checked my camera and my watch when suddenly, a scant twenty minutes before sundown, the announcement was made to report to muster stations on the open deck for the lifeboat drill. I watched the brilliant sunset wrapped in a life jacket and waiting for stragglers, sans camera.
Fortunately, the Polynesian sky sometimes becomes more stunning 5 or 10 minutes after sunset. Tonight, as we sailed for Raiatea, I caught the end of the second act.
I should warn you that my photos do not nearly do it justice.
---
For more information about Tahiti and French Polynesia, visit our brand new Web site, TahitiCruises.com.
Sincerely,
Alan Fox
Executive Chairman
Vacations To Go
To email this newsletter to a friend or friends, click here. To see a copy of our current newsletter, click here. To subscribe to our weekly newsletter, absolutely free of charge, please click here.
Related newsletters:
French Polynesia Trip, Part 1: I'm Never Going Home!
French Polynesia Trip, Part 2: Beautiful Bora Bora
French Polynesia Trip, Part 4: A Look Back
French Polynesia Trip, Part 5: Bora Bora and Moorea