French Polynesia Trip, Part 4: A Look Back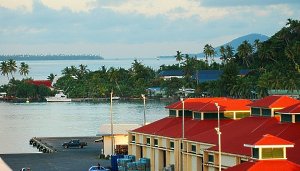 We raised anchor in Taha'a and cruised the short distance to Raiatea, an island so close it is enclosed within the same barrier reef. We docked at the pier overnight and in the morning, our group left for a kayaking trip on the Faaroa River, the only navigable river in all of French Polynesia.
The road hugged the scenic coast for a while, passing small, one-story homes and an occasional business. As on Bora Bora and Taha'a, what little development we saw was along the coastal highway.
In Polynesian mythology, Raiatea was considered to be the birthplace of the world. As our van turned inland, we saw lush green mountains rising to peaks of volcanic rock, shrouded in clouds. It was easy to understand how that sight would have fired the imagination.
Raiatea was the center of religion, royalty and culture for the ancient Polynesians, who departed from these shores to discover and colonize Hawaii, New Zealand and Easter Island. They built boats for long voyages with trees floated down the Faaroa River, a practice noted by Captain James Cook, the first European to visit Raiatea, in 1769.
We put in at the mouth of the river, where the famous explorer once stood, and paddled upstream. In the dry season there was very little current, and the going was easy.
It was not long before the channel narrowed and the foliage on the banks turned to jungle, overhanging the water from both sides and sometimes meeting in the middle. The air grew still and very warm, and there were frequent switchbacks. I lost sight of the back half of our line of kayaks.
It was an Indiana Jones-like setting, perfect for snakes or crocodiles or giant poisonous spiders, but these creatures don't exist in French Polynesia.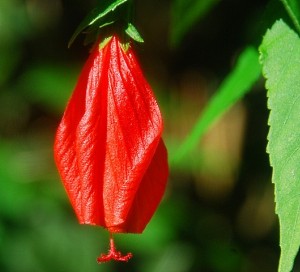 We drifted by a wild hibiscus, or purau, the flower of which blossoms bright yellow in the only morning of its life, turns crimson in the afternoon and falls from the tree at sunset. The prior day's flowers still dotted the surface of the Faaroa.
Leaving the kayaks for a guided walk through a tropical garden, we found freshwater eels slithering in a trickle of a creek and a wide variety of trees and plants. Within a few hundred yards we saw wild ginger, vanilla, birds-of-paradise, cocoa beans, chestnut and mango and banana trees and "touch-me-not" plants that slammed their leaves closed when disturbed.
Back on the Paul Gauguin, we gathered for a delicious lunch at the pool grill (this extensive buffet became a tradition) and in the afternoon, several members of our group took the Discover Scuba class, which included an hour of classroom instruction and another hour in the ship's pool.
My dive certification had expired and there were others in the class who had never been certified, but after this easy, two-hour lesson we were all eligible to participate in subsequent "beginner" dives in Bora Bora and Moorea. The instructors were competent and friendly and I highly recommend the class to anyone curious about diving.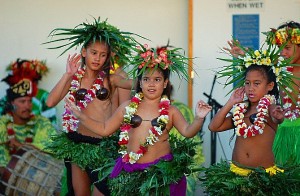 In the late afternoon we were entertained by Polynesian singers and dancers on deck, and we sailed for nearby Bora Bora just after another spectacular sunset.
When Captain Cook arrived on Raiatea, the people of the island had just fought and lost a bloody battle with fierce warriors from Bora Bora. Conflicts between islands and even between the tribes on a particular island were common in those days.
Exploration was a hazardous undertaking, and if the sea didn't get you, the locals might. There were numerous reports of cannibalism among the Polynesians in the Marquesas and New Zealand, and Cook witnessed part of a ceremonial human sacrifice in Tahiti.
Cook was later stoned and stabbed to death by the natives on the shore of the Big Island of Hawaii.
Cook was rightfully celebrated in Europe for his courage and leadership, and for his extraordinary skill in mapping great unknown regions of the planet, from the Antarctic Circle to the Bering Strait, and from Newfoundland to New Zealand. In a world where some do and some don't, Cook did.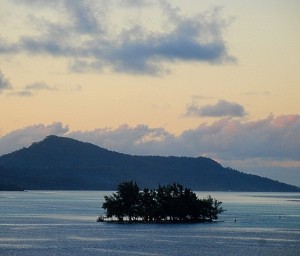 It may have been a bit of a stretch, however, to credit Cook with "discovering" Raiatea, the islands of Hawaii, the eastern coast of Australia and many other places that had been inhabited by thousands of people for hundreds of years.
As Cook himself came to understand and lament, the Europeans brought new diseases to these islands, against which the natives had no natural immunity. By some accounts, epidemics reduced the population of the region from 250,000 to 40,000 in a short time.
After tales of paradise reached Europe, French and British settlers began to arrive, and before long, tribal religions, rituals and dance were outlawed. On some islands, children were separated from their parents and kept in boarding schools to prevent the transfer of history and traditions that had been passed orally from generation to generation for centuries.
In recent decades, there has been a resurgence of interest in ancient Polynesian culture, but it's reasonable to suspect that some aspects are forever lost.
I have searched in vain for any vestige of resentment in the faces of the islanders. Aside from a few politicians who gain personally by stirring things up, most Polynesians don't worry much about the early Europeans, their "discovery" or the aftermath. The people we've met have been kind and friendly.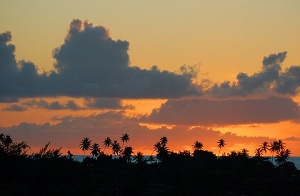 Maybe that's because the world spins more slowly here, or perhaps the Polynesians have been soothed by the same panoramas that draw visitors from around the world.
I would capture all these moments if I could -- the sunsets, hikes and moonlit swims -- and take them home to savor. But they are as fleeting as the flowers of the purau, burst forth in all their glory just this morning and tomorrow, floating to the sea.
---
For more information about Tahiti and French Polynesia, visit our brand new Web site, TahitiCruises.com.
Sincerely,
Alan Fox
Executive Chairman
Vacations To Go
To email this newsletter to a friend or friends, click here. To see a copy of our current newsletter, click here. To subscribe to our weekly newsletter, absolutely free of charge, please click here.
Related newsletters:
French Polynesia Trip, Part 1: I'm Never Going Home!
French Polynesia Trip, Part 2: Beautiful Bora Bora
French Polynesia Trip, Part 3: Aboard the Paul Gauguin
French Polynesia Trip, Part 5: Bora Bora and Moorea