A Royal Sailing with Star Clippers
Discovering small-ship cruising and Mediterranean wonders with Star Clippers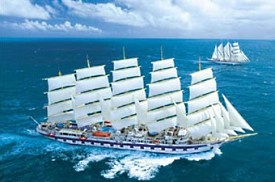 For me, the word "sailing" conjures up images of conquistadors supervising deckhands under sprawling canvas sails as they cross the ocean to a new world, or the navies of the Roman Empire as they glide into battle on the sparkling Mediterranean Sea. Though the imagery is archaic, the spirit of those grand voyages is alive and well on the largest five-masted, fully rigged ship on the sea today, the Royal Clipper.
From its complex network of ropes and rigging to richly embellished, nautical themed interiors and understated amenities, the Royal Clipper introduced my fiance, Michael, and me to the world of niche cruising on a 10-day late-summer trip down Croatia's Dalmatian Coast and to lively Greek and Italian ports.
At just more than 439 feet long, the Royal Clipper is the largest of three cruise vessels owned and operated by Star Clippers cruise line and the only five-masted sailing ship launched since the beginning of the last century. During the end of the 19th century and beginning of the 20th century, sailing ships were built for speed to quickly deliver goods on expanding trade routes. To celebrate this grand age of sailing, Star Clippers' owner, Mikael Krafft, designed the Royal Clipper in the likeness of the Preussen, a German ship that was launched in 1902. The Royal Clipper debuted in 2000. Meticulously crafted as the ultimate sailing ocean vessel, it can travel at 20 knots at full sail.
The Royal Clipper has twin 2,500-horsepower diesel engines that the captain can use when wind conditions are not suitable for itinerary requirements, which is quite often. But, sailing is Star Clippers' passion and, when possible, the motors are turned off. We rode the wind for nearly a full day while we cruised from Corfu in Greece to Sicily. With the sound of a gentle August breeze floating between the sails, and the warm Mediterranean sun bathing me in my lounge chair near one of the three saltwater pools on deck, I felt like part of an elite club.
There were only about 200 members of my so-called club on board for this trip, which is near passenger capacity for the Royal Clipper. A 109-member crew is on hand for a maximum guest count of 227, making for attentive, personal service. Quality time with the charming Capt. Sergiy Paschenko and his first officer, Sergiy Tonikov, was easy to come by (the Royal Clipper's bridge is always open). Our ever-present cruise director, Monica Matos Nogueira, patiently answered our endless questions every morning.
Dining on the Royal Clipper is more like a gathering at a country club. There is a multilevel dining room highlighted by a central, sun-filled atrium that's flanked by two ornate spiral staircases. If the Royal Clipper is a castle, the dining room is the throne room where all meals are served. Breakfast and lunch are casual buffets loaded with international cuisine. Dinner is a more formal affair, although there is no official dress code and no need to bring an evening gown or tuxedo. The captain's dinner, set aside for one special night, does lend itself to casually elegant attire. There are no seating assignments, and many return passengers note that the dining atmosphere is one of the selling points of any Star Clippers cruise.
Our first night on board, we sidestepped the maitre d'hotel, Mateo Martinic, and found a table on our own. We quickly discovered that we had insulted him, as he thought we didn't trust that he could find suitable dinner companions for us. We explained we meant no offense, and by the next night the three of us were like old friends. For the remainder of our trip, we looked forward to Mateo's usual questions: "Just the two lovebirds for dinner tonight? How about a table of friendly English-speaking guests?"
English, French and German are the official languages on the Royal Clipper. Announcements are made in all three languages, and every crew member speaks English. On our cruise, there were more than 25 nationalities represented by the crew and 18 nationalities among the passengers. Germans, Americans, French, Australians, South Africans, Britons and many others gathered every night in the Tropical Bar on the main deck for after-dinner activities.
You won't hear the incessant clang of slot machines, attend a Broadway-style show or see a first-run movie aboard the Royal Clipper. Nightly entertainment includes passenger-participation events such as games and fashion and talent shows, followed by lively music and mingling. If you aren't up for dancing or socializing, you can check your email in the Observation Lounge, shop for souvenirs in the Sloop Shop, play cards in the Piano Lounge or curl up with a good book in the library. Then, of course, there is always the refreshing night air and sparkling stars overhead as you stroll on deck.
For a rejuvenating retreat, head for the Captain Nemo Lounge, a beauty and wellness spa on the bottom level of the ship. A variety of exercise equipment is available, and the range of treatments and services includes manicures, pedicures, facials, mineral baths and massages.
I had heard that the traditional Thai massage was a treat, so I scheduled a 60-minute appointment. I was surprised at the strength of my tiny masseuse. As I was lying on my stomach, she stretched my arms behind my back and nearly lifted my entire body off the floor mat. I left the session with a feeling somewhere between relaxation and invigoration.
A water sports crew is on hand to encourage passengers to enjoy the sea. At ports where the Royal Clipper is anchored offshore, the marina platform at the aft of the ship is lowered so that you can windsurf, kayak, water-ski, take a banana boat ride, swim or just put on a life vest and float. The sports team is also active in on-board activities like morning aerobics and mast climbing, which is sure to get your heart pumping, as it did for me. And though there are no facilities or activities designed specifically for children, the several kids on our cruise loved partaking in the water sports.
Every evening, we returned to our spacious and comfortable cabin. Each stateroom is decorated in rich hues of gold and blue with mahogany trim, polished brass fittings and prints of famous sailing ships. Amenities common to all Royal Clipper cabins are televisions with in-house video and satellite news in port, DVD players, private safes, direct-dial telephones and hair dryers. All cabins, except those in Category Six, feature bathrooms outfitted in marble.
The 14 popular deluxe suites offer a whirlpool tub, sitting area, 24-hour room service and private veranda. The largest and most elegant staterooms are the two 355-square-foot owner's suites. Complete with two double beds in separate rooms, a large sitting area, minibar, powder room, whirlpool tub and room service, the owner's suites offer small-ship luxury at its best.
The magnificence of Royal Clipper's nautical tradition and elegance was matched by the beauty, history and culture we experienced in each port. Michael and I arrived in Venice -- our port of departure -- with only five hours to spend wandering the magically confusing maze of streets along the city's famous canals. We marveled at Venetian craftsmanship in shops full of flamboyant carnival masks and intricately designed Murano glass jewelry, vases and sculptures. Somehow, in our exhaustion from traveling from the United States, we missed St. Mark's Square and its majestic basilica -- all the more reason to return to the city of canals and stay a few days.
As the Royal Clipper embarked from Venice under a bright, shining moon, more than 16,000 square feet of canvas sails were unfurled from long, yellow cylinders as Vangelis' epic song "Conquest of Paradise" played through speakers surrounding the passengers on deck. The ceremony would start anew as we left each port on our voyage, and though fewer guests were present on deck each time for the spectacle as the trip progressed, I never tired of hearing the song and watching the choreography of the crew.
We awoke the next morning as the ship passed tiny islands popping out of the Adriatic on its approach to Rovinj, Croatia. With the campanile of St. Euphemia's church rising above the town ahead of us, we could sense the excitement on board as everyone prepared to explore the first port.
Rovinj is characterized by winding and narrow cobblestone streets that reminded me of an Old World San Francisco. The church named for Rovinj's patron saint stands tall atop a large hill as a symbol of the city's Catholic heritage. St. Euphemia was a religious martyr killed in A.D. 304 under the rule of Roman Emperor Diocletian. As the local story goes, St. Euphemia's sarcophagus, which rested in Calcedon and later Constantinople, somehow went astray around A.D. 800 and was spotted near Rovinj's shore, where it was pulled from the sea by a young boy and his two calves.
The markets of Rovinj are full of life. We meandered amid souvenir stands and tables that displayed an enticing assortment of cheeses, herbs and liquors -- including a fig brandy that our family back home thoroughly enjoyed.
After a day of tasting local wines and meats near freshly picked lavender fields on the Croatian island of Hvar, we arrived in Dubrovnik. Long known as a vacation destination for Europeans and a center of Croatian culture, Dubrovnik is more recently recognized as the site of a heavy artillery attack in 1991 during the Yugoslav Wars. Though much of the city's historic buildings were severely damaged, hardly any physical evidence of the conflict can be seen today. With the help of UNESCO (Dubrovnik's old town, Stari Grad, has been designated a World Heritage Site), Croatians have restored this city's Gothic, Renaissance and Baroque monasteries, palaces, churches and fountains.
We joined the walking tour of Stari Grad, entering the walled city and strolling the polished limestone main street called Stradun, past lively restaurants and shops. Our guide, Dinka, led us through the Franciscan monastery that is home to the oldest operating pharmacy in Europe, open since 1317. The monastery's museum and landscaped cloister served as a backdrop for Dinka as she told us stories of her days as a teenager in Dubrovnik during the war. Dinka was candid about her feelings regarding the 1991 shellings and the restoration process, and her anecdotes helped us understand the modern human condition among Dubrovnik's medieval architecture.
Ambling along Dubrovnik's broad wall, we gazed at hundreds of red clay tile roofs that spread across the city, interrupted only by the occasional bell tower or church dome. We took advantage of the time left after our tour to peruse the city's open-air markets and shop for handmade crafts along the seaside promenade.
The following three days were filled with the charm of the Italian influence in Corfu, Greece, where we witnessed an opulent baptism; refreshing sea breezes as we sailed from Greece to Italy; and the distinctive shops and sophisticated atmosphere of Taormina, Sicily.
When we arrived at the Italian island of Lipari, just north of Sicily, the morning haze was rising to unveil the stunning seascape before us. Lipari is the largest of the seven Aeolian Islands. This volcanic archipelago spans the gap between two famous volcanoes, Mount Etna and Mount Vesuvius, and is home to spectacular beaches, bays and grottoes.
In Lipari we visited an archaeological museum, where artifacts date to the sixth century. We shopped for obsidian pendants, formed from polished shards of volcanic rock that is ubiquitous in the region. The highlight of our time in Lipari was a Zodiak safari to the grottoes that surround the island. As our inflatable speedboat entered several quiet caves, we marveled at the towering rock formations and watched thousands of baby jellyfish bob through the clear, warm water. That night we sailed past Stromboli, an active volcano, and witnessed three small volcanic eruptions light up the night sky.
Wandering the streets and enjoying the scenery in Capri, followed by a day of water sports and sunbathing, helped ease us into the end of our voyage aboard the Royal Clipper. We arrived refreshed and relaxed in Civitavecchia, the port for Rome and the final destination of the cruise.
For me, sailing no longer invokes just a collection of images from history books. It's also a reminder of an unforgettable personal experience. Like those ancient sailors I pictured, I, too, glided across the sparkling Mediterranean and stood under sprawling canvas sails as I discovered a new world -- the world of small-ship, luxury cruising that awaits on every Star Clippers cruise.
By Lindsay Lindquist