Aboard Cunard's QM2
Cross the Atlantic Ocean in grand style on Cunard's elegant Queen Mary 2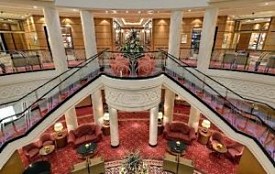 The first pangs of anticipation struck when we caught a glimpse of the Queen Mary 2 from the windows of our New York City cab. The distinctive, black-hulled ship with classic good looks towered above the Brooklyn cruise terminal. On this July afternoon, it welcomed guests coming aboard for a six-night trans-Atlantic voyage to Southampton, England.
My favorite traveling companion, Cheryl, and I would be among these lucky passengers. For us, the QM2 held promises of long, indulgent days at sea, nights of champagne and caviar, the company of interesting, well-traveled shipmates, and the timeless glamour that can only be found on a Cunard liner.
Built at a cost of $800 million and launched on Jan. 12, 2004, the QM2 expertly straddles two eras: It honors the 167-year-old maritime heritage of Cunard Line while embracing today's "give them the latest and greatest" cruise ship philosophy. So, while you're taking a swing in the golf course simulator or gazing at a computer-generated cosmos in the World's only seagoing planetarium, just around the corner is something to remind you of an earlier, golden age of ocean travel.
The QM2 carries 2,592 passengers at double occupancy. At the captain's cocktail party early in the crossing, we learned that the 800-plus Americans on this sailing were well outnumbered by some 1,500 Brits, the majority of whom had done a westbound crossing as well. Seven dogs and two cats were also aboard, each dutifully named by Capt. Christopher Rynd during his welcome speech.
Dogs and cats can be kenneled on all QM2 crossings. This "pet hotel at sea" and the adjacent walking area are open throughout the day, allowing owners to visit. Cheryl, who missed her own pampered pooch back home, enjoyed heading up to the kennels to watch the dogs play in their contained outdoor deck space and chat with the owners. The four-legged occupants on our voyage included a standard poodle that was fond of napping in the open air, a miniature dachshund, a border collie and a pair of very vocal, sturdy little pugs. The two cats, Henry and Ivan, kept to their inside accommodations.
For the QM2's human passengers, three-quarters of the staterooms sport balconies, and 30 cabins are equipped for travelers with special needs. Standard accommodations come with 24-hour room service, direct-dial telephone, data port outlets, a refrigerator, safe, hair dryer and interactive television.
At the high end of the spectrum are five duplex apartments measuring between 1,566 and 2,249 square feet. These stunning shipboard penthouses feature two-story glass walls overlooking the ocean, exercise areas, two full marble bathrooms with tubs, guest baths and the services of a butler. If you really want to go over the top, you can book all five units at once and combine them into one knockout 9,000-square-foot mansion at sea.
Somewhere a little closer to Earth, Cheryl and I felt fortunate indeed to be staying in one of the 76 Princess Grill suites on Deck 10. Encompassing a generous 381 square feet, these accommodations boast a spacious veranda with teak loungers, a walk-in closet, wet bar, a full bath with tub and shower, snug robes, personalized Cunard stationery and daily fresh fruit. A single white orchid rested in a silver bud vase on our coffee table, and the bottle of sparkling wine that was delivered to our stateroom shortly after embarkation started our sailing in style.
Guests in Princess Grill and Queens Grill suites (the next room category up) had access to a concierge who could provide a variety of services, such as arranging hotel stays and car rentals ashore. Princess Grill passengers are assigned to the intimate 180-seat Princess Grill restaurant, and occupants of the Queens Grill suites and above also have their own private dining venue. Guests can dine anytime between 6:30 p.m. and 9 p.m. at these single-seating restaurants.
The Princess Grill specializes in elegant continental fare. We feasted on buckwheat blinis with sevruga caviar, roasted sea bass, lobster Americaine and duck breast with fig butter. For dessert, there was chocolate creme brulee, white chocolate and raspberry parfait and chilled peach soup infused with a whisper of cinnamon and mint. One night, without any prompting at all, the maitre d' volunteered to prepare a Dover sole tableside for me, an off-the-menu item and one of my favorite dishes.
Most QM2 passengers dine in the splendid, three-deck-high Britannia Restaurant. Reminiscent of the grand dining rooms of past Cunard liners, it is designed to impress with a sweeping central staircase, slender pillars and a stained-glass ceiling. Here, there are two seatings for dinner, at 6 p.m. and 8:30 p.m.
Five straight days at sea requires some culinary diversity, and the QM2 doesn't disappoint. For a traditional pub experience, sink into one of the leather chairs tucked into a corner of the Golden Lion and order a plate of perfectly crisp fish-and-chips or a hearty cottage pie, accompanied by a pint of Guinness. One deck above, Sir Samuel's, named for company founder Samuel Cunard, is a coffee bar by day and an upscale wine bar by night, and it has a light menu of gourmet sandwiches and quiches.
Cookbook author and James Beard Foundation award winner Todd English presides over more than a dozen restaurants in the United States, and his eponymous eatery aboard the QM2 is a lovely space with gray slipcovered chairs, rich amber drapes and floor-to-ceiling windows that look out onto the pool deck. A surcharge applies to dine here ($20 for lunch and $30 for dinner), and dishes lean toward the Mediterranean: fig, gorgonzola and prosciutto flatbread, for example, and black pepper gnocchi laced with sauteed broccoli rabe and pecorino cheese.
For casual dining, guests head to Kings Court, which offers four low-key alternatives: Lotus for Asian fare, La Piazza for pasta and pizza, The Carvery for fine meats and the Chef's Galley, where diners can watch their meals being prepared.
Afternoon tea is served daily with white-gloved flourish in the Queens Room -- the ship's ballroom -- and in the Queens Grill Lounge, reserved for Princess Grill and Queens Grill guests. Here, you can spend a civilized hour nibbling crustless sandwiches and scones with strawberry jam, accompanied by tea poured from Wedgwood pots. Choose from 16 varieties of the brew, from Earl Grey to lemongrass.
The outdoor Boardwalk Cafe, high up on Deck 12, dishes out burgers and hot dogs, although this venue closed when the weather got cool and windy as we progressed farther out into the Atlantic.
Clear skies and bright sun graced our first couple of days at sea, but on the third morning we awoke to the deep bellows of the ship's foghorn. From here on out, the QM2 would sail in a thick mist, right up until it arrived in Southampton. But, I loved it and couldn't imagine anything more appropriate for a trans-Atlantic crossing. I gravitated to the long, broad decks atop the ship, where few other souls ventured after the weather changed. Here, I found a welcome solitude as the soupy fog lay upon a gunmetal sea and shrouded the red-and-black smokestack, the ship's horn occasionally sounding its lonely warning.
The QM2 is built for trans-Atlantic sailing, with an extra-thick steel hull for strength and stability. It can travel at speeds of up to 30 knots, the equivalent of 34.5 mph. Cunard was the first company to take passengers on regularly scheduled trans-Atlantic departures, aboard its Britannia. Maritime Quest, a unique exhibit found throughout our ship's corridors and stairwells, traces the line's history from the first crossing in 1840 to the debut of the QM2.
I found the exhibit's interactive computer kiosks to be addictive as they revealed nuggets of Cunard trivia. For example, I learned that aboard the Britannia, fresh vegetables were limited to potatoes and onions and stored under the lifeboats, where it was dry and dark. And, when the Mauretania left New York Harbor during the Prohibition era, onboard bars couldn't open until the vessel passed the Statue of Liberty.
Wall panels display excerpts from passenger journals. Dating from the 1870s to as recent as 1994, they are fascinating to read. Elsewhere, large black-and-white portraits show famous passengers who've sailed aboard Cunarders -- the term used for the line's ships. They included Marlene Dietrich, Bob Hope, Cary Grant and Elizabeth Taylor, who sailed on the original Queen Mary with her pets and asked the ship's fish chef to prepare special meals for them.
Glamour still reigns on Cunarders. There were three formal evenings during our six-night trip, and they shimmered with satin, taffeta and jewels both fine and faux. Men broke out their tuxedos, and there were even a few kilts in the crowd.
After-dinner entertainment options ranged from the sedate and sophisticated to the lively. A jazz combo played nightly in the Chart Room, while next door, guests could sample a variety of vintages at the chic, art nouveau-style Veuve Clicquot champagne bar. The Commodore Club at the fore end of Deck Nine proved to be a popular late-night hangout -- the detailed to-scale model of the QM2 that sits behind the bar is reason alone to visit this lounge.
A casino features slot machines, blackjack, roulette, craps and poker. The ship's two-story disco, named G32 after her shipyard hull number, pulses until the early morning hours.
During a voyage such as this with no port calls, passengers must be kept entertained, delighted and pampered each and every day. With her 14 decks of recreational facilities, shops, bars, lounges, restaurants, pools and much, much more, the QM2 is well-suited to the job.
As a spa aficionado, I was delighted to find that the Canyon Ranch SpaClub was just two decks below our stateroom, and at the same end of the ship. (At 1,132 feet, the QM2 is more than twice as long as the Washington Monument is tall. On more than one occasion, the realization that my desired onboard destination was at the opposite end of wherever I was currently standing brought on a twinge of dismay.)
This is Canyon Ranch's only seagoing spa. At an expansive 20,000 square feet, it holds 24 treatment rooms, cardio and weight-training equipment, a beauty salon and men's and women's locker rooms.
The co-ed Aqua Therapy Centre features a tranquil thalassotherapy pool enhanced by waterfalls and body-massage water jets, as well as a whirlpool, herbal sauna, cedar-scented Finnish sauna, an aromatic steam room and marble reflexology basins to soothe tired feet. A day pass to this wet area costs $35, or passengers can buy a multiday pass. However, access is complimentary with most booked treatments.
Signature treatments at Canyon Ranch SpaClub include the "Rasul Ceremony," a therapy of mud and herbal steam that takes place in an ornately tiled chamber. I opted for a bamboo and lemongrass body scrub followed by a Swedish massage. I scheduled my spa time for the first morning at sea, knowing that this little luxury would dissolve any residual stress from the previous day of traveling to the ship. The entire treatment was beautifully choreographed, and I appreciated the fact that there was no product sales pitch at the end.
Active types will find a variety of recreational offerings on the top two decks, including golf simulators, a putting green, paddle tennis, basketball, two pools and shuffleboard. For runners, three times around the 360-degree promenade deck makes a mile.
Take a seat at Illuminations and lean back for a virtual tour of the universe. Produced by the Hayden Planetarium at the American Museum of Natural History in New York City, the shipboard shows utilize scientific data, astrophysical simulations and state-of-the-art computer models to send viewers on spine-tingling trips through outer space. Shows run several times a day, and passengers must pick up tickets in advance. However, there never appeared to be shortage of tickets during our sailing.
Forgot to pack that best-seller you've been dying to crack open? Don't fret -- it's probably at the ship's library, which houses 8,000-plus volumes and employs full-time librarians. A book club meets aboard the QM2, and selections change quarterly. Participants right now are reading "Restless" by William Boyd, the story of a beautiful young Russian emigre-turned-spy living in Paris during World War II.
Or, give your wallet a workout at the shops, where the merchandise ranges from sundries and souvenirs to Cunard logo items and the high-priced treasures of Hermes, Chopard and H. Stern. The gift shop adjacent to the library sells wonderful reproductions of vintage Cunard posters.
Graduates of the Royal Academy of Dramatic Art come aboard to perform abridged versions of well-known plays by William Shakespeare and Oscar Wilde, as well as short one-act productions. RADA, a venerable classical acting school established in 1904, counts Vivien Leigh, Anthony Hopkins and Kenneth Branagh among alumni.
At Cunard ConneXions, an onboard enrichment program engages passengers in such topics as wine appreciation, cooking, foreign languages, and seamanship and navigation. The Cyber Centre is here as well, where passengers can surf the Net or send emails home.
And, if you still have time to spare, check out the daily activities roster. On a single day, you can take a bridge class, participate in an acting workshop with the RADA troupe, join a high-energy aerobics session, play bingo and show off your pop culture knowledge at a music trivia match -- and that's all before lunch. The afternoon can be spent learning Italian, attending a wine tasting, watching a feature film or listening to a matinee concert.
Other pursuits range from the silly -- napkin folding and hat decorating, anyone? -- to the intriguing, such as the lectures that took place on our crossing by a diverse quartet of speakers: former FBI profiler Clint Van Zandt, theatrical producer Steven Rivellino, actress Victoria Tennant and maritime historian John Maxtone-Graham.
Maxtone-Graham spends more than half the year traveling aboard cruise ships and speaking to passengers. A Scottish-American who made his first trans-Atlantic crossing at the age of six months, he is the author of "The Only Way to Cross" and "Liners to the Sun," among other books.
Tall, distinguished and enormously well-informed, he is a captivating storyteller, and his talks aboard this sailing drew full houses. One day, he kept the audience spellbound with his accounts of three Titanic survivors, including Violet Jessop, a ship stewardess who miraculously survived two other White Star Line calamities as well -- the collision of the Olympic with the HMS Hawke in 1911, and a mine attack on the hospital ship Britannic during World War I.
For another lecture, he carried his listeners back to an earlier time of trans-Atlantic travel, when crossings took nine days. Back then, he told us, passengers amused themselves with dancing, bowling and fencing. They visited the gymnasium and took a dip in the pool, and they participated in treasure hunts, masquerade balls, funny-hat competitions and even dog shows.
Some of those pastimes have slipped away, but many still endure in one form or another, leading Maxtone-Graham to suggest that "what we do on board today is exactly what our parents and grandparents did."
And, taking a moment to reflect on the QM2, he wrapped up his talk with a satisfied conclusion: "It pleases me that passengers still know how to entertain themselves."
By Elizabeth Armstrong