Amazing Alaska, by Land and by Sea
From magnificent glaciers to gold rush history, cruise tours offer in-depth exploration of this pristine frontier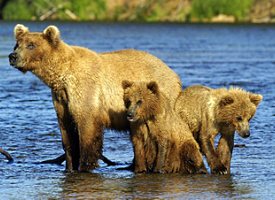 An Alaskan cruise offers some spectacular sights -- from larger-than-life breaching humpback whales to the calvings of ancient glaciers into icy seas. The coastal ports along the way also offer a look at the cultures and historical events that have shaped Alaska, from Russian settlements to gold rush boomtowns.
But encompassing more than 570,000 square miles, Alaska offers much more than its coastal attractions. Often touted as "America's last unspoiled frontier," Alaska boasts millions of acres of national parkland, comprised of lush forests, snowcapped mountains, icy tundra and plentiful wildlife.
The best way to experience Alaska's coast and beyond is with a cruise tour. These land-and-sea hybrids combine an oceangoing cruise with several days spent on land, offering a more in-depth look at a particular region.
Alaska cruise tours include either an Inside Passage cruise -- sailing through the glacier-rich passage north of Vancouver, British Columbia, to southeast Alaska ports as far north as Skagway -- or a Gulf of Alaska cruise, one that covers more of the state's stunning coastline as far north as Anchorage. The land portion can be taken either before or after the cruise, featuring sites such as Denali National Park, the Yukon gold rush country or the Canadian Rockies. Travelers stay overnight in some of Alaska's best wilderness lodges or hotels, and transportation between sites is provided via deluxe motor coach or glass-domed railcars, offering incredible views of the passing scenery. Guided sightseeing and meals are often included in the land package, making cruise tours a great value.
There's an even greater value to be had on an Alaska cruise tour if you plan ahead, suggests Cheryl Cunningham, manager at Vacations To Go, a leading Houston-based cruise agency. " Alaska cruise tours that feature the land-based portion first, then a cruise from Vancouver, are the most popular and sell out first. But savvy travelers can really save money if they opt to take the cruise portion first."
Along with being offered at a lower rate, these ocean-first cruise tours offer another perk. "The other bonus is that you can kick back, relax and enjoy the scenic experience first, then take on the more active land portion at the end," says Cunningham.
Denali National Park is the main highlight of Alaska cruise-tour itineraries. Encompassing 6 million acres of pristine landscape, it's also home to North America's highest peak, Mount McKinley. Here, visitors have a chance to spy grizzly bears, caribou and curly-horned Dall sheep.
Princess Cruises offers a "Heart of Alaska" cruise tour that combines a seven-day Gulf of Alaska cruise with a three-day land tour featuring Denali. The southbound version of this itinerary starts with the land portion in Fairbanks, where you'll ride an authentic stern-wheeler down the Chena and Tanana rivers, perhaps catching glimpses of nesting bald eagles. Then, sightsee via motor coach on your way to Denali, where you'll spend the night at the Denali Princess Wilderness Lodge.
In the morning, embark on a natural history tour of Denali for one-of-a-kind wildlife views. Then, board a glass-domed railcar for the scenic journey south to Talkeetna, passing majestic mountains and valleys. You'll stay at the Mount McKinley Princess Wilderness Lodge, where, on a clear night, you might spot McKinley's peak.
The next day, you'll take a direct rail to Whittier and board your Princess ship. On the cruise, sail through College Fjord and Glacier Bay National Park, and visit the Alaska gold rush towns of Skagway and Juneau and the totem pole capital of Ketchikan before arriving in cosmopolitan Vancouver. Northbound itineraries take in the same sights on land and sea, starting with the cruise embarkation in Vancouver. In 2008, several Princess ships will sail this cruise tour.
Holland America also offers Alaskan cruise tours that focus on Denali, but with a longer, more adventurous land portion and a shorter cruise. Its "Great Land Klondike Tour" combines the sights of Denali with a foray deep into Canada's Yukon Territory. The nine-day land portion begins in Anchorage. You'll board the McKinley Explorer train for thrilling sights en route to Denali, where you'll stay two nights at the park's McKinley Chalets. While at Denali, enjoy a tundra wilderness tour, a seven-hour excursion that travels 50 miles into the park for extensive wildlife and mountain views.
Next, take a second glass-domed rail journey to Fairbanks. Here, view the 800-mile-long, aboveground Trans Alaska Pipeline, and pan for gold at Gold Dredge No. 8, where miners recovered more than 7.5 million ounces of gold during its heyday. Then, board a motor coach for scenic travel across the Alaska and Taylor highways, bound for the Yukon-Charley Rivers National Preserve near Eagle, AK. Here, you'll cruise up the Yukon River via catamaran to Dawson City in Canada's Yukon Territory.
Explore this city that inspired the writings of Jack London, or hike through the ancient wilderness and subarctic tundra of nearby Tombstone Park. After a two-night stay in Dawson City, take a motor coach to Whitehorse, the Yukon capital, and kick up your heels at the raucous Frantic Follies, a vaudeville revue.
From Whitehorse, you'll follow the Klondike trail on the vintage White Pass and Yukon Route Railroad to Skagway, where your four-day cruise begins. The southbound journey cruises through Glacier Bay National Park to Ketchikan, then through the Inside Passage before disembarking passengers at Vancouver.
Alaska cruise tours cater to a wide age range, from schoolchildren to the retired set. Cunningham says that, as a trend, Alaska cruise tours are attracting younger travelers, especially families. This is due to the innovative onboard kids' programs offered by most cruise lines today, as well as the more adventurous land excursions such as river rafting, kayaking, deep-sea fishing and dogsledding.
Royal Caribbean, a family-friendly line, has cruise tours that explore both the Alaskan coast and the rugged beauty of the Canadian Rockies. One such itinerary includes a five-day land tour plus a seven-day cruise on the 2,500-passenger Serenade of the Seas. The land portion begins in Calgary, where you can take in panoramic views of "Stampede City" -- nicknamed for its annual rodeo -- from the top of Calgary Tower. Then, depart by motor coach for Banff, where you'll ascend Sulphur Mountain on the Banff Gondola. Continue to the pristine resort of Lake Louise for a tour of Yoho National Park.
You'll return to Banff to board a Rocky Mountaineer railcar for a scenic journey across the Continental Divide and past the ancient glaciers of Rogers Pass to Kamloops. Here, enjoy the comedy and competition of the Great Canadian Lumberjack Show as two lumberjacks axe-throw and log-roll their way to victory.
The rail journey continues westward along the Thompson River to Fraser Canyon, past Hell's Gate where water surges through the canyon walls at its narrowest point. Your last stop is Vancouver, where you'll tour this cosmopolitan city before departing on your cruise. The Inside Passage cruise visits Russian-influenced Sitka as well as Skagway and Juneau before returning to Vancouver.
The Alaska cruise tour season is relatively short, lasting from May to September. During this period, Alaska experiences long hours of daylight, up to 23 hours of light per day in June. Itineraries can run nine to 21 days, including a land portion of at least three days. Book early for cruise tours, as they sell out quickly. The most affordable rates are offered in May and September, the season's off-peak periods.
By Katie Solan