Carefree Cruising in the Caribbean and Bahamas
Sail from one tropical paradise to the next on a Bahamas or Caribbean itinerary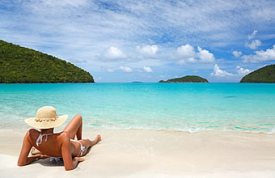 It's an image of idyllic bliss -- leafy coconut palm trees sway in the ocean breeze, and white-sand beaches, sparkling in the tropical sun, stretch for miles and absorb the ebb and flow of the ocean tides. Clear turquoise waters race forward, foam and slowly recede, their soothing "shwooshes" almost hypnotic in their rhythms.
It's this tranquility and beauty that make the Bahamas and Caribbean the most popular cruise destinations in the world. Year-round balmy weather and blissful beaches are a main draw for cruise passengers. In addition, visitors enjoy duty-free shopping, grand casinos and myriad water sports opportunities at a variety of culturally diverse ports of call.
Bahamas cruises are the shorter option, lasting three or four nights. These cruises typically depart from Florida -- Miami, Port Canaveral and Jacksonville -- although Norwegian Cruise Line offers seven-night cruises out of New York City, stopping for at least a day in Florida before sailing on to the Bahamas.
Because of the short length of most Bahamas itineraries, they are an ideal choice for first-time cruisers. "It gives people the opportunity to test out the cruise market, to see if they would enjoy this type of vacation," says Cheryl Cunningham, manager at Vacations To Go, a company that offers greatly reduced rates on cruises. This type of cruise is also perfect for long weekend getaways, or for those who simply enjoy taking shorter trips. Bahamas cruises are also more economical than most other itineraries, and they attract a younger crowd.
A popular Bahamian port of call is Nassau, the capital city of the Bahamas. Its history dates to the days of the infamous pirate Blackbeard, and the city is rich in British and West African influences. Visitors enjoy white-sand beaches shaded by palms and warm, crystal-clear waters, perfect for snorkeling and diving. The city is home to preserved 18th-century forts, colonial mansions and bright, sorbet-tinted buildings. The shopping-savvy will revel in Nassau's duty-free stores and can haggle at the city's famous Straw Market, featuring handmade mats, hats and baskets. Visitors can also try their luck in one of the city's grand casinos, or take an excursion to nearby Paradise Island, a resortlike oasis designed exclusively for travelers.
Freeport and neighboring Port Lucaya are on Grand Bahama Island, just 55 miles off Florida's east coast and one of the most visited of the Bahamian islands. This port of call, developed in the 1950s, exudes cosmopolitan glamour while nestled against miles of pristine beaches and nature preserves. It is a shopper's paradise with many duty-free bazaars, and it is also ideal for excursions such as snorkeling, swimming with the dolphins, parasailing and numerous other water sports.
One of the unique features of a Bahamas cruise is the opportunity to visit a private island, owned exclusively by a cruise operator. These secluded stretches of beachfront are peaceful havens, well kept and accessible only to cruise ship guests. Several cruise lines include their private beaches on Bahamas itineraries, such as Holland America, Carnival, Disney, Royal Caribbean, Norwegian and Princess.
Caribbean cruises cover more sailing ground and are also longer, typically lasting at least a week. Itineraries are divided into three regions: Eastern, Western and Southern Caribbean, with Western Caribbean cruises being the most popular. Western Caribbean cruises visit ports from Mexico's Yucatan Peninsula to Belize, and from the Cayman Islands to Jamaica. On the Yucatan Peninsula, popular ports of call are Cozumel and Costa Maya. Cozumel is known as the gem of the Mexican Caribbean, its crystal-clear waters ranging in tone from deep sapphire to lapis lazuli. Snorkel or dive on the reefs that fringe the island, or venture inland to the Tulum ruins, the only surviving Mayan city with stunning views of the sea.
Farther east into the Caribbean Sea is Grand Cayman, beckoning divers and snorkelers alike with its colorful marine life, coral landscapes, warm waters and almost no current. Thrill-seekers can snorkel with the stingrays on Stingray Sandbar; the less adventurous can see it all through a glass-bottom boat or from the comfort of a submarine. This British-influenced island boasts the golden Seven Mile Beach and the world's only green sea turtle hatchery.
Popular Jamaican ports of call include Ocho Rios, home to celebrated Dunn's River Falls, and lively Montego Bay. In Belize, ships call on Belize City, which has Mayan ruins and the longest barrier reef in the Western Hemisphere. Western Caribbean itineraries often include Key West, FL, an eclectic island and favorite spot of famed writer Ernest Hemingway.
Travelers can combine a Western Caribbean cruise with a partial Panama Canal transit. The ship sails through the first series of locks on the canal, turns around in Gatun Lake, then exits the canal the same way it came in.
Eastern Caribbean ports of call are lush island paradises full of Old World influence. San Juan, Puerto Rico, founded in 1521, is the second oldest city in the Americas, its historic district characterized by cobblestone streets, Spanish plazas and colonial architecture. On the beachfront, "new" San Juan boasts high-rise hotels, hip restaurants and cosmopolitan shops. Visitors to San Juan can take an excursion to El Morro, the island's centuries-old Spanish fortress, or deep-sea fish, snorkel or dive in the warm Caribbean waters.
St. Thomas, part of the U.S. Virgin Islands, is another popular Eastern Caribbean destination, home to pirate legend and gorgeous beaches. The island's capital city, the Danish-named Charlotte Amalie, is known for its excellent duty-free shopping. Visitors also can tour Blackbeard's Castle or climb the 99 Steps. Spend a day basking in the sun, or join a water sports excursion to Magen's Bay, frequently rated as one of the most beautiful beaches in the world.
Other stops on Eastern Caribbean itineraries include the half-Dutch, half-French island of St. Maarten/St. Martin and mountainous Tortola in the British Virgin Islands.
A third option is a Southern Caribbean cruise. Most depart from San Juan, Puerto Rico, and head south toward the northern coast of Venezuela. These are island-hopping itineraries -- a good bet for those who want to experience a new port every day. Southern Caribbean cruises also depart from Florida ports such as Fort Lauderdale, but in these cases the cruise is longer, a minimum of 10 days.
Southern Caribbean itineraries often include Barbados, a British-influenced tropical paradise full of natural wonders, from gardens of rare tropical ferns to caverns of colossal stalactites. Coral reefs fringe the shoreline, excellent for snorkeling and scuba diving.
St. Kitts is an island covered by lush vegetation, centered around the misty peak of Mount Liamuiga, a dormant volcano. Excursions to Brimstone Hill are popular -- the 17th-century British fortress is constructed of volcanic stone -- as well as the capital city of Basseterre, full of British colonial architecture. The sugar-white beaches are flawless, and visitors shouldn't miss Friar's Bay, open to both the Atlantic and Caribbean and home to a host of activities, including scuba diving expeditions and boating tours.
Many Southern Caribbean itineraries also call on Aruba, Bonaire and Curacao, commonly known as the "ABC islands." These islands all share Dutch colonial pasts, evidenced in their brightly colored architecture, yet their distinct cultural personalities have been formed by influences from around the globe, from Portugal to West Africa. Visitors can see bright pink flamingos in Bonaire or the famous floating market of Curacao. Superior snorkeling and diving can be had in the crystalline waters off these islands, from the secluded coves of Aruba to the coral reefs of Curacao.
Vacations To Go offers deeply discounted cruise fares year-round, with prices slashed by 50 percent or more for many itineraries. Many great deals are available in September and October, considered the off season for Caribbean cruising. During this time, there's more capacity as ships return to warm seas from summer sailing seasons in Alaska and Europe. And, kids have returned to school for the fall, so family travel slips off, leaving more berths to fill.
Cruises to the Bahamas and Caribbean promise sunny, exotic destinations, each port of call a perfect spot for sunbathing on breezy beaches or snorkeling with tropical marine life. Regardless of itinerary, these cruises will sweep travelers away on a carefree retreat from the ordinary.
By Katie Solan