Cruise Free as a Group Leader
For vacation or business, group cruising offers a world of benefits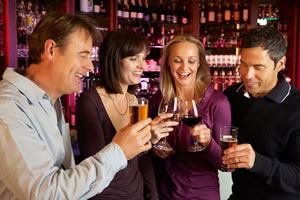 For an easygoing vacation with your friends, family or co-workers, look no further than a group cruise. You can travel to far-flung ports of call on an amenity-filled "floating resort," where your meals, entertainment and lodging are all included in the cruise price. And, there are perks for the group leader, as well -- most cruise lines offer a free fare to the individual who organizes a large party of travelers.
To qualify for one complimentary cruise fare, a group typically must fill at least eight cabins, based on double occupancy. The 16th passenger (usually the group leader) will cruise for free, although this person is still responsible for paying his or her port fees and taxes. The passenger receiving the "freebie" also has the option of spreading the discount among group members, lowering the cruise fare for everyone.
The free cruise fare is based on the number of cabins booked, not the number of passengers, so the third and fourth passengers in a stateroom do not count toward the minimum requirement. Some six-star luxury lines offer one free fare with as few as three cabins.
Vacations To Go, a Houston-based travel agency specializing in cruise discounts, has simplified the booking process for large groups. A customized Web site is created for each group, and participants can log in to view the ship details, cruise itinerary, cabin categories and available rates.
"Everything you need to know to be able to book is on there," says Sue Hidlebaugh, a group cruise specialist at Vacations To Go. The site covers most questions participants may have, and group members can pay for their cruise or purchase travel insurance through the secure site, 24 hours a day, seven days a week.
The leader's task is to work with the cruise counselor one-on-one and act as the group's spokesperson and decision maker, says Hidlebaugh. She says that the group leader's most important job is to serve as the primary communicator, asking the cruise counselor any questions that fellow travelers might have and then disseminating the information to the others. But, she notes, the information-packed Web site leaves little room for confusion.
Hidlebaugh also says that, when booking a large group, there's a big benefit to working with one of Vacations To Go's group specialists. "You're always going to have the same cruise counselor, from the first day you contact us until the day you sail and beyond. We're there to make certain that your specific group needs are met."
Your cruise counselor can request and confirm dining times and meeting space, as well as inform participants of the required travel documents. "The majority of groups are first-time cruisers," says Hidlebaugh, "so we'll make sure everyone is in the loop and knows what to expect."
Cruise lines often bestow extra perks, called amenity points, on groups that book together. "This is the other golden aspect of group cruising," says Hidlebaugh.
The number of reward points varies according to the cruise line, ship and sailing, but they can be converted into a variety of extras -- a hosted cocktail party, complimentary bottles of wine, bon voyage gifts of champagne and chocolates, or photo coupons, a popular choice, notes Hidlebaugh. "The cruise line is snapping photos of you all day and night, and to purchase them all would get expensive," she says.
Onboard credit is the most sought-after group reward, as passengers can choose to use the credit as they wish -- in the gift shop, the bar or toward shore excursions, for example.
Cruise vacations are ideal for a variety of groups. Wedding parties, alumni clubs, church groups, retirement community residents, Greek societies, sports teams, spring breakers and clubs of any kind are great candidates. Hidlebaugh has booked such diverse groups as the Red Hat Society and a gathering of college interns. However, the most common groups are family reunions.
Cruises are a great fit for multigenerational trips, as today's ships cater to all ages and a variety of tastes. A wide range of activities, entertainment and dining venues can all be found on a single ship, from Broadway musicals and gourmet restaurants to magic shows and poolside pizzerias. Many cruise lines offer supervised kids' programs and nanny services, as well as spots just for young cruisers, such as teen discos and video arcades.
A group cruise is also an attractive option for businesses. Companies often reward top sellers and exceptional employees with cruise vacations or hold annual meetings, seminars and retreats at sea.
"Group cruising is a great way to give a bonus to employees, yet give the employer a really good value for their dollar," says Hidlebaugh. While employers must cover meals in addition to lodging at many land-based company retreats, all food on the ship is included in the upfront price of the cruise.
Professional groups also have access to meeting space aboard the ship. Organizations can reserve rooms equipped with a podium and microphone for their awards ceremonies or continuing-education seminars, all at no additional charge.
"The new ships are being developed with beautiful conference areas," says Hidlebaugh, "many with stadium seating." While some older ships may not have dedicated conference space, alternate venues can be utilized such as bars and lounges, the library, theater or even the card room -- "any area not used primarily during the day for other activities," says Hidlebaugh.
For the best rates and availability, Hidlebaugh advises that groups should begin planning a trip nine months to a year in advance. This is especially true if you'd like to cruise where there's a shorter sailing season, such as Alaska or the Mediterranean, or if you're departing from New York or the Eastern Seaboard, where space can fill up quickly on the fewer cruises departing from these heavily populated areas.
By Katie Solan
The Vacations To Go Group Department is open Mon-Fri 8am to 8pm, Sat-Sun 9am to 6pm, U.S. Central Time.