Cruising the British Isles on Regent's Seven Seas Voyager
Life is good on Regent's Seven Seas Voyager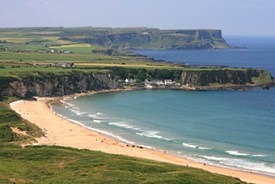 It started with four words I never thought I'd hear: "Hello. I'm your butler."
And so for 11 days, I reveled in the luxury of the new Seven Seas Voyager of Regent Seven Seas, where you can set out your scuffed shoes at night and know that the butler will have them ready in the morning.
Launched in April 2003, the ship sparkles like a car just off the showroom floor. My husband, our 13-year-old son, Christopher, and I sailed on the Voyager in June 2003, departing Southampton, England, for a cruise of the British Isles. It was our first time on a Regent ship; hopefully, not the last. Competing in the luxury cruise market, Voyager gives passengers a sense of intimacy and personal attention along with a full range of amenities.
A sense of spaciousness defines much of the Voyager experience, as the all-suite, all-balcony accommodations allow more breathing room in every cabin category. With one of the best passenger space ratios afloat, Voyager accommodates up to 700 guests in its 354 suites -- 88 with butler service included.
The smallest suite is a generous 356 square feet, including the balcony. The largest is the two-bedroom, two-bath master suite, logging in at 1,403 square feet. Every suite has a sitting area with sofa and chairs, a European king-size bed or two twin beds, and a bathroom with separate shower and full bathtub. Best of all, each suite has a walk-in closet with built-in bureau, a true rarity on cruise ships. Stateroom furnishings are contemporary, with tones of gold, green, champagne and umber and accents of natural wood, glass and chrome. Flowers, a bowl of fresh fruit, a nicely stocked liquor cabinet and mini-refrigerator are complimentary amenities.
Each of the ship's four restaurants earned our kudos for taste, preparation and presentation of meals. Signatures serves sumptuous traditional French cuisine of the highest order. It is one of only two restaurants at sea operated under the auspices of chefs from the famed Le Cordon Bleu. (The other is aboard Regent's Seven Seas Mariner.)
Latitudes is the ship's smallest dining venue, where chefs work in an open galley preparing modern American fare. One night during our cruise, the menu was inspired by the Hawaiian Islands, and another night by California's wine country. Each menu is paired with fine regional wines and music themed to complete the experience. Reservations are a necessity for both Latitudes and Signatures.
The Compass Rose is the largest of the Voyager's restaurants and is similar to most traditional cruise ship dining rooms, with one exception: All seating is open and offered on a first-come basis.
A fourth restaurant, La Veranda, offers a casual, buffet-style breakfast and lunch with indoor and outdoor seating. For dinner, La Veranda takes on a bistro ambiance, serving foods with a sunny Mediterranean flavor.
Dinners at all four venues include complimentary wine. There also is a pool grill cooking up burgers, hot dogs, chicken and fish. A room service menu is available 24 hours a day, and selections from the chef's nightly menu can be served en suite during regular dining hours.
Radisson does not bill itself as family-oriented, and this ship doesn't have separate children's facilities, but there is a youth program staff on board for selected sailings during the busy summer season. Two staff members ran the Club Mariner Youth Program for 24 kids on our sailing.
On the first day, Christopher, the too-cool teenager, avoided the "get-to-know-you" social but couldn't resist joining in by the second day. The program director sought out each kid on board to encourage participation in sports, shipboard tours and group meals. The paddle tennis court, golf driving net, swimming pool, Ping-Pong table and shuffleboard courts were favorite venues for young cruisers.
Warm Irish Welcome
When the Voyager anchors Sunday morning in the port town of Dunmore East, our first glimpse of Ireland is of a golf course so hilly and treacherous that just a slight slice or hook and your ball will be lost to the sea. An early-morning mist clings to the greens and surrounds golfers as they walk their appointed rounds. This small fishing village still has traditional thatched cottages along the coast and scattered up the hills. Its protected cove and beach are favorites for sunny weekends at the shore, and its pubs offer an authentic setting for a pint of local brew.
Waterford, the capital and commercial center of Ireland's southeastern region, is 10 miles up the River Suir from Dunmore East. The Voyager ran complimentary shuttles from the dock into Waterford throughout the day, allowing us to explore the town on our own.
We strolled cobbled streets and winding lanes in historic Waterford, enjoying the morning's peace. The shops and cafes were still closed, so our wanderings inevitably led to the outskirts of town and the famed Waterford Crystal Factory. Tours of the factory build appreciation for the art of the master craftsmen who transform glowing balls of molten crystal into the much-coveted hand-cut and engraved glasses and vases.
I don't have Irish ancestors, but we received such a genuinely warm welcome in the country that I wish I could claim a connection. In Dublin, a city of 1.5 million people, we stood on a corner, map in hand, for no more than 15 seconds before a businessman crossing the street stopped to ask if we needed assistance.
Prosperous, young (half the population is under 30) and successful at mixing old and new, central Dublin is great to explore on foot. We rode Regent's free shuttle from the port into the city, where we found lively pedestrian shopping alleys and street performers who vied for attention. We walked around the Trinity College campus and glimpsed the decorated pages of the Book of Kells, which dates from 800 A.D. and is one of the first illuminated books.
Attracted from a distance by a tall steeple, we inadvertently found the Dublin Tourism Centre, which is housed in the former St. Andrews church. The tourism center sells train tickets, souvenirs and sandwiches. We found great maps there and set out to see more of the city's sights. It was easy to walk to Dublin Castle, Christ Church Cathedral and St. Patrick's Cathedral.
Many areas outside central Dublin are worth a visit when time allows. The ship offered tours of the 18th-century Georgian houses of Dublin, Irish castles and horse-breeding farms.
At a memorable show called an "Evening of Irish Cabaret," we heard soulful Irish ballads that brought tears to our eyes. We saw traditional Irish dances that brought us to our feet. And we laughed nonstop as comedian Noel Ginnity had a room of 400 people of all ages and backgrounds in the palm of his hand. The show is offered each year May through October at Jurys Burlington Hotel.
Castles and Conquests
Holy Island on Wales' west coast is a 99-minute ferry ride from Dublin. It is small, just 32 square miles, but connects by road and rail to Anglesey Island and from there to the Welsh mainland. After the Voyager anchored off Holy Island, we joined a half-day excursion to Conwy Castle, reached via an hour's drive along a picturesque coastal route. With the sea on one side, black-faced sheep idling on the other and granite mountains rising in the distance, the commute is movingly scenic.
In this land of many castles, the best example of medieval military fortification is Conwy Castle. When England's King Edward I conquered this area of northern Wales in 1283, he commandeered 1,500 men from nearby towns to build Conwy Castle, completing it by 1289. Perched on a rocky outcrop with eight towers, three gateways and a massive 30-foot-high wall with its own 21 towers, Conwy Castle's ruins reveal masterful design techniques destined to thwart invaders for centuries. When the castle was ultimately breached in 1401, a trick led to its change of command, not brute force.
The castle's classic walled town is protected by ramparts three-fourths of a mile long and 24 feet wide. Snuggled in the Snowdonia Valley between great rock mountains and a boat-filled harbor, modern-day Conwy feels protected and peaceful. Small bakeries, chocolate shops, toy stores and restaurants line its narrow streets. On the warm, sunny day we visited, shop doors and windows were flung open invitingly. When it was time to return to the ship, our guide entertained us with tales of fact and fable that form the Welsh heritage.
Greenock, our first port call in Scotland, affords easy access to Glasgow and central Scotland. Though Glasgow's famous art and architecture beckoned, we chose a tour to Loch Lomond and Stirling Castle -- "Braveheart" territory -- for its emotion-filled role in Scotland's back-and-forth battles for independence against the English.
Stirling Castle sits high on a volcanic hill overlooking the Forth Valley. A strategic stronghold throughout the Middle Ages, the castle has been largely restored. Step into the Great Hall, where kings and queens dined with heads of state, warmed by five fireplaces and surrounded by rich tapestries, paintings and stained-glass windows. In the castle's recreated kitchens, life-size (and lifelike) mannequins pose, baking bread, plucking poultry and brewing ale. Work is under way to restore the kings' and queens' lodgings. During our visit, weavers worked on a large loom to reproduce decorative tapestries using authentic methods.
Visible from miles around is the 220-foot-high Wallace Monument outside the castle. It is dedicated to freedom fighter William Wallace, credited with wresting control of Scotland from Edward I in 1297. At the castle gates, statues honor Wallace and Robert the Bruce, who defeated the English again in 1314, taking Stirling Castle for the Scots (for a while, anyway).
Beyond Stirling Castle, a walk along Old Town's cobbled streets lets you peer into the past at places such as Argyle Lodging, an example of a 17th-century townhouse, as well as the Old Town Jail and the Church of the Holy Rude. Leave medieval times behind and travel a few more blocks to the city's thriving shops, restaurants, galleries and museums.
Our tour included a visit to the bonnie banks of Loch Lomond, the largest freshwater lake in Britain. About 19 miles from Glasgow, Loch Lomond is a favorite weekend getaway for sailing, canoeing, jet skiing and fishing. It is the gateway to Trossachs National Park, Scotland's first national park. There are charter cruises, restaurants, bars and cafes, and opportunities to enjoy the area's wild beauty while hiking or biking.
Windswept Islands
Just off Scotland's far northeast corner are the Orkney Islands, where a constant wind has worn the landscape low and smooth. There are no trees, and even the goats and sheep huddle close to the ground. Only about one-third of the 67 islands in the group are inhabited, but the Orkneys are home to many ancient mysteries, partially revealed in World Heritage Sites such as the Standing Stones of Stenness, the Ring of Brogar and the Neolithic stone village of Skara Brae.
Estimated to have been constructed about 5,000 years ago, Skara Brae consists of eight dwellings linked by alleys. Each contains a stone bed, a type of stone dresser with shelves, and a central hearth. The village was discovered in 1850 after the winds and unusually high tides of a great storm stripped the grass from a large mound of earth to reveal the stone buildings beneath. They are remarkably well-preserved, having been protected by layers of sand for centuries.
The Orkney Islands are dominated by one large island that's designated at one end as West Mainland and at the other as East Mainland. In between, on a narrow isthmus, lies Kirkwall, where our ship dropped anchor. It is the largest Orkadian city, with a population of about 7,000.
Kirkwall was founded by a Norwegian nobleman in 1035 and did not become part of Scotland until 1468. The town looks as much Scandinavian as it does Scottish. Take the short walk from the port to the historic center of town to see the 12th-century St. Magnus Cathedral, the Bishop's Palace and the Earl's Palace. Along these narrow, cobbled streets, we visited shops, watched a game of lawn bowling and enjoyed the famous Orkney ice cream, proclaimed the best of the trip by Christopher.
Invergordon, Scotland, is just a stone's throw from Loch Ness, so when the Voyager docked here we felt compelled to pursue Nessie, the monster of all legends. Our tour took us to Urquhart Castle, a fine lookout point built on steadfast rocks above the lake offering terrific vantage points for possible sightings of the Loch Ness Monster.
Upon arriving at the castle's grounds, we were ushered into a small theater to view a film about the bloody battles that took place here, first between the English and Scottish and later between the Campbell and the MacDonald clans. When the film ended, the curtains parted with great drama, providing a spectacular view of the castle and lake below.
The immense lake's hazy surface is exactly as pictured in those old and suspicious photos that claim to prove the existence of the Loch Ness Monster. The Loch Ness visitor center is just a short drive from the castle, and it vividly presents the history of Nessie sightings. To its credit, the center explains the efforts to prove the existence of Nessie without attempting to perpetuate the myth. In the end, visitors are left to decide for themselves -- and await further revelations.
Historic and Hip
Dundee was our final port call on the Voyager. Though the ship continued on to Copenhagen, we arranged for an early departure to enjoy several days in Edinburgh, a little more than an hour from the port. Edinburgh is a city rich in history and traditions, but it embraces the present, too, buoyed into the 21st century with an economy based on banking, finance, tourism and government.
Edinburgh's Old Town is charming, with origins in the 12th through 14th centuries. New Town dates to the 17th and 18th centuries. With the help of the British Tourist Authority, we spent a day exploring the city and its surroundings with certified tour guide Andrea Todd. We walked the Royal Mile, pondered the fate of James IV and Mary Queen of Scots at Edinburgh Castle, and ventured out to the Firth of Forth in Fife to visit the village of Culross.
Andrea took us in and out of narrow closes, along wide avenues, and up and down steep staircases to show us Edinburgh's treasures. There are many organized tours to Edinburgh's underground, most with an overwrought and ghoulish bent, but a visit to the Real Mary Kings Close is eerily like stepping into the 17th century to witness the scourge of the plague. The Museum of Scotland presents Scotland's history from its geologic origins to the 21st century.
Edinburgh has a hip, modern side, too. Every year, the city hosts a month-long celebration of the arts with six festivals known worldwide as the Edinburgh Festival.
I don't usually seek wisdom from fortune cookies or other confections, but each night on the Voyager, we received a morsel of dark chocolate encased in a tiny envelope printed with a thoughtful observation. These set my dreams free and inspired my days. I carried these words home and take them wherever I go: "It is not enough to say I have been there. A voyage is not just a journey. It's a period carved out of time, when the impossible can happen."
More About Regent's Seven Seas Voyager
We're sailing slowly on a calm sea through the British Isles as the sun peeks through scattered clouds. The land looks ancient, chiseled and worn by thousands of years of wind. There are scattered signs of development -- a communications tower and a cluster of buildings too far away to identify. Even in the distant haze, the mountains are vibrantly green -- covered with the same mossy layer that gives this part of the world its well-known, well-loved hue.
Many people spend a day at sea on deck relaxing by the pool, sunbathing and even swimming. On this day, with temperatures in the 50s and a wee small breeze, I wear fleece. For me, it's the perfect time to sit on our cabin's veranda: too cold to be by the pool, but too nice to be indoors. The low drone of the ship's engines and the gentle splash of the sea against the hull are hypnotizing.
Curious dolphins, ducks, fighter pilots in training and even a German submarine accompanied our ship at various times during our sailing. Interested in a closer look at the gleaming Voyager, one military ship pulled so close we could see the sailors' smiling faces as they waved to all aboard. With a twinge of guilt I waved back to the duty-bound sailors before heading toward the appointment desk at the spa.
This spa stays busy and books up early in the cruise, particularly for the days at sea. The spa has eight treatment rooms, two steam rooms, two saunas and a hydro bath. Passengers can indulge in a variety of massages, facials and body scrubs. The spa is operated by Judith Jackson, a practitioner of aromatherapy and author of "The Magic of Well Being." Jackson's line of natural, plant-based products is sold at the spa, but mercifully, there is no sales pitch.
A well-equipped fitness center and large aerobics room adjoin the spa. Every day, purpose-driven passengers line up on treadmills, elliptical trainers and exercise bikes to maintain fitness despite round-the-clock temptations from the Voyager's kitchen. With a range of classes augmenting individual efforts, there is every reason to take part in some sort of activity each day.
There is ample variety in entertainment and diversions. The Voyager has four lounges, plus the two-tiered Constellation Theater, where we enjoyed shows that ranged from a major Broadway-style production to the solo act of an English professor who now performs as a juggler, comedian and magician. Guest lecturers, afternoon tea, casino action, art auctions and bridge games are some of the other possibilities offered on a daily basis.
By Karen Northridge