Cunard's New Queen
The Queen Victoria carries on the line's tradition of classic cruising with impeccable service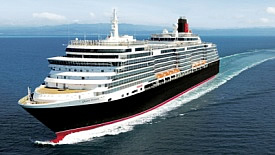 While standing amid the clutter of fine jewelry shops and high-end fashion boutiques on a stretch of clean, well-kept street outside Aruba's capital of Oranjestad, we noticed the distinctive red funnel of the newest liner of Cunard standing tall and proud over the deep turquoise water and pink Dutch architecture.
Craning our necks, we could barely spot the uppermost deck of the Queen Victoria. But, thank goodness, it soon would be time to catch our transfer to the ship. We had to see this new Queen in all its glory, up close and personal. And, that's just what my husband, Michael, and I did for the next seven days as we sailed aboard Cunard's elegant new ship from Aruba to Acapulco, Mexico, for a segment of its maiden world cruise.
We joined the ship on Jan. 19, five days after the historic "royal rendezvous" of Cunard's three vessels in New York's harbor -- Queen Victoria, Queen Mary 2 and the soon-to-be-retired Queen Elizabeth 2. They met in port for the first and only time as the Statue of Liberty looked on and fireworks lit up the night sky. It was a true celebration in the rich maritime tradition for which Cunard is known.
Built by the Italian shipbuilding company Fincantieri at a shipyard near Venice, Queen Victoria sailed its sea trials last August and was named on Dec. 10 by the Duchess of Cornwall in Southampton, England. Queen Victoria is smaller than Cunard's other recently built ship, the 150,000-ton Queen Mary 2, which holds the distinction of being the largest liner in Cunard's 160-plus years of operation. Queen Victoria is still an impressive 90,000 tons, however, and longer than three football fields. The ship has a maximum guest capacity of 2,000 in 990 passenger staterooms.
Our cabin, in the A2 category, was spacious and had many of the amenities of luxury hotel accommodations. Soft drinks and bottled water were stocked in a small refrigerator, a TV offered music, film and news channels, and a direct-dial telephone, safe and hair dryer were easy to find and use. The bathroom had a stand-up shower and was nicely appointed, if a bit small.
Queen Victoria's cabins are not equipped with clothes drawers. Ample hangers hang in the closets, with shelving above, and while this was fine for our seven-night cruise, those on board for longer periods did have some complaints about the lack of space for unpacked clothes.
Far outweighing any perceived shortage of storage space were our favorite features of the stateroom: the incredibly comfortable bed with stacks of fluffy down pillows and a plush, white duvet, and our spacious private balcony, where nearly every morning we enjoyed the fresh ocean breeze while eating breakfast delivered by a friendly member of the room service staff.
Twenty-four-hour room service and many of the other amenities we enjoyed come standard in all suites and cabins on Queen Victoria. However, there is one difference among room categories that's most evident in the dining venues available to each.
Passengers who book the larger, higher-end suites have access to the exclusive, open-seating restaurants Queens Grill and Princess Grill. According to Queen Victoria's executive chef, Jean-Marie Zimmerman, the Grill menus were designed to use more elaborate, exotic ingredients than the main dining room fare. Though there is a set menu each evening, Grill guests may order anything they can dream of -- odds are, the 17 skilled chefs dedicated to the Grills can make it. Beef Wellington and Dover sole are two common requests, said Chef Zimmerman, but they've also honored requests for specialty Thai dishes and other international cuisine.
Guests who book ocean-view and inside cabins or standard balcony suites are assigned to the main Britannia dining room, available for open-seating breakfast and lunch and two assigned seatings for dinner, at 6:30 and 8:30. We ate in Britannia and enjoyed every meal. The inventive menus were varied enough to keep our palates interested all week, and the service was attentive.
Our last night on the ship fell on Robert Burns Day, birthday of the celebrated Scottish poet and lyricist. The kitchen made sure to offer the traditional Burns supper of haggis with nips and tatties, otherwise known as sheep organ pudding with mashed turnips and potatoes. I decided to be adventurous and jumped right in for a taste. Both my husband and I were surprised by how much we liked the meal. One of our fellow diners was even inspired to erupt into a rendition of Burns' famous poem "Ode Tae a Haggis."
In addition to the Grills and the Britannia, Queen Victoria offers several alternative dining venues. Like its sister ship, Queen Mary 2, Cunard's new Queen boasts the Todd English Restaurant. With seating for 100, the intimate restaurant features columns covered in flowing, cream-colored drapery, gold trim along leather banquettes and unique, modern lighting. With menu items like the to-die-for truffled potato "love letters" ravioli starter, a superbly roasted rack of lamb with black olive jus and the chef's famous chocolate fallen cake, the Todd English is not to be missed. Guests must make a reservation to dine in the restaurant, and there is a surcharge, but the innovative cuisine and great service are well worth it.
Anyone looking for the traditional cruise buffet will find it at the Lido on Deck Nine. Serving buffet-style breakfast and lunch and a rotating menu of international fare in a restaurant setting at dinner, the Lido is a welcome casual dining alternative. For other low-key dining options, the Golden Lion Pub offers English pub food for lunch, and the outdoor hamburger grill and salad bar on Deck Nine provides a quick meal while lounging by the pool.
And lounge we did! With more than 1,000 deck chairs on 10,000-plus square feet of open deck space, Queen Victoria welcomes sun worshippers, people watchers, deck walkers, shuffleboard aficionados and paddle and table tennis players. We were on board during the Caribbean stretch of the world cruise and were fortunate to have sunny, warm days to spend lying by the two swimming pools, listening to the live band and sipping brightly colored cocktails. On a couple of occasions, when we needed a break from the sun, we joined the paddle tennis and shuffleboard tournaments organized by sports directors Edward Moffat and Steven Wright.
Guests on Queen Victoria will never be bored as long as Ed, Steve and the entire entertainment staff, headed by entertainment director Alastair Greener, are around. Activities and events fill every sea day aboard Queen Victoria. From bridge classes, watercolor painting sessions, line dancing, trivia contests and bingo games to exercise seminars, live classical music concerts and fencing instruction, guests can stay as busy as they wish.
Michael and I decided to join a fencing class on the morning that Queen Victoria transited the Panama Canal. We watched from our balcony as the ship entered the first locks, then headed down to the Queens Room, where we were outfitted with protective gear. We learned the proper terminology and stances -- and that the sport is much more taxing than it seems. After about 30 minutes of lunging and working up a sweat, we were chosen out of the group to duel each other. With just a bit of pomp and circumstance, we were front and center, ready to attack and parry. Truth be told, we laughed throughout most of this formal fight, which lasted a few minutes. Michael won, and I was sore for days, but we'll be telling the story for years.
The remainder of that day was spent on deck as we traveled from the Caribbean Sea to the Pacific Ocean through the canal. Work on the famed canal was completed in 1914, and the basic technology used today is the same as it was then. Each ship (the canal sees roughly 14,000 ships a year transit its waterway) must go through a series of locks to be raised from the level of the Caribbean to that of Gatun Lake and back down again to the level of the Pacific.
Each lock chamber holds more than 65 million gallons of water, and it was fascinating to watch as the steel gates closed and water raised the massive ship. Canal expert Jose Fernandez offered commentary throughout the day as part of the ship's enrichment lecture series.
On most sea days, lectures, matinee movies and the main evening entertainment take place in Queen Victoria's three-deck Royal Court Theatre. With richly colored accoutrements, historic theater posters, tiered seating for more than 800 and private boxes open to all guests, the theater seems as though it's been transplanted directly from London's West End.
We especially enjoyed a performance of "The Songs of Elton John" by the Royal Cunard Singers and Dancers. Talented vocalists sang John's songs well, and the dance ensemble did an impressive job interpreting the emotions and power of the music.
If dancing the night away yourself is more your style, Hemispheres nightclub keeps the music pumping and the lights twirling. The Queens Room Orchestra draws guests to the ballroom floor every evening in the elegant Queens Room. Designed for dancing and cocktail parties, the space features sparkling crystal chandeliers, a 1,000-square-foot dance floor, richly colored decor and cantilevered balconies where onlookers can observe the nightly festivities. A traditional English tea takes place here nearly every afternoon.
At its heart, Cunard is a British cruise line, and everything from the baked scones and clotted cream at tea to the questions asked at trivia games has a distinctly British flair. On decks two and three, the Royal Arcade offers shopping and a grand staircase highlighted by an elegant clock made by E. Dent & Co. Ltd., builders of the famous London landmark, Big Ben. Inspired by the Royal and Burlington arcades in London, Queen Victoria's Royal Arcade boasts wood paneling and green marble framing large glass storefronts. The shops offer fine jewelry, formal wear, high-end watches and a variety of souvenirs. Frequent sales offer items such as designer purses and loungewear at prices lower than what you'd find on shore.
The English-style, 6,000-volume library features a spiral staircase leading to the second level, which is topped by a green stained-glass ceiling. With plenty of tables, leather armchairs and sofas with reading lamps, the library is a perfect spot to spend a quiet afternoon working on the ship's daily crossword puzzle or reading the next selection of Queen Victoria's book club.
Anyone who has sailed with Cunard has experienced the line's dedication to its history and traditions. That famous White Star service is alive and well on Queen Victoria, and in celebrating Cunard's heritage, the designers of the vessel created a ship that also acts as a floating museum.
Images from Cunard's past are displayed throughout the Queen Victoria. Historic paintings of the original fleet and photographs of well-dressed celebrities posing on Cunard decks decorate the passenger elevator lobbies and stairwells. The Commodore Club showcases artist renderings of Cunard ships, and two elaborate models of past liners adorn the entrances to the nautically themed bar.
For cruising history buffs, Queen Victoria's permanent museum exhibit, Cunardia, chronicles three famous Queens -- the original Queen Mary, which debuted in 1936; the original Queen Elizabeth, which debuted in 1940; and Cunard's most famous ocean liner, Queen Elizabeth 2, which debuted in 1969. With exclusive artifacts and anecdotes from past crew and passengers, Cunardia pays tribute to the company's story through the 20th century.
Our last full day before arriving in Acapulco was perhaps my favorite and most relaxing time on board Queen Victoria. We spent the morning jogging and lifting weights in the gym, then headed to the spa's hydropool and thermal suite, where we tried out steam rooms of varying intensity and nearly fell asleep on the soothing, warm tile beds.
We whiled away that afternoon playing cards and sipping cocktails in the Winter Garden conservatory. The relaxing indoor/outdoor space has a retractable glass roof, bright foliage and rattan armchairs and couches for lounging. We enjoyed it while the roof was open, but for blustery ocean crossings, the roof closes while still allowing natural light to fill the room.
On the last morning of our cruise, as we waited to disembark in Queen Victoria's stunning, three-deck Grand Lobby, we reflected on our week and realized why Cunard has so many return guests. The company continues to build ships overflowing with the spirit and service of the golden age of ocean liner cruising.
With stately elegance and a mixture of regal British charm and modern sophistication, Queen Victoria fulfills the expectations both of loyal Cunard guests and travelers enjoying the Cunard experience for the first time. It rightly deserves its place among the most famous ocean liners in the world.
By Lindsay Lindquist