Discover Bermuda on a Cruise
Tropical allure, pink-sand beaches and British charm mingle on this lovely island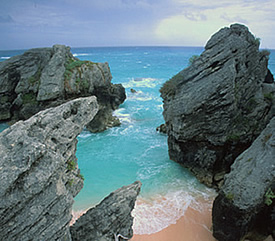 Located 650 miles east of North Carolina's Cape Hatteras in the Atlantic Ocean, Bermuda is an island full of contradictions. It's often assumed to be a Caribbean locale -- and it certainly has all the right qualities: Though referred to as simply "the island," it's actually a collection of more than 350 isles surrounded by coral reefs and marked by pretty pink sands, clear, turquoise waters and hidden coves. It's an inviting destination for golfers, sunbathers and snorkelers, where fresh ocean breezes mingle with the floral scents of the island's tropical gardens.
However, here you'll also find a refined air of British decorum and charm, a quality that sets Bermuda apart from Bahamian or Caribbean islands.
Bermuda is Britain's oldest colony, although first discovered in 1505 by the Spanish explorer Juan de Bermudez, who gave the island its name. Nearly a century later, the 21-square-mile island was claimed by Adm. Sir George Somers, shipwrecked here with his crew en route to Virginia. Now a self-governing dependency, Bermuda's ties to the crown remain strong. Afternoon tea is a daily ritual, judges wear powdered wigs and cricket is the favorite sport. Bobbies still direct traffic, and a day's work is often capped off by a pint of ale at the local pub.
African influences are also present, mostly appearing in the form of island music and dance. Reggae and calypso beats infuse local gatherings and festivals, as does Gombey dancing, a spirited form of dance with African tribal roots, incorporating British colonial and American Indian influences. Dancers wear brightly colored capes -- decorated with sequins, ribbons and yarn -- and dance to the beat of a goatskin drum, often portraying Biblical stories.
Despite Bermuda's status as a beach destination, visitors are advised to dress conservatively. Bathing suits (or anything otherwise immodest) are allowed only on the beaches; swimwear must be covered in public. Island life and British convention meld in interesting ways, however -- in the summertime, businessmen pair navy blazers and knee socks with colorful Bermuda shorts.
The Bermuda cruising season is from April to early November, and itineraries typically last five to seven days. Passengers can find a bevy of historical sites and enjoy numerous water sports, all on an island that has developed its own unique personality over the course of 400 years.
Bermuda cruises depart from Northeast Atlantic ports -- New York City, Boston, Baltimore, Philadelphia, Bayonne, NJ, and Charleston, SC. Ships spend two to four nights at the island, either staying at one port or visiting up to three. "If you want to get a really good feel for just one island, Bermuda cruises are the way to go," says Cheryl Cunningham, manager at Vacations To Go, a leading discount travel agency.
A caveat: Passenger capacities for Bermuda cruises are tightly controlled in order to keep the crowds to a minimum. It is not unusual for cruise lines to limit the number of cabins with triple or quadruple occupancy on a particular sailing. Families with children who would like these accommodations for a summer Bermuda sailing should generally book at least 90 days in advance.
Bermuda's main cruise ports are Hamilton, King's Wharf and St. George's, all boasting beautiful beaches and remnants of the island's British colonial history. The island's hub is Hamilton, both a commercial center and the capital city. Front Street is where the city's pulse lies -- a waterfront road lined with Victorian buildings in bright shades of lemon, peach, apple green and sky blue. Ride through the historic district in a horse-drawn carriage or trolley, or linger on a veranda watching the waves lap against the harbor.
One interesting way to tour this part of the island is to bike the Bermuda Railway Trail, once the route of Bermuda's original narrow gauge railroad. The path offers spectacular views of the island scenery, from seascapes to exotic flora and fauna.
King's Wharf on Bermuda's west end has something for everyone. Spend a pleasant hour or two strolling around the Royal Naval Dockyard, an impressive limestone fortress built by the British in the 1800s. Many of the buildings now house restaurants, pubs, shops and museums, including the Bermuda Maritime Museum, with exhibitions on the island's rich naval history. Dolphin Quest is also located at the dockyards, where visitors can interact with bottlenose dolphins. Hamilton Sound boasts clear waters perfect for sailing, or find unique gems at the Bermuda Arts Centre or the Craft Market.
King's Wharf is also home to Paradise Lakes -- kayak through these waters to view a wide variety of sea life and bird species, including the great blue heron. Glass-bottom boat excursions are available to Bermuda's Sea Gardens, home to vibrant coral and underwater life.
St. George's, on the east end of Bermuda, is the oldest inhabited colonial English town in the New World. A UNESCO World Heritage Site, St. George's 400-year history is reflected in its 17th-century buildings, churches, tranquil gardens and cobblestone alleyways. Walking tours are the best way to experience the town's wealth of history. From Ordinance Island, you can cross the short bridge to King's Square, viewing the town hall and pillories used in colonial days. Nearby are Somers Gardens and the rest of the town's stone-paved streets.
Visitors can shop for collectibles at the Bridge House, once home to Bermuda's governors, or tour the 1620 Old State House. Windsor Beach boasts the island's best surfing grounds, while the 1609 Gates Fort was built by one of the island's original settlers from Adm. Somers' shipwrecked Sea Venture. Tobacco Bay Beach, a stretch of pale pink sand, is the most popular beach in St. George's.
For open-air exhilaration, rent a motor scooter to zip about town. Visitors are not permitted to rent cars in Bermuda, but motor scooters are readily available and a popular mode of transportation among tourists.
No matter where you visit in Bermuda, the coral-colored beaches are no more than a mile away. The island's world-class reefs and clear waters give snorkelers and divers alike excellent views of marine life. The stunning reefs, however, caused many shipwrecks over the centuries, and divers can hunt for more than 350 wrecks dating to the 15th century. Glass-bottom boat tours are popular, as well as evening champagne cruises aboard a catamaran. Take a small sailboat to explore the pink sands of Bermuda's many less-traveled isles, or troll for blue marlin and other big-game fish on a deep-sea fishing excursion. The island also boasts perfect conditions for kayaking and parasailing.
With some of the most beautiful greens in the world, Bermuda is also a true golfing destination. Eight golf courses are spread across the island, and because ships stay in port for several days, tee times are easily scheduled.
For the shopping-savvy, Bermuda offers authentic British goods such as tweeds, cashmeres, linens, porcelain, crystal, silverware and fine jewelry. Locally made honey and rum-based liqueurs are treats, and native island crafts are also sought after, from wood-handled handbags to polished shark's teeth. And, don't forget to pick up a pair of those famous Bermuda shorts.
By Katie Solan