In the Mediterranean With Windstar
Enjoy a casually elegant atmosphere aboard the sleek, intimate Wind Surf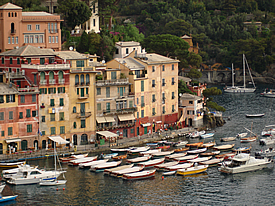 Florence's Piazza Della Signoria embodies that juxtaposition of old and new that I've always found so intriguing in Europe's grand cities.
A plump pigeon lands on the head of a scowling marble lion that has been guarding the same spot for many lifetimes, and tourists swing their cameras toward the comical sight. A horse-drawn carriage rumbles across the broad square, carrying sightseers past the magnificent 14th-century Loggia dei Lanzi with its outdoor gallery of statues, and past the souvenir kiosks selling key chains, postcards, Pinocchio puppets and miniature plaster renditions of Michelangelo's "David."
And taking it all in are the customers that fill the cafes along one edge of the plaza. They sit at the compact tables nursing dark espressos, dipping spoons into smooth gelato, or tucking into hearty plates of fresh pasta.
This was one of many vibrant scenes collected during a weeklong European cruise aboard the sailing yacht Wind Surf. The 308-passenger ship is the largest of three vessels operated by Seattle-based Windstar, a cruise line whose impeccable, breezy style perfectly mirrors the seemingly effortless approach to life embraced in towns along the Mediterranean Sea.
Passengers are introduced to Windstar's low-key ambiance the moment they step aboard. At Civitavecchia, the port for Rome and our embarkation point, check-in was a snap. It took place in the ship's lounge rather than in a port terminal, so guests could sip mimosas and nibble on finger sandwiches while filling out paperwork.
On this cruise, which called at ports in France, Italy and Monaco, passengers saw the results of Windstar's recently completed $8 million fleetwide enhancement program. Cabins now are outfitted with luxury cotton linens, plush Sealy Euro-Top mattresses, DVD/CD players, flat-screen televisions and Bose SoundDock speakers for playing tunes from MP3 players or iPods. Complimentary Apple iPod Nanos with preloaded music can be checked out from the ship's reception desk.
Standard staterooms feature a minibar, refrigerator, desk and plenty of mirrors. There is ample storage space, and the mesh pockets inside each closet door are especially handy for holding items like flip-flops and sunscreen. Wood floors, L'Occitane en Provence bath products and potpourri nesting in a blue glass bowl grace the bathroom.
The enhancements extend to the galley as well. Chef and restaurant owner Joachim Splichal -- with whom Windstar has enjoyed an 11-year partnership -- created 100 new recipes for the line, and the wine list has been updated, too. On this sailing, evening meals were a succession of creative delights: chilled carrot-and-lemongrass soup with a mellow dollop of coriander créme fraîche, "butter-poached" chicken breast atop a saffron-and-porcini risotto cake, and mixed greens tossed with manchego cheese, dates, walnuts and pistachio oil, for example.
The Wind Surf has an open-seating policy at The Restaurant, so you can eat when you want and with whom you want. There is also the more intimate Bistro, for which reservations are required. But leave your jackets, ties and cocktail dresses at home. The evening dress code is relaxed, and guests are encouraged to pack clothes appropriate for an elegant resort -- light and cool, made of natural fabrics such as cotton, silk and linen.
Most passengers head to The Veranda for breakfast and lunch buffets. Lobster was the star attraction of the midday meal when we left Portofino. Large warming pans were filled -- and refilled -- to the brim with tender lobster tails. Another day, the kitchen staff laid out an expansive Greek spread with a gyro station, calamari salad, moussaka and much more, including an addictive chilled fig-and-strawberry soup scented with ouzo.
I indulged my palate both on and off the ship, starting in Rome. Travelers who board cruise ships in the Italian port of Civitavecchia fly into the capital city, about an hour's drive away. It's best to purchase a motor coach transfer from the cruise line for a hassle-free trip to the pier.
To get the most out of Rome, fly in a day or two early. I arrived the evening before the ship's departure and had just enough time the next morning to explore St. Peter's Basilica, head to the Trevi Fountain for the ritual coin-tossing, and order a gelato. Later that afternoon I was settled under a sun umbrella on the Wind Surf's deck as the captain set a course for our first port, Porto Vecchio, a former Genoese stronghold on Corsica's southeast coast.
Passengers ride tenders from the ship to Porto Vecchio's waterfront, then board shuttles for the short drive to town. Boutiques and eateries line the medieval-era streets, and a jumble of cafe tables fills the pretty, tree-shaded main square. Shops sell locally produced wine, honey, olive oil and brocciu, a soft cheese made from goat or ewe's milk.
I'd designated this as a beach day. One of the prettiest stretches of sand on the island is Santa Giulia, about a 15-minute drive through countryside thick with maquis, the dry, low-lying scrub that's ubiquitous on Corsica. Taxis are hard to come by in town -- I was fortunate to have a very helpful shuttle driver who called several friends before finally locating one who was free to pick up a new fare.
The route descended to a large crescent of soft white sand backed by stands of pine trees. The translucent aqua-blue waters were still chilly in mid-June, but the sun was hot and the skies were clear. Santa Giulia has very good facilities, with chairs, umbrellas and water-sports equipment available for rent, and a restaurant and pleasant outdoor bar.
The next morning, Wind Surf passengers awoke in Portoferraio, perched on a promontory on the Italian island of Elba. Napoleon called Elba home during a nine-month exile, and his Portoferraio manor, Villa Mulini, can be reached via a steep uphill climb.
The Wind Surf docked at the pier, and a short walk across the street and to the right led to the upper reaches of town. It's well worth a stroll up and down the narrow streets, past buildings in shades of cream, pale pink and butterscotch, lace curtains peeking through windows framed by green shutters. Get your shopping done early here -- most stores close around 12:30 and don't reopen until late afternoon. Right across the street from the dock is a terrific gelateria called Zero Gradi, perfect for a cool treat before reboarding the ship.
From Elba, the Wind Surf sailed north to Livorno, gateway to Florence and Pisa. The ship overnighted here, so passengers had two days to explore the treasures of Tuscany.
I signed up for a motor coach transfer to Florence. As we traveled for about an hour, our guide gave an overview of the city and its attractions, but once in Florence, we were on our own. Sculptures, fountains and stunning Renaissance architecture fill the old city center. The huge dome and bell tower of the massive Basilica di Santa Maria del Fiore -- more commonly known as Il Duomo -- rise high above the rooftops, dominating every photo of the city. Il Duomo's beautiful and intricate facade of colored marble inlays is a design marvel. A very long line of visitors waited to enter the cathedral, but I trusted the advice of our guide, who had said the exterior was far more spectacular than the interior.
At the Wind Surf's shore excursion desk, I had paid an additional $30 for a reserved ticket to the Galleria dell'Accademia, home of "David," one of Michelangelo's best-known sculptures. This seemed a bit steep, but when I realized it would allow me to bypass the long line of antsy tourists, I knew the price was well worth it. Admission to the museum is tightly regulated, so it is never crowded. Passengers also can purchase a reserved ticket for the Uffizi Gallery.
The next day I joined a wine-tasting excursion to Fattoria Michi, a 50-year-old vineyard in Montecarlo in the province of Lucca. We drove through the lovely Tuscan countryside, past slender cypress and olive trees with their distinctive silvery green foliage. A smattering of red poppies dotted the fields, and old stone farmhouses nestled in the hills. At one point, we could just make out a tiny tilted shape in the far distance -- Pisa's famous leaning tower.
Montecarlo di Lucca has a long tradition of wine-making, and Fattoria Michi produces about 130,000 bottles a year. After a brief tour, we sat down to lunch at communal tables. A variety of wines, bowls of sun-dried tomatoes and platters of bread, cheeses, prosciutto and salami were set before us. It was a simple yet soul-satisfying meal.
Tuscans are as passionate about their olive oil as they are about their wine, hand-picking the olives so as not to bruise the fruit. Fattoria Michi grows olives, and I carted back four bottles of its oil. Drizzled over warm pasta tossed with fresh herbs and shavings of good parmesan, the bright, peppery flavor is a welcome reminder of that Tuscan afternoon.
The Wind Surf spent the next morning in charming Portofino, which is tucked into a deep-green cliffside. Boats bob in the tiny harbor, and pink, yellow and rust facades overlook a broad square. Wealthy Italians own the high-priced villas in the hills above town, but Portofino has retained the humble feel of an old fishing village.
I set out for San Giorgio church and Castle Brown. You'll find the beginning of the uphill path off a corner of the square between Trattoria Tripoli and Ristorante Delfino. In the cool morning, it's a pleasant walk along an alley shaded by trees and scented with jasmine. The yellow San Giorgio church has a soothing whitewashed interior, and the castle features beautifully landscaped grounds. Both command picture-perfect views of Portofino and the sea.
Visitors also can stroll the little lanes full of shops, or take in the rarefied air of the luxurious Hotel Splendido, at the top of a steep, winding road. (You can find a taxi where they gather just beyond the square; vehicles are not permitted in the plaza.) The 65-room property originally was a monastery, then a private home. It opened as a hotel in 1901, since then drawing well-heeled guests from around the world. You can savor the atmosphere for the price of a cup of coffee in the terrace restaurant, which boasts striking vistas.
The Wind Surf left Portofino at noon for Monte Carlo, where we would arrive about eight hours later. Passengers used this long stretch at sea to enjoy the ship's amenities.
Like the line's other two vessels, the 617-foot masted Wind Surf is designated as a motor-sail yacht. Its seven billowing computer-operated sails can unfurl in two minutes with the push of a button. The Wind Surf operates under sail whenever it can. As Capt. Mark Boylin remarked, after quoting current diesel fuel prices, "Whenever the wind is in our favor, we will use it. The wind is still free."
There are plenty of places to lounge on the broad teak decks, and guests have access to two saltwater pools, Jacuzzis, a spa and a fitness center. There is a water-sports platform that can be lowered when the ship is in port, but this is more commonly used on Caribbean itineraries.
Public areas feature crisp lines, soothing colors and nautical accents. In the large main lounge, banks of comfy sofas under the windows are lined with plush pillows in tan, white and navy, and each cocktail table sports a bonsai plant in a white-and-blue pot (these were also in cabins). There is a bar at one end and a small casino at the other.
Guests will find a business center outfitted with computer terminals on the Bridge Deck. At the aft of the Bridge Deck, the indoor/outdoor Compass Rose Lounge is the site of late-night entertainment, continental breakfast and afternoon tea. The bridge itself is open to passengers, except while the vessel is in port.
In the ship's library, you can peruse the shelves of available DVDs or study the binders that list 20 pages worth of CDs that can be borrowed from the reception desk. There are sign-up sheets for those who want to gather for a game of bridge, chess, backgammon or Scrabble.
Entertainment on board is laid-back. One evening, the staff presented a cultural show featuring songs and dances from their homelands. They were a terrific hit.
Service was superb on the Wind Surf, with more than one crew member for every two guests. I never ceased to be amazed by the staff's uncanny ability to remember the names of seemingly every passenger.
"The crew is the main asset of this line," said Francois Birarda, the Wind Surf's hotel manager, during an afternoon chat. "They are really special. Without them, we would not be as successful as we are."
We docked at Monaco shortly after 8 p.m. The ship would spend the night here, giving passengers an opportunity to sample the nightlife of this moneyed principality. I walked from the pier around the U-shaped marina to the glittering Grand Casino on the opposite side of the harbor. The 20-minute stroll passed an impressive lineup of private vessels, but the queen bee of them all was the gleaming megayacht Lady Moura. At 344 feet, she beats the late Aristotle Onassis' Christina O by about 19 feet. Owned by a Saudi Arabian billionaire businessman, the Lady Moura is a superstar in the world of luxury yachting, and perfectly at home in Monte Carlo's marina.
The Grand Casino is flanked by the Cafe de Paris on one side and the Hotel de Paris on the other. Settle into one of the outdoor tables at the cafe, order a glass of wine or a cappuccino, and sit back and watch the parade of expensive sports cars and chic casino-goers.
But as you're rubbing elbows with the jet-set crowd, remember: Your yacht is bigger than theirs.
By Elizabeth Armstrong