Escape to the Tropics
A new ship from Norwegian Cruise Line offers island getaways for all tastes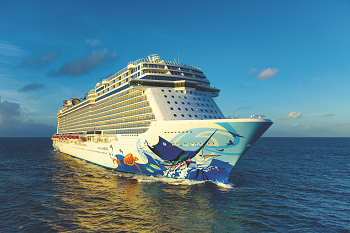 I'm 20 stories above the Atlantic Ocean, wind whipping through my hair, walking a tightrope on my way to The Plank of Norwegian Cruise Line's newest and largest ship, the Norwegian Escape. All I can think about is just that — escape!
On the ship's challenging and state-of-the-art ropes course, I discovered my limit for adrenaline-pumping vacation activities. I realized up there that I am much more of a "drink a cocktail while reading a book on the sundeck" kind of cruiser.
Fortunately, with its "Freestyle Cruising" approach, Norwegian has the escape for you, whether it's a quiet couple's getaway, a raucous party with friends or a memory-making trip with the kids.
Couple's Getaway
My three-night sailing on the Norwegian Escape happened to coincide with my ninth wedding anniversary. My husband, Michael, joined me on the jaunt from Miami to Nassau, capital of the Bahamas, and we extended our trip with a two-night stay at a lovely South Beach hotel.
After boarding the ship, the first thing we did was check out The Waterfront, a quarter-mile walkway that wraps around Deck 8 and allows you to breathe in fresh ocean air while dining or enjoying a cocktail from patio seating along the promenade. We grabbed a drink at the 5 O'Clock Somewhere Bar and chatted with the friendly server while waiting to set sail. The Waterfront also is a great spot for a romantic stroll away from the hubbub of activities on the upper decks.
There are 28 dining options and 21 bars on the Escape, and three nights wasn't nearly enough time to try all of them. We dined at Moderno Churrascaria, a superb Brazilian-style steakhouse that was worth the surcharge just for the salad bar. Food Republic is a fun and delicious experience not to be missed; ordering from the global fusion (with a decidedly Asian flair) menu is done via iPad, and pricing is a la carte. Try a dessert — the Banana Bun and Green Tea Jar are fantastic. The Cellars, a wine bar from the Michael Mondavi Family, is a nice spot to stop in for a glass before dinner.
After supper, head to the Escape Theater to see the Tony Award-winning show "After Midnight." Its impeccable tap numbers, big band romps and soulful melodies are a throwback to the heyday of Harlem's Cotton Club. For lunchtime entertainment, "Wine Lovers the Musical" combines your meal, wine tasting and a musical comedy all about love and the love of wine.
We were excited to arrive in Nassau and depart for our shore excursion to the expansive Atlantis Paradise Island resort. On the "Discover Atlantis & Beach Break" tour, a guide showed us to prime waterfront, gave us the layout of the resort property and provided about five hours to explore on our own. We took our time walking through Atlantis' impressive aquariums, then dined at a poolside restaurant. We finished our time there lounging on the beach and floating in the tranquil, clear ocean.
After all that relaxing, we decided it was time to get our hearts racing. Back on board the Escape, we got in line for the ropes course as soon as the crew opened the queue. My bravado started to falter during the safety briefing, but I pushed on — not realizing that, once I ascended the staircase to the first platform, I couldn't turn back.
There were moments of fun on the course as we traversed the obstacles alongside kind and supportive fellow passengers. My husband was itching to go faster and higher and to try out The Plank (extended 8 feet beyond the edge of the ship), but he stayed by my side and I nearly kissed the deck once my harness was removed an hour later. I definitely was ready to go back to relaxation mode!
Luckily, I had booked a 75-minute Swedish massage. My masseuse was skilled and strong and, though there was a push for me to buy something from the ship's featured product line, the experience was pleasant. In fact, I was so relaxed afterward that I retreated to our eighth-deck stateroom to stretch out on the full-size lounge chair on our extra-long balcony. It was the perfect spot for letting the sound of the ocean lull me into a restful midafternoon nap.
Party With Friends
If you're looking for more of a raucous bash with friends, there is no shortage of opportunities on the Escape. The sail-away celebration will get everyone pumped up for the cruise as revelers head to the dance floor surrounding the main pool. We noticed throughout the cruise that the pool was the place to be for big groups: Passengers grabbed their spots early, and the atmosphere grew more rowdy as friends, old and new, let loose in the sun.
For adults-only fun, your group can check out Spice H2O, which offers a grotto-style water feature, plenty of seating near the bar and gatherings every night. We joined the Glow party after dinner on our second evening at sea, and I've never been to a better-attended cruise ship bash. It was packed with people wearing neon or white shirts, waving glow sticks in the air and dancing like crazy to a modern soundtrack of electronic music. Other events at Spice H2O included the Norwegian's Night Out dance party and Fiesta Latina.
Dining as a group isn't hard with all of the options on board. The night we ate at Moderno Churrascaria, a large group of at least 20 was seated toward the back of the restaurant. Try La Cucina if your crowd is in the mood for Italian or Teppanyaki for a fun hibachi experience, or share small plates at "Iron Chef" Jose Garces' Pincho Tapas Bar. There's also the Private Room at Taste; a first for Norwegian Cruise Line, it serves as a function space perfect for special occasions.
Get everyone together for a blast from the past at a performance of "For the Record: The Brat Pack." Part concert, part 1980s movie mashup, the show's every actor and singer was on point, and the band blew us away — especially the saxophone player. Don't miss it.
The Escape has accommodations for a wide variety of budgets. For the most luxurious stay, book The Haven suites at the top of the ship. With private dining and sundeck areas as well as butler service, these rooms will provide you and your friends with a more exclusive experience than staying in the more traditional categories on the lower decks.
Make Family Memories
Though our kids did not join us for this trip, I thought about how much fun they'd have had every time we passed the huge water slides and interactive splash playground of the Aqua Park and Kids' Aqua Park. A thrilling trip down the Free Fall slide seemed a big draw for teens, while younger kids jumped and splashed and squealed as overhead water buckets dumped their contents, soaking everyone nearby. Enjoy more outdoor fun playing bocce ball or miniature golf, or work up a sweat before lunch on the basketball court.
For easy, casual dining for breakfast, lunch or dinner, the Garden Cafe buffet has options that will please even picky eaters. Typically kid-friendly fare such as pizza and sandwiches are available, as are made-to-order omelets, fresh salads, soups, Italian- and Asian-inspired specialties and, of course, a plethora of desserts. If your group is in the mood for burgers and an island atmosphere, Jimmy Buffett's Margaritaville at Sea is near the action on Deck 17. For classic American comfort food and fun, O'Sheehan's Neighborhood Bar & Grill is open 24 hours a day.
The Escape has activities for kids of all ages. The Guppies program is for ages 6 months to 3 years and has a nursery drop-off option as well as hosted parent-and-child activities. Splash Academy caters to ages 3 to 12 with themed activities; our third night on board featured a pajama party complete with pillow fight. And, for teens from 13 to 17, Entourage provides a complimentary, supervised hangout with video games, movies, sports and music.
One popular stateroom option is the family minisuite. With sleeping space for four and a bathtub in the lavatory, these rooms are located midship on Deck 9 with quick access to the kids areas. For parents looking for more privacy and kids seeking more independence, you can book connected staterooms in nearly all categories.
Whether you're sailing with children, a group of friends or simply your significant other, Norwegian Cruise Line lets you freestyle your way through a memorable cruise vacation on the Escape. For me and my husband, our relaxing and romantic trip was the perfect getaway from the hustle and bustle and pressures of daily life — aside from that one afternoon foray into adventure sports on the ropes course!
The Norwegian Escape sails from Miami on six- to 14-night cruises to the Caribbean and Mexico throughout the year.
By Lindsay Lindquist