Singles at Sea
Find camaraderie and fun aboard a hosted singles cruise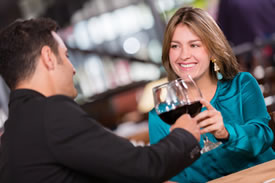 "It was probably the worst cruise I've ever been on," moans Houston resident Dixie Turner, recalling a certain vacation.
It was meant to be a relaxing week at sea, full of stunning shipside scenery and the chance to meet new people. But Turner, who had opted to travel by herself, found only a small handful of fellow singles during a poorly attended mixer sponsored by the cruise line. Left to mingle with cliquish couples and families at dinner and during shore excursions, Turner spent her entire vacation "feeling like a third, or even a fifth wheel," she says.
It's unlikely that Turner, now assistant manager of the singles department at national cruise discounter Vacations To Go, will face that sort of problem again. And, thanks to her work as a host for Vacations To Go's singles cruises, her fellow travelers can expect a better shipboard experience, too.
Vacations To Go has hosted 46 singles cruises since inaugurating its singles division in 2005, allowing the company to reach out to solo travelers. This type of trip mixes the exciting destinations of a cruise -- in Alaska, the Caribbean and the Mexican Riviera, for instance -- with the enthusiasm and expertise of a private activities director.
The number of single participants per cruise varies, ranging from 100 guests to more than 300. Nationalities sometimes can vary too, says Kari Lee, director of Vacations To Go's singles department. Most participants hail from the United States and Canada, but past trips also have attracted Australians, Germans and South Africans. The average age of participants is 45, with the majority between 30 and 60 years old. Each year, Vacations To Go schedules at least two cruises for singles ages 40 and up.
Though a good male-to-female ratio is seen on just about every hosted singles cruise, Lee says matchmaking is not the focus of these vacations.
"This is not a dating service -- we try to make that clear to our guests -- but a lot of people do find romance," says Lee, recalling a pair of passengers who married after meeting aboard a Vacations To Go singles cruise. At the very least, singles can use a hosted cruise to meet new people in a relaxed environment.
"We're there for people to meet like-minded people, so they don't have to feel awkward if they walk up to a table and say hello to someone," says Lee.
The fun of a hosted singles cruise begins almost two months before departure. Vacations To Go establishes a private, online chat room for each singles cruise, giving guests the chance to get to know one another. Lee notes that passengers often use the group chat room to find others who live nearby and might want to travel to the cruise's embarkation port together. Passengers who arrive in the departure port the night before their sailing can join a pre-cruise party hosted by Vacations To Go.
Many participants opt to cruise with their single friends, sharing a cabin. Those traveling alone who desire their own cabin will pay a single supplement, which can increase the per-person cruise fare by 50 percent to 100 percent. For those who don't wish to absorb the extra expense, Vacations To Go will match travelers of the same sex and smoking preference.
"Some people have become best friends with their roommates, and they go on to travel together on future cruises. And some people are roommates, and that's about it," Lee says.
The onboard hosts from Vacations To Go greet passengers with a schedule of fun social events for the duration of the cruise. Though the group shares the ship and its amenities with other cruisers, it enjoys a separate roster of games and activities reserved solely for singles.
"It's a full-on program, from breakfast until after dinner," Lee says. "We have parties every night -- either a cocktail party, a mixer with a DJ or even a themed party, like a masquerade ball on the cruise ship's formal night. During the day, we'll have things like trivia games, dance classes -- ballroom and line dancing -- and pub crawls. Then the group eats dinner together."
Dinner follows a singles-friendly format, too, Lee says. The Vacations To Go group is privy to a reserved section of the ship's dining room, where seats are not assigned. "If they do meet someone they want to eat with all week, they can. But at the same time, they have the ability to switch up their seating. They can choose a different table every night if they want to," Lee says.
Turner, Lee and other Vacations To Go singles hosts perform a variety of duties on board, from wrangling cocktails and snacks for an afternoon mixer to booking a band or DJ for a post-dinner dance party. They also man a hospitality desk each morning.
Activities ashore are arranged for port days. Hosted singles cruises promise at least one group shore excursion per trip, and the cost is usually less than that of the average ship-sponsored excursion -- around $100, Lee says. After, the group often meets at a popular local bar before heading back to the ship.
Still, the host's main focus is to help singles make the most of their vacation.
"A big part of the job is facilitating introductions and making sure everyone feels comfortable," Lee says. "We get that person that may be shy, or sitting in a corner alone, into conversations with other people, or even out on the dance floor. We're there to make sure everything goes smoothly.
"If you're by yourself, you might feel like a fish out of water," Lee says. "We try to put ourselves in that situation and make things better."
Though hosts are on hand throughout the vacation to keep the party going, Turner notes that the camaraderie that develops among her clients is often the best part of the trip.
"It's so easy to feel comfortable with this type of group. It's almost like you have instant friends," she says.
By Jennifer Davoren
The Vacations To Go Singles Department is open Mon-Fri 8am to 6pm, U.S. Central Time.