The Magic of Mexico
Drop anchor in these cruise destinations and find glorious beaches, Mayan culture, colonial heritage and a fiesta atmosphere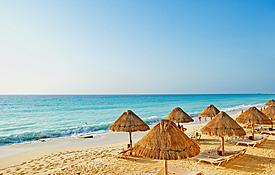 Pounding Pacific waves on one coast, cool Caribbean currents on the other -- with two such stunning shores to choose from, it's no wonder that Mexico has become one of the world's top cruise destinations. More than 4.4 million cruise passengers visited the country in the first three quarters of 2006, often stopping to sample three or four tropical ports of call in a single vacation. Once a quick refueling stop for Caribbean-bound cruise ships, Mexico has become an attractive destination in its own right.
State-of-the-art marinas, many constructed specifically to accommodate some of the largest ocean liners on the water, welcome passengers to exotic ports and unique attractions. In the Pacific port of Chiapas, for example, Mexican officials recently invested $7 million to modernize docking facilities for a new generation of cruise ships.
Another development sprouted in the Yucatan Peninsula's Puerto Costa Maya, where government-led investment has created the second most popular port in the country (after Cozumel).
Mexico boasts more than two dozen ports of call, and the rapid growth of resort towns like Cancun, Cabo San Lucas and Mazatlan have led cruise lines to maintain year-round service to both coasts. Ships departing from California ports such as Los Angeles, San Diego or Long Beach generally stick to destinations along the Pacific coast of Mexico, commonly called the Mexican Riviera by those in the cruise industry. Cruises setting off from Florida or Gulf Coast cities such as New Orleans and Galveston, TX, on the other hand, travel to ports in southeastern Mexico along the Yucatan Peninsula and often incorporate stops in Belize, Honduras and the Caribbean islands.
Below, we've highlighted eight of the most popular cruise destinations in Mexico, four along the Pacific coast followed by four on the Caribbean, or Yucatan, side. To find itineraries that visit any of these destinations, visit national cruise discounter Vacations To Go, or call (800) 338-4962.
Americans often look to Ensenada for a quick trip to the beach or a relaxing weekend getaway. Located just 80 miles south of San Diego along the western coast of Baja, this fishing village is within an easy drive of Southern California.
Cruise lines like Carnival, Princess and Royal Caribbean also have discovered Ensenada's appeal, making it a frequent port of call on many three- and four-day cruises. Shore excursions explore wineries like Bodega Santo Tomas, founded in 1888 and still producing some of the region's most popular cabernets. Hiking, biking and kayaking trips navigate local wonders like La Bufadora, a stunning ocean geyser carved into the rocky cliffs of the Punta Banda peninsula.
Ensenada, like many Mexican ports of call, works to maintain its historic identity while entertaining modern-minded tour-ists. Guided tours steer visitors to missions and monasteries founded in the early 19th century, while a series of cultural festivals showcase local customs throughout the year. Contemporary conveniences include the First Street Promenade, boasting eight blocks of high-end shops, and El Rey Sol restaurant, where French-inspired cuisine has garnered international fine dining awards.
Known as the wilder half of the popular Los Cabos resorts, Cabo San Lucas is bursting with bars, nightclubs and other spring break fare. Its position on the southern tip of Baja makes it an ideal spot for seafaring adventure, too, with sailing, snorkeling and sportfishing among the most popular activities.
Visiting anglers find prize-winning marlin, mahimahi, sailfish and wahoo just off the Cabo coast and often time their visits to coincide with any number of local fishing competitions. Many cruisers prefer a more relaxing shore excursion, opting for a whale-watching or sea lion-spotting tour aboard a charter boat.
Cruise passengers in need of a dry dock look north to the wide, dry desert surrounding Los Cabos. Many cruise lines offer all-terrain vehicles for off-road adventures amid the dunes.
Puerto Vallarta has embraced Mexico's cruising boom, having pledged $25 million to renovate and expand its docking facilities along beautiful Banderas Bay. At project's end, the port will boast room enough for three simultaneous cruise dockings, helping to increase cruise activity along the Mexican Riviera by an estimated 30 percent.
Though popular among cruise lines like Holland America, Norwegian and Princess, Puerto Vallarta offers a few secluded areas for those looking to escape the crowds. The burgeoning resort area of Nuevo Vallarta offers relaxing spa treatments and championship golf courses. Ecotourism is another draw, with many shore excursions offering hiking, horseback riding and four-wheeling adventures through surrounding national park. More than 25 miles of beaches are available, too.
Puerto Vallarta is known as a relaxed, fun-loving port of call, where charming cobblestone streets lead to countless diversions. Even the city's public transportation serves up entertainment, as clowns and musicians clamor for attention and tips from visitors. For more traditional amusements, head downtown to sample the local nightlife or browse an art gallery.
Dubbed the "Pearl of the Pacific," Mazatlan is known for golden beaches, sparkling waters and the surrounding majesty of the Sierra Madres. Visitors also know the city as a confluence of cultures, where they can browse the mercado in Old Mazatlan, the traditional town center, or sip cocktails in the Golden Zone, a six-mile strip of modern hotels, restaurants and beachside resorts. Guided tours often hop from the 19th-century cathedral and cultural sites to party palaces like Fiesta Land, a two-story bar and nightclub complex.
Visiting cruise lines explore both sides of Mazatlan, offering a mix of el viejo and el nuevo. Walking tours of the town center often visit museums dedicated to Mexican folk artists. The Angela Peralta Theater, one of the oldest surviving opera houses in Mexico, opens its doors to visitors for a mere 6 pesos (roughly 55 cents). When more modern-day pursuits are in order, try a trip to Stone Island, where cruisers can explore the beaches and coconut groves from the seat of an ATV. Carnival offers tours of the Pacifico Brewery and visits to the Las Moras guest ranch.
Stroll the relaxed malec?n, the city's 16-block seaside promenade, and feel the real Progreso. There still is a simple, small-town charm here, despite the Yucatan port's recent addition to many Carnival and Royal Caribbean itineraries. Progreso is an unhurried place, where residents gather on the promenade each evening to people-watch and catch up on the news of the day.
Progreso serves as the gateway to Merida, a Spanish colonial city founded by explorers in 1542. It retains an Old World atmosphere with its tireless conservation of historic buildings, including the 400-year-old Cathedral of San Idelfonso. Residents refer to Merida, with its white limestone buildings, as "The White City," where a stroll down the Paseo de Montejo isn't hindered by sidewalk litter or overcrowding.
Cruisers who land at Progreso can travel to the archaeological remains of the ancient Mayan culture. Popular sites for tourists include Chichen Itza, once the capital of the Yucatan Peninsula; Dzibilchaltun, whose temple is believed to have been built for worship around the spring equinox; and Uxmal, home of the towering Pyramid of the Magician.
Three miles south of Playa del Carmen, the growing port of Calica has become a hot property. The surrounding Quintana Roo coast is known as one of the most beautiful stretches of sand in the Caribbean, where pristine beaches, resort hotels and any number of budget-friendly activities await.
Most visitors arrive in Calica with flippers in hand. The coast is riddled with underwater caverns suited for a quick dive, and many shore excursions pair biking tours with scuba trips for a full afternoon workout. And, just like its neighbors to the north, Calica is a gateway to Mayan ruins like Tulum, which features some of the most well-preserved artifacts in the country.
Shore excursions also shuttle passengers to Xcaret, a nature preserve that doubles as an archaeological site. Visitors can explore a series of small Mayan ruins around the 200-acre park, or relive the era in a replica of a traditional Mayan village. Others opt for swimming gear and snorkels, allowing for an underwater tour of the coral reefs and intricate cave system.
Cozumel, an island 15 miles off the eastern coast of the Yucatan Peninsula, is Mexico's most popular port of call. Many vacationers come to snorkle or dive the Great Mayan Reef, a chain of stunning coral formations extending more than 600 miles into the Caribbean. It's the second largest reef in the world and home to more than 500 species of fish and sea turtles. It's also one of the globe's most accessible underwater attractions and can be toured by glass-bottom boat and submarine.
Ecotourism is a big draw here, which may surprise many first-time visitors. Cozumel has its share of bars, nightclubs and resorts, but these modern developments give way to dark, tangled jungle toward the center of the island. Nature preserves like Chankanaab National Park and Punta Sur protect endemic species while offering hiking, biking and zipline tours of the "hidden" Cozumel.
Though Cozumel enjoys its status as an exclusive getaway, separated from the hustle and bustle of mainland Mexico by a few miles of ocean, the island is easily accessible. Many visitors hop a ferry to mainland resorts like Playa del Carmen.
Along the southern Yucatan Peninsula, the 80-mile stretch of sun-soaked coastline known as Costa Maya receives more than 500,000 cruise passengers each year, all via its central port. Its centerpiece is a 70,000-square-foot entertainment complex stuffed with restaurants, shops and tour guides who offer many activities for visitors.
Aside from the usual beach activities, Puerto Costa Maya offers a bit more family fare than competing resorts -- kids flock to attractions like Croc World and the Dolphin Dream Experience for hands-on interaction with exotic animals. Other offerings include kayaking excursions, trips to the jungle-shrouded ruins of Dzibanche and an airboat tour through the mangroves of Rio Huach National Park.
The port's attractions only will continue to grow -- in February 2007, local officials announced plans for a boutique hotel, time-share tourist housing and an airstrip. Locals hope to avoid the overdevelopment of neighboring resorts, however, as the project calls for a maximum of 10,000 rooms.
By Jennifer Davoren