Uniquely SeaDream
A yachtlike cruise ship carries just 110 passengers as it sails to less-traveled islands in the Eastern Caribbean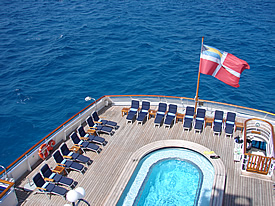 "Would you like a bit of champagne?" Clive asked encouragingly as I stepped aboard SeaDream I. Docked in St. Thomas in the U.S. Virgin Islands under a brilliant spring sky, the small ship was invitingly decked out for new passengers. Lounge chairs beckoned under shady, white umbrellas. A gentle breeze sent ripples across the aqua pool. Capt. Valter Berg stood near the gangway, affably greeting each newly arriving guest. Crisply dressed waiters appeared cool in the Caribbean sun as they balanced trays of champagne glasses.
Clive Carrington, the ship's club and activities director, motioned to a passing waiter as I approached. Instantly, a freshly chilled champagne bottle and two glasses appeared. Clive's eyes lit up and a broad smile spread across his sunburned face when, managing great self restraint, I declined.
No explanation for my refusal was needed. You see, my time as a guest aboard SeaDream was officially over. I had disembarked that morning after a weeklong cruise and was returning for my luggage. In a final show of Sea-Dream style, the concierge had suggested I leave my heavy suitcase dockside and laptop on board to better enjoy St. Thomas until my late afternoon flight.
Luxury lines like SeaDream frequently greet new passengers with champagne. But to greet an already departed passenger with the same welcome -- that is uniquely SeaDream.
Before my ultimate departure, I watched newcomers strolling on deck and lounging by the pool, where the day before, I had claimed the same spots. With a pang of envy I realized that in just seven days, I felt as if I belonged on SeaDream. That's the result of the cruise line's hospitality and casual style. There are no unnecessary rules to spoil the illusion that the ship and its mates are at your beck and call.
Even the itinerary is unstructured. This round-trip Eastern Caribbean sailing from St. Thomas included calls at St. John, also in the U.S. Virgin Islands; St. Martin and St. Barthelemy in the French West Indies; Nevis in the Netherland Antilles; and Virgin Gorda and Jost van Dyke in the British Virgin Islands. Before boarding, I knew the departure time and hour of return to St. Thomas; however, aboard SeaDream, specific arrival and departure times at the ports in between are determined as the journey progresses. Weather (both favorable and unfavorable) as well as passengers' preferences are taken into account when deciding when to pull up anchor to leave one port and head to another. This type of schedule creates more work for the crew, but it allows great freedom and the heady possibility of the serendipitous for passengers.
The twin ships of SeaDream Yacht Club, SeaDream I and SeaDream II, each have 55 staterooms accommodating up to 110 passengers, served and pampered by a crew of approximately 92. For this Caribbean idyll, I traveled with my husband and our teenage son, Chris. For the first time, Chris was allowed to room solo. SeaDream is the only cruise company, in my experience, that permits a teen to room without an adult. SeaDream easily hosts families in its 450-square-foot Owner's Suite or one of the eight 390-square-foot Commodore Club Class suites. Much to my son's delight, we booked our trip too late to reserve one of the family suites, and thus our rooms were separated by walls and keys.
Thrilled by his new, independent, almost-adult status, Chris made the stateroom his own in no time. When I knocked on his door shortly after boarding, I found him with the door to the refrigerator open, contemplating his choices among the complimentary soft drinks. He wasted no time contacting the concierge to arrange Internet service for his laptop ($35 for 24 hours), which was set up on the desk, blinking with multiple instant message screens. A movie from home was playing on the flat-screen television. Amazingly, he had not yet connected his iPod to the in-room speakers.
For those who travel light, SeaDream loans laptops and MP3 players, plus movies and music to play on the in-room DVD and CD players. Chris didn't notice the fine Belgian bed linens, the marble-tiled bathroom, the Bvlgari toiletries or the plush Turkish cotton bathrobe. He was happy with a surfeit of technology.
Cruise aficionados remember SeaDream I as the Sea Goddess, hailed at its 1984 launch for its yachtlike atmosphere and outstanding luxury. The ship was refurbished, refitted, renamed and relaunched in 2002, and it shines like new from bow to stern. The deep blue hull, white trim and teak decking evoke classic yacht design and induce a yearning to be at sea.
Deck 6 perfectly captures the intimate ambiance. It is an ideal setting to take in the scenery, enjoy the art of conversation, read, daydream or snooze. There you'll find secluded tables with comfy wicker chairs. Two captain's chairs at the stern are equipped with binoculars. The Top of the Yacht Bar anchors the midsection of this deck.
Balinese DreamBeds line both port and starboard sides. These double-wide lounges are set on raised platforms to allow unobstructed views beyond the ship's railing. Settle in on the thick blue cushions and large white pillows for an hour or an afternoon. When the sun gets too high or too hot, large umbrellas can be placed over the lounges. By request, the crew will also prepare one of the Balinese DreamBeds with a cozy duvet for sleeping under the stars. Before our trip, I wondered how difficult it would be to secure one of these coveted spots, but to my surprise, I found one available each time I looked.
Interior spaces are sleek, reflecting the Scandinavian sensibilities of owner Atle Brynestad, a Norwegian entrepreneur. Art glass from his company, Hadeland Glass-verk, north of Oslo, is featured throughout the vessel. All the glassware used on the ship is from this factory. Plates, glasses, vases and even the glass doors that front each stateroom's entertainment center were created just for SeaDream.
Because of the ship's small size, onboard entertainment is on an intimate scale. The Main Salon is a multipurpose lounge used for announcements, port information, movies, music and dancing. It is the meeting place for festive cocktails and hors d'oeuvres. After dinner, a nightly movie is shown either in the Main Salon or on deck by the pool. The ship's casino and piano bar are nestled in a pocket-sized space that tends to be lively, sometimes into the wee hours of the morning.
Other onboard facilities suit active, athletic travelers. There is a fitness center with ocean-view treadmills and daily yoga, tai chi and stretching classes. Complimentary private sessions can also be arranged. To reach the fitness center, one must walk through the foyer of the spa, where the soothing lighting and fragrant aromas are enough to derail the best exercise plans.
The spa offers several styles of massage, including the traditional Thai and Swedish varieties. As is the trend among land-based resorts, when weather permits, there is a protected and private outdoor massage treatment area on deck, where the sounds of the sea and gentle cooling breezes add to the experience.
Passengers can schedule spa appointments online before the cruise begins. However, with eight therapists on the ship during our sailing, we were able to book all the times we wanted without any scheduling difficulties.
Dining is a treat whether in the elegant Main Dining Salon or alfresco at the Topside Restaurant. With equal parts showmanship and smooth professionalism, the staff serves meals with a helping of performance art. A team of waiters swoops to the table and ceremoniously presents each diner's entree, removing silver warming domes simultaneously with a well-timed flourish.
There were many exceptional meals, including the chef's tasting menu, but my favorite was served on deck while Sea-Dream I was at St. Barts. We had spent an active day in St. Martin and were filled with the exuberance of new adventures. (While Chris and I tackled a zip line and ropes course high above a private forest reserve, my husband raced in a sailing regatta on an America's Cup course.) We had left St. Martin around 5 p.m. and were securely anchored off St. Barts by 7. For dinner, we found a table in a secluded alcove under a starry sky. On one side we could see a large, private yacht swaying gently with the rising and falling sea. On the other, the lights of Gustavia twinkled magically in the soft evening air. While many passengers took advantage of this overnight in St. Barts to go ashore, for us it was an evening meant for lingering at the table.
The small size of SeaDream's 4,260-ton vessels allows them to slip among islands and into ports large ships often can't reach. To help passengers discover the distinctive attributes of these lesser-known gems, SeaDream offers a select group of excursions in each port. Each one is carefully designed to give passengers a chance to try something unique to the locale, often vigorous and always memorable.
There were island tours as you would expect -- but none aboard a motor coach. A tour of Nevis was offered on horseback; St. Martin was on a Harley-Davidson; St. John was on foot or a four-wheel-drive vehicle; and Jost van Dyke was by all-terrain vehicle. There were a couple of disappointments along the way when planned excursions were canceled. Illustrating one of the few disadvantages of traveling on a small ship, the shore excursion staff called off an ATV ride on St. Barts because all available ATVs were taken by a ship four times our size, also in port that day.
Our first port of call, St. John, was just an hour from our departure port in St. Thomas. This meant we could spend the first night on board docked in St. Thomas, and guests could stay ashore late into the evening. The next day, we sailed in the early morning hours and arrived at St. John with the sun's first rays. We anchored in Cruz Bay, just offshore the island's colorful main town of the same name. Stores, cafes and houses painted in bright hues are set off by the fine, white sand of the beach.
We spent the day kayaking and snorkeling in St. John National Park's marine sanctuary. Our guide met us on shore, and after a brief but thorough explanation of key kayaking skills and safety, we set out. The pace was steady and rigorous as we headed into the wind on our way to Salomon Bay. We beached our kayaks and stumbled into the clear, warm water for a swim.
Once we were rested and refreshed, the guide pointed across the sea to a small, forested island -- our destination for snorkeling. There we were able to glide above a coral reef, host to colorful fish and fantastically shaped corals. Our three-hour excursion turned into a five-hour adventure, and we returned to the ship with new experiences and new friends.
While we had been snorkeling and kayaking, many shipmates were enjoying the ship's water sports offerings. SeaDream sails with its own fleet of small craft: kayaks, Sunfish, Jet Skis and Zodiacs for water skiing, wakeboarding and banana boat rides. This little flotilla bobbed around the ship while it was at anchor, and snorkeling gear was also provided. For adventures on land, the ship carries mountain bikes and Segways.
Our first opportunity to test the fleet came after spending a leisurely morning ashore on St. Barts. This lovely island of stylish cafes, chic shops, large yachts and delectable beaches offers charming scenes in every direction. Red-roofed bungalows climb up the hillside and look down upon crystal blue water, and sweetly foreign strains of French conversation rise from sidewalk cafes. The assortment of private yachts in the marina rivals those of Monte Carlo. The best shops shuttered for lunch from 1 to 3, so we pulled ourselves away from St. Barts' languid afternoon to more active pursuits back on SeaDream.
When we arrived, SeaDream's marina was in full operation. My son was the first of us to claim a Jet Ski, shooting plumes of water as he cut sharp turns across the once peaceful water. The Zodiac pulled a banana boat loaded with four excited, screaming people, while another passenger set sail solo in a Sunfish. Two hours later, the watercraft were called back to the marina. The swimmers and snorkelers jumped in and found the water to be surprisingly deep. After many attempts, we determined that it wasn't possible to dive to the bottom with a single breath even though the clarity of the water made it appear that the sandy surface was no more than 10 feet away.
We spent a second evening anchored in Gustavia Harbor at St. Barts and again enjoyed the magic of the night on deck. Departing at midnight, we reached our next stop, Charlestown, Nevis, at 9 a.m. Nevis is one of the Caribbean's small, mostly undiscovered islands seldom reached by cruise ships. Though there is a Four Seasons hotel and golf course here, the island's true allure lies in nature: rain forest, hiking trails, beaches, volcanic vents, waterfalls and wildlife such as vervet monkeys and sea turtles.
A white cloud shrouded the volcanic top of the island, and a light mist cooled the Caribbean air. As we disembarked to tour the cone-shaped island via kayak, the morning's mist gradually became a light rain, and then, two hours later as we were paddling, it turned to a steady downpour, accompanied by the crack of thunder.
When we stopped at a lonely beach for homemade banana bread, our guide joked that as long as the top of the volcano was visible, the weather would not get any worse. At that moment, I was thankful to have chosen kayaking for the day rather than a rain forest hike up the mountain.
An overnight storm left the sky a brilliant blue and the air crisp for our arrival in Virgin Gorda. By this time, we had been in the Caribbean for several days, soaking up the essence of the islands with all our senses. The colors of the sea and sand and fragrances of water and earth left me wondering if I would grow immune to their beauty. But our destination for the day, The Baths on Virgin Gorda's southern shore, proved the islands still held a special allure.
The Baths is a group of caves and grottoes formed by enormous granite boulders. This natural wonder is not a secret, so plan a visit early or late in the day for the most solitude. Then walk, climb and splash through the light-filled grottoes. On one side of The Baths, there is a pretty beach, low-key bar and other facilities. We clambered through the caves to the far side and found Devil's Bay, a pristine, white-sand beach with crashing waves and few people.
Traversing the island from our anchorage in the north to The Baths in the south and back again, we passed cactus-studded hillsides, verdant valleys and beaches of stunning beauty that all begged for further investigation. So, when word spread throughout the ship that the previous night's storm was still producing 20-foot swells, raising questions about our imminent departure, my vote was to stay put. But as with most rumors, this one proved false. The winds were still, the seas were calm, and we said farewell to Virgin Gorda.
Our short trek took us to Great Harbor in Jost van Dyke for one purpose: a night at the inimitable Foxy's Bar. Best known for its New Year's Eve party, Foxy's is the quintessential, open-air beach bar complete with its own microbrewery and music for dancing in the sand. The ship stayed until all passengers and crew were back on board, then sailed west along the coast to White Bay, where we would spend the last day of our cruise.
Here, on a semiprivate stretch of beach, SeaDream I hosted a daylong party. By 10 a.m., the lounge chairs were set in place, a barbecue was blazing and a sheltered area was established under the palms for massages. Then, the day and the week were capped with what has become a SeaDream tradition: champagne and caviar served in the surf.
Cheers.
By Karen Northridge