Anchorage (Seward), AK
To see discounted cruises that visit or depart from this port, use the Find a Bargain box on the left.
Cruises from Anchorage (Seward) depart from May to September.
Seward sits at the head of Resurrection Bay on the Kenai Peninsula, about 125 miles south of Anchorage, and serves as the gateway to the renowned Kenai Fjords National Park. Nearly 40 glaciers flow from the park's Harding Icefield, like the 13-mile Bear Glacier; its surrounding lagoon is popular for kayaking and stand-up paddleboarding. This adventure outpost offers sailing, dog-sledding, ice climbing and plenty of fishing for halibut and salmon. Helicopter tours transport thrill-seekers to remote spots for heli-skiing and even surfing, and the multimillion-dollar Alaska SeaLife Center has underwater exhibits of marine life. The remains of a World War II fort are found at Caines Head State Recreation Area, and the 4,124-foot Mount Marathon has hosted its namesake 5K race for more than 100 years.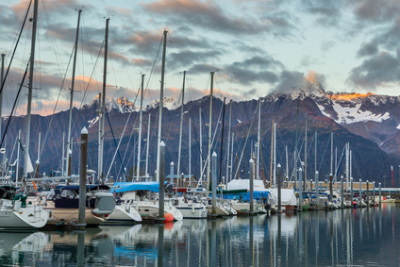 Language: English
Currency: US dollar (US$)
Driving Directions and Parking Information
Traveling from Anchorage Airport - Take International Airport Road east until you reach Minnesota Drive. Turn right on Minnesota Drive and follow the signs to the Seward Highway south. Once on the Seward Highway, you will travel approximately 130 miles to Seward. Once in Seward, follow the signs to the Alaska Railroad Dock. The ships can be seen on your left from the highway as you enter Seward.
There are no parking facilities at the Seward Port at this time. Most cruise lines conduct cruise check-in in Anchorage, and provide motor coach transportation to the pier in Seward.
The meeting point for most cruise lines is the Egan Convention Center:
Egan Convention Center
555 West 5th Avenue
Anchorage, AK 99501
The meeting point for Seabourn cruises is either Ted Stevens International Airport or The Hotel Captain Cook:
Ted Stevens International Airport
5000 W International Airport Road
Anchorage, AK 99502
The Hotel Captain Cook
939 W 5th Avenue
Anchorage, AK 99501
Anchorage (Seward), AK Weather
Jan
Feb
Mar
Apr
May
Jun
Jul
Aug
Sep
Oct
Nov
Dec
High
22
25
33
43
55
62
65
63
55
41
28
22
Low
8
11
17
28
39
47
51
49
41
28
15
10
Jan
Feb
Mar
Apr
May
Jun
Jul
Aug
Sep
Oct
Nov
Dec
High
-6
-4
1
6
13
17
18
17
13
5
-2
-6
Low
-13
-12
-8
-2
4
8
11
9
5
-2
-9
-12
Jan
Feb
Mar
Apr
May
Jun
Jul
Aug
Sep
Oct
Nov
Dec
Inches
1
1
1
1
1
1
2
2
3
2
1
1
Centimeters
3
3
3
3
3
3
5
5
8
5
3
3
Jan
Feb
Mar
Apr
May
Jun
Jul
Aug
Sep
Oct
Nov
Dec
Days
8
8
7
6
7
8
12
14
14
12
10
11
Jan
Feb
Mar
Apr
May
Jun
Jul
Aug
Sep
Oct
Nov
Dec
Percent
74
74
72
75
73
74
80
84
84
78
78
78