Athens, Greece
To see discounted cruises that visit or depart from this port, use the Find a Bargain box on the left.
Cruises that visit or depart from Athens sail to the Greek Islands and Mediterranean and a few visit the Black Sea or the Middle East. Athens also is a starting point for some trans-Atlantic repositioning cruises.
Upon arriving in the birthplace of Western civilization, head to the Acropolis, the 7-acre rock formation that's home to the Propylaea, Erechtheum, Parthenon and Temple of Athena Nike. Nearby, the Acropolis Museum features exhibitions dedicated to these monuments and offers views of the city. Guided excursions may visit the Temple of Olympian Zeus; the Theatre of Dionysus, possibly the world's oldest theater; and the Panathenaic Stadium, site of the first modern Olympics. Occurring every hour on the hour, the changing of the guard ceremony at the Monument of the Unknown Soldier is a spectacle worth seeing. Food tours entice with Athenian delicacies such as olives, feta cheese and baklava.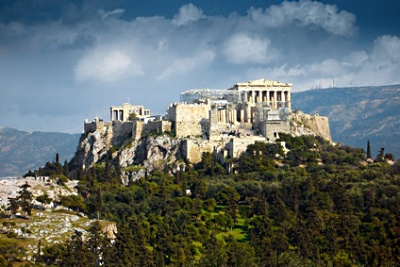 Language: Greek
Currency: Euro (EUR)
Athens, Greece Weather
Jan
Feb
Mar
Apr
May
Jun
Jul
Aug
Sep
Oct
Nov
Dec
High
55
55
60
66
74
83
89
88
83
73
64
58
Low
44
44
47
52
60
67
73
72
67
60
53
47
Average
50
50
54
59
67
75
81
81
75
67
59
53
Jan
Feb
Mar
Apr
May
Jun
Jul
Aug
Sep
Oct
Nov
Dec
High
13
13
16
19
23
28
32
31
28
23
18
14
Low
7
7
8
11
16
19
23
22
19
16
12
8
Average
10
10
12
15
19
24
27
27
24
19
15
12
Jan
Feb
Mar
Apr
May
Jun
Jul
Aug
Sep
Oct
Nov
Dec
Inches
2
2
2
1
1
1
1
1
1
2
2
2
Centimeters
5
5
5
3
3
3
3
3
3
5
5
5
Jan
Feb
Mar
Apr
May
Jun
Jul
Aug
Sep
Oct
Nov
Dec
Days
9
7
8
6
4
1
1
1
3
5
8
11
Jan
Feb
Mar
Apr
May
Jun
Jul
Aug
Sep
Oct
Nov
Dec
Percent
75
75
76
75
73
68
59
58
64
71
76
76