Blosseville Coast, Greenland
To see discounted cruises that visit or depart from this port, use the Find a Bargain box on the left.
The Blosseville Coast is an uninhabited territory to the south of Scoresby Sund. Discovered by the French explorer Jules Poret de Blosseville in 1833, it wasn't fully mapped until 1900 when Georg Carl Amdrup visited during his expeditions. The coastline is surrounded by pack ice and icebergs, allowing only small ship access.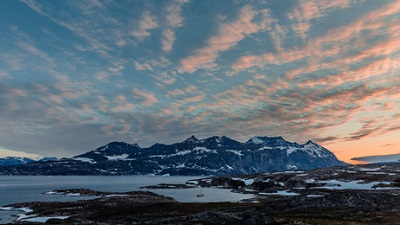 Language: N/A
Currency: N/A
Blosseville Coast, Greenland Weather
Jan
Feb
Mar
Apr
May
Jun
Jul
Aug
Sep
Oct
Nov
Dec
Average
.5
--
-.2
9.1
23
32
36
36
29
18
7.3
3
Jan
Feb
Mar
Apr
May
Jun
Jul
Aug
Sep
Oct
Nov
Dec
Average
-18
--
-18
-13
-5
0
2
2
-2
-8
-14
-16
Jan
Feb
Mar
Apr
May
Jun
Jul
Aug
Sep
Oct
Nov
Dec
Percent
74
73
73
73
77
80
79
78
75
75
74
74