Bocas Del Toro, Panama
To see discounted cruises that visit or depart from this port, use the Find a Bargain box on the left.
Bocas Town was established on Colon Island in this archipelago by the United Fruit Company in the 1920s as a base for its banana plantations. The picturesque period charm of the town is today exploited by the locals to attract tourists. All of the islands have lovely beaches, mangrove waterways to explore and even several different indigenous populations who make and sell colorful handicrafts. A plentiful variety of wildlife including many species of birds, animals and sea turtles adds to the area's appeal.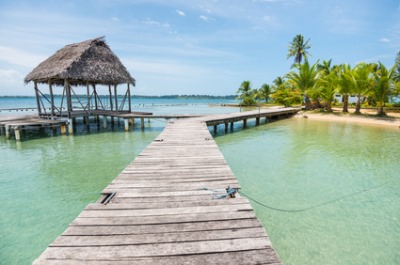 Language: Spanish, English
Currency: Panamanian Balboa (PAB), US dollar (US$)
Bocas Del Toro, Panama Weather
Jan
Feb
Mar
Apr
May
Jun
Jul
Aug
Sep
Oct
Nov
Dec
High
97
93
91
97
88
88
90
90
86
97
86
91
Low
73
68
72
84
73
73
73
73
73
66
68
72
Average
79
79
79
81
81
81
81
81
81
81
79
79
Jan
Feb
Mar
Apr
May
Jun
Jul
Aug
Sep
Oct
Nov
Dec
High
36
34
33
36
31
31
32
32
30
36
30
33
Low
23
20
22
29
23
23
23
23
23
19
20
22
Average
26
26
26
27
27
27
27
27
27
27
26
26
Jan
Feb
Mar
Apr
May
Jun
Jul
Aug
Sep
Oct
Nov
Dec
Days
30
26
26
28
27
27
28
27
28
29
29
29
Jan
Feb
Mar
Apr
May
Jun
Jul
Aug
Sep
Oct
Nov
Dec
Percent
81
80
79
81
82
83
83
83
82
83
84
83