Cape Kekurny, Russia
To see discounted cruises that visit or depart from this port, use the Find a Bargain box on the left.
Travelers who visit Cape Kekurny will be greeted by the beautiful sea lion population that makes their home along the shore. As you pull up to them, these animals have been known to jump into the water for an up-close welcome. The cape is also inhabited by other forms of wildlife that are magnificent to encounter. Sightings can include sea otters, spotted seals, gulls, Steller sea eagles, and many more to keep your eyes and your camera occupied. The landscape has a cool beauty about it as well, with its vibrant greenery spread across the rock face in various patterns.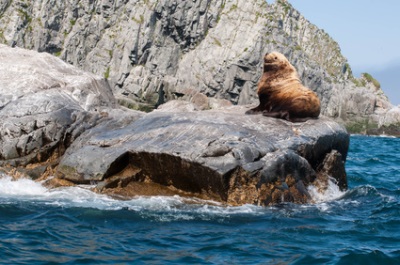 Language: N/A
Currency: N/A
Cape Kekurny, Russia Weather
Jan
Feb
Mar
Apr
May
Jun
Jul
Aug
Sep
Oct
Nov
Dec
Average
17
17
22
29
36
44
51
53
48
39
28
20
Jan
Feb
Mar
Apr
May
Jun
Jul
Aug
Sep
Oct
Nov
Dec
Average
-8
-8
-6
-2
2
7
11
12
9
4
-2
-7
Jan
Feb
Mar
Apr
May
Jun
Jul
Aug
Sep
Oct
Nov
Dec
Inches
2.4
1.9
2.3
1.8
1.9
2.2
3.1
3.6
3.4
3.6
2.6
2.5
Centimeters
6
5
6
5
5
6
8
9
9
9
7
6
Jan
Feb
Mar
Apr
May
Jun
Jul
Aug
Sep
Oct
Nov
Dec
Percent
70
69
69
75
80
86
90
88
84
76
71
73