Carcass Island, Falkland Islands
To see discounted cruises that visit or depart from this port, use the Find a Bargain box on the left.
Carcass island was run as a sheep farm for over a hundred years, but it has now also become a popular bird watching destination due to its wide variety of sea birds. Since cats and rats are not allowed on the island, the bird population has flourished, and Carcass Island is now considered by many to be a significant conservation location. Although there are no unique species on the island itself, there are still plenty of rare and exotic flora and fauna to be seen around the area, including penguins, sea lions, dolphins, and elephant seals.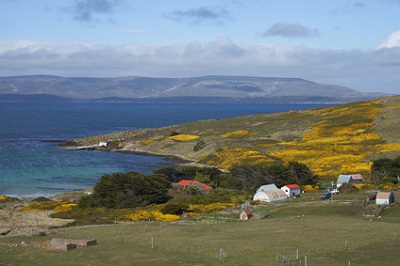 Language: English
Currency: Falkland Islands pound (FKP)
Carcass Island, Falkland Islands Weather
Jan
Feb
Mar
Apr
May
Jun
Jul
Aug
Sep
Oct
Nov
Dec
Average
51
52
49
44
40
36
37
38
40
43
47
50
Jan
Feb
Mar
Apr
May
Jun
Jul
Aug
Sep
Oct
Nov
Dec
Average
11
11
9
7
4
2
3
3
4
6
8
10
Jan
Feb
Mar
Apr
May
Jun
Jul
Aug
Sep
Oct
Nov
Dec
Days
27
24
25
27
25
22
22
21
21
24
26
26
Jan
Feb
Mar
Apr
May
Jun
Jul
Aug
Sep
Oct
Nov
Dec
Percent
82
81
82
85
86
87
86
86
85
83
80
79