Dubai, United Arab Emirates
To see discounted cruises that visit or depart from this port, use the Find a Bargain box on the left.
Cruises from Dubai depart from fall through early summer.
The chief port and commercial center of the United Arab Emirates (UAE), Dubai is a cosmopolitan yet exotic city. Wander the stalls of the traditional bazaars, called souks, where you can bargain for gold jewelry, Persian and Afghani rugs and more. Gold is a particularly good buy here. A guided city tour may take in the Dubai Museum, housed in the Al Fahidi Fort, Dubai's oldest building, and the Juneira Mosque, Dubai's most-photographed structure (particularly beautiful after dark when it is illuminated). Other excursions can include four-wheel-drive adventures in the desert, visits to Bedouin camps, an opportunity to ride a camel, or a cruise around Palm Island, the expansive development project on Dubai's coast.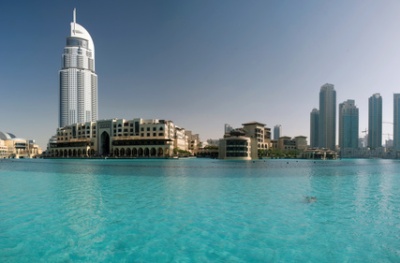 Language: Arabic, English
Currency: Dirham (AED)
Driving Directions and Parking Information
Port Rashid (Commonly known as Mina Rashid)
Passenger Terminal 2 / 3
Dubai, United Arab Emirates
Exit Dubai Airport and drive approximately 100 meters to the traffic light. Turn left and drive for approximately 200 meters. Head for the flyover showing direction Jebel Ali and Abu Dhabi. Cross Al Grarhour Bridge and follow the directional signs to Port Rashid. At the Last round about turn right and reach the main cargo gates of Port Rashid. Drive through the gates and follow the signs to the 'Passenger Cruise Terminal'. Continue straight past the round about and turn left at the small traffic signal. Drive straight ahead and you will see the cruise terminal building.
Dubai, United Arab Emirates Weather
Jan
Feb
Mar
Apr
May
Jun
Jul
Aug
Sep
Oct
Nov
Dec
High
73
74
80
88
97
100
103
103
100
93
86
77
Low
58
59
63
69
76
80
85
86
81
74
67
61
Jan
Feb
Mar
Apr
May
Jun
Jul
Aug
Sep
Oct
Nov
Dec
High
23
23
27
31
36
38
39
39
38
34
30
25
Low
14
15
17
21
24
27
29
30
27
23
19
16
Jan
Feb
Mar
Apr
May
Jun
Jul
Aug
Sep
Oct
Nov
Dec
Days
5
7
6
3
--
--
--
1
--
--
1
5
Jan
Feb
Mar
Apr
May
Jun
Jul
Aug
Sep
Oct
Nov
Dec
Percent
76
76
73
67
59
66
65
66
72
74
75
786