Galapagos Islands, Ecuador
To see discounted cruises that visit or depart from this port, use the Find a Bargain box on the left.
Situated 600-plus miles west of mainland Ecuador at the confluence of three ocean currents, the Galapagos archipelago is comprised of 13 primary islands, 6 medium-size islands and 200-plus islets. The seismic processes that formed these islands, combined with their remote location, helped produce the diverse fauna that Charles Darwin studied in the 1830s as he formulated his theory of evolution. Today, this wildlife, from iguanas to blue-footed booby birds, remains the Galapagos' star attraction. Snorkel among sea turtles, sharks, rays and sea lions off Champion Islet, enjoy a Zodiac ride around Vicente Roca Point to see fur seals and walk the red-sand landscape of Radiba Island, home to a pelican colony. A stop in the town of Puerto Aroya affords visits to the Charles Darwin Research Station and a tortoise breeding center, while photos taken atop the peak of Bartolome Island capture the beauty of this rugged, remarkable destination.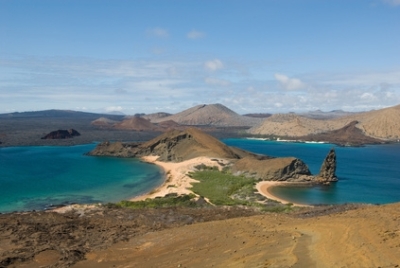 Language: Spanish
Currency: Sucre (ECS), US$
Galapagos Islands, Ecuador Weather
Jan
Feb
Mar
Apr
May
Jun
Jul
Aug
Sep
Oct
Nov
Dec
High
86
86
87
87
87
85
84
85
84
84
85
85
Low
72
72
72
72
71
70
69
68
68
68
69
70
Jan
Feb
Mar
Apr
May
Jun
Jul
Aug
Sep
Oct
Nov
Dec
High
30
30
31
31
31
29
29
29
29
29
29
29
Low
22
22
22
22
22
21
21
20
20
20
21
21
Jan
Feb
Mar
Apr
May
Jun
Jul
Aug
Sep
Oct
Nov
Dec
Inches
2
4
3
1
0
0
0
0
0
0
0
0
Centimeters
5
10
8
3
0
0
0
0
0
0
0
0
Jan
Feb
Mar
Apr
May
Jun
Jul
Aug
Sep
Oct
Nov
Dec
Days
3
6
4
2
1
1
1
0
1
1
1
1
Jan
Feb
Mar
Apr
May
Jun
Jul
Aug
Sep
Oct
Nov
Dec
Percent
77
82
81
78
76
79
80
78
79
79
77
75