Grimsey Island, Iceland
To see discounted cruises that visit or depart from this port, use the Find a Bargain box on the left.
Grimsey Island can be found approximately 40 kilometers north of the coast of Iceland. It stands alone on the horizon, surrounded only by the deep blue of the Arctic Ocean. Inhabitants on the island live in a small harbor village that focuses on the fishing industry. These villagers live a modern life on their small island with a sound harbor and a good school for their children. In addition to this prosperous community, Grimsey Island is also home to chorus of seabirds that never stop singing. When nighttime finally reaches the island, these birds make their nests in the cliffs all around the island. While there is no night in the summer, daylight is very short in the winter months.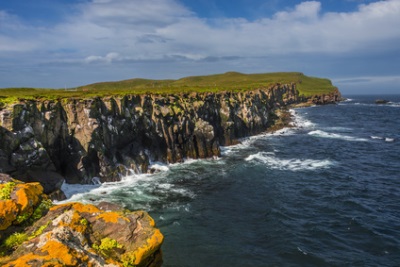 Language: Icelandic
Currency: Icelandic Krone (ISK)
Grimsey Island, Iceland Weather
Jan
Feb
Mar
Apr
May
Jun
Jul
Aug
Sep
Oct
Nov
Dec
High
33
34
35
40
48
54
57
56
48
42
36
33
Low
24
25
26
30
37
44
47
46
39
33
27
24
Average
29
30
31
35
43
49
52
51
44
38
32
29
Jan
Feb
Mar
Apr
May
Jun
Jul
Aug
Sep
Oct
Nov
Dec
High
1
1
2
4
9
12
14
13
9
6
2
1
Low
-4
-4
-3
-1
3
7
8
8
4
1
-3
-4
Average
-2
-1
-1
2
6
9
11
11
7
3
0
-2
Jan
Feb
Mar
Apr
May
Jun
Jul
Aug
Sep
Oct
Nov
Dec
Inches
2
1.6
1.7
1.2
.7
1
1.3
1.4
1.7
2.3
2
2.1
Centimeters
5
4
4
3
2
3
3
4
4
6
5
5
Jan
Feb
Mar
Apr
May
Jun
Jul
Aug
Sep
Oct
Nov
Dec
Percent
80
80
80
80
75
75
80
80
80
85
85
80