Hundred Islands, Philippines
To see discounted cruises that visit or depart from this port, use the Find a Bargain box on the left.
During a trip to the Hundred Islands in the Philippines, visitors will come across 123 mushroom-shaped islands. Their shape has been created over the years due to changes in climate and sea level which caused the surface to erode. To tour the islands, head to Lucap Wharf where you can start your exploration of the three main tourist islands at the Quezon Island, Governor Island, and Children's Island. There are many activities to do at the Hundred Islands such as snorkeling for humongous clams, scuba diving, parasailing, kayaking, bird watching, and various sightseeing activities on the main islands. Do a bit of island hopping to see what all this destination has to offer and learn about what makes them all so spectacular.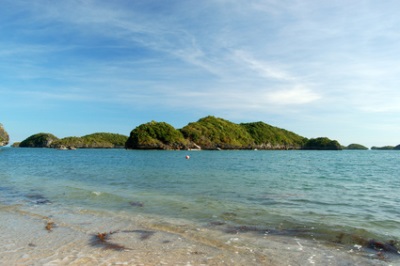 Language: Filipino, English
Currency: Philippine Peso (PHP)
Hundred Islands, Philippines Weather
Jan
Feb
Mar
Apr
May
Jun
Jul
Aug
Sep
Oct
Nov
Dec
High
86
87
90
93
92
89
88
87
88
88
87
86
Low
72
73
75
78
79
78
78
78
77
77
76
73
Average
79
80
83
85
85
84
83
82
83
83
82
80
Jan
Feb
Mar
Apr
May
Jun
Jul
Aug
Sep
Oct
Nov
Dec
High
30
31
32
34
33
32
31
31
31
31
31
30
Low
22
23
24
26
26
26
26
26
25
25
24
23
Average
26
27
28
29
29
29
28
28
28
28
28
27
Jan
Feb
Mar
Apr
May
Jun
Jul
Aug
Sep
Oct
Nov
Dec
Inches
.4
.4
.9
3.1
8.6
12
18
17
13
6.5
2.9
.9
Centimeters
1
1
2
8
22
30
46
43
33
17
7
2
Jan
Feb
Mar
Apr
May
Jun
Jul
Aug
Sep
Oct
Nov
Dec
Percent
85
84
84
84
88
91
92
94
93
92
89
86