Ilulissat (Jakobshavn), Greenland
To see discounted cruises that visit or depart from this port, use the Find a Bargain box on the left.
Ilulissat is surrounded by the enormous glaciers of Disco Bay and bathed in the frosty brilliance of the midnight sun, making it a truly unique and magical place. Although the temperatures tend not to climb above the 20s, there is plenty to do in this winter wonderland. Kayaks were invented in Greenland and they provide the perfect transportation for glacier exploring. Or take a dogsled ride with some of the 4,000 sled dogs that live in Ilulissat.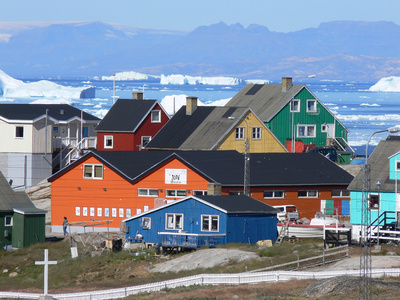 Language: Greenlandic, Danish, English
Currency: Danish Krone (DKK)
Ilulissat (Jakobshavn), Greenland Weather
Jan
Feb
Mar
Apr
May
Jun
Jul
Aug
Sep
Oct
Nov
Dec
Average
5
3
6
17
32
41
44
42
35
26
17
12
Jan
Feb
Mar
Apr
May
Jun
Jul
Aug
Sep
Oct
Nov
Dec
Average
-15
-16
-14
-8
0
5
7
6
2
-3
-8
-11
Jan
Feb
Mar
Apr
May
Jun
Jul
Aug
Sep
Oct
Nov
Dec
Inches
0
0
1
1
1
1
1
1
1
1
1
1
Centimeters
0
0
3
3
3
3
3
3
3
3
3
3