Ittoqqortoormiit (Scoresbysund), Greenland
To see discounted cruises that visit or depart from this port, use the Find a Bargain box on the left.
Located in Eastern Greenland, Ittoqqortoormiit is a remote city with a population of about 500 people. The town is located on the longest and largest fjord system in the world and the sea here is frozen over for nine months out of the year. Visit Ittoqqortoormiit Museum to see historical photos and paintings or enjoy dog sledding and skiing.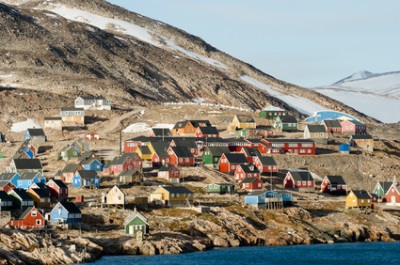 Language: Greenlandic
Currency: Danish Krone (DKK)
Ittoqqortoormiit (Scoresbysund), Greenland Weather
Jan
Feb
Mar
Apr
May
Jun
Jul
Aug
Sep
Oct
Nov
Dec
High
10
9
9
18
30
40
45
44
36
25
16
10
Low
2
1
--
9
23
33
38
37
30
19
9
2
Average
7
6
5
14
27
37
42
41
33
22
13
7
Jan
Feb
Mar
Apr
May
Jun
Jul
Aug
Sep
Oct
Nov
Dec
High
-12
-13
-13
-8
-1
4
7
7
2
-4
-9
-12
Low
-17
-17
--
-13
-5
1
3
3
-1
-7
-13
-17
Average
-14
-14
-15
-10
-3
3
6
5
1
-6
-11
-14
Jan
Feb
Mar
Apr
May
Jun
Jul
Aug
Sep
Oct
Nov
Dec
Inches
2
2
2
1
1
1
1
2
2
2
2
2
Centimeters
5
5
5
3
3
3
3
5
5
5
5
5
Jan
Feb
Mar
Apr
May
Jun
Jul
Aug
Sep
Oct
Nov
Dec
Percent
74
74
73
73
77
80
79
78
76
76
75
74