Kuala Lumpur (Port Kelang), Malaysia
To see discounted cruises that visit or depart from this port, use the Find a Bargain box on the left.
Kuala Lumpur, located 25 miles northeast of Malaysia's most prominent port, Kelang, captivates travelers with its modern marvels and immersive culture. In the City Centre, known as KLCC, discover more than 5,000 animals at the 60,000-square-foot aquarium, or stare out from the observation deck of the 1,483-foot Petronas Twin Towers, among the tallest twin buildings in the world. Below the skyscrapers is the Suria shopping mall, which boasts a musical fountain on its fronting promenade. The National Monument features a free-standing sculpture that pays tribute to the freedom fighters who battled Communism, while the tribal village of the Mah Meri people offers insights into the indigenous lifestyle. Excursions visit attractions such as the Jamek Mosque; Chan See Shu Yuen, a Chinese clan house and Buddhist temple; the National Palace, with its 22 golden domes; and the Batu Caves, home to a massive statue of the Hindu god and some of the best views in the city.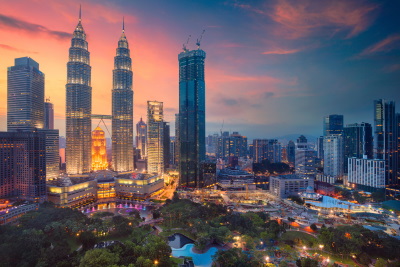 Language: Bahasa
Currency: Malaysian Ringgit (MYR)
Kuala Lumpur (Port Kelang), Malaysia Weather
Jan
Feb
Mar
Apr
May
Jun
Jul
Aug
Sep
Oct
Nov
Dec
High
89
90
91
90
90
90
89
89
89
89
88
88
Low
73
73
74
75
75
74
74
74
74
74
74
73
Jan
Feb
Mar
Apr
May
Jun
Jul
Aug
Sep
Oct
Nov
Dec
High
32
32
33
32
32
32
32
32
32
32
31
31
Low
23
23
23
24
24
23
23
23
23
23
23
23
Jan
Feb
Mar
Apr
May
Jun
Jul
Aug
Sep
Oct
Nov
Dec
Inches
6
7
9
11
8
5
5
6
8
10
11
9
Centimeters
15
18
23
28
20
13
13
15
20
25
28
23
Jan
Feb
Mar
Apr
May
Jun
Jul
Aug
Sep
Oct
Nov
Dec
Percent
96
96
96
96
96
95
95
95
95
96
97
96