Lobos de Tierra Island, Peru
To see discounted cruises that visit or depart from this port, use the Find a Bargain box on the left.
Lobos de Tierra is a steep and rocky island rising more than 200 feet from the Pacific Ocean. Several smaller islets surround it, including El León and Albatros. A diverse community of marine mammals and seabirds surround these islands. Sea lions bask on the beaches and hundreds of Blue-footed Boobies can be viewed ashore while Peruvian Pelicans pass overhead.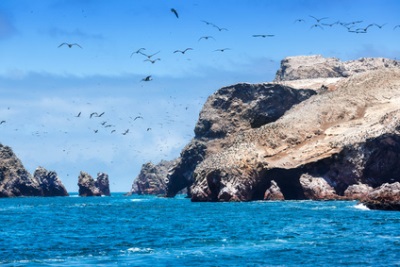 Language: Spanish
Currency: Peruvian nuevo sol (PEN)
Lobos de Tierra Island, Peru Weather
Jan
Feb
Mar
Apr
May
Jun
Jul
Aug
Sep
Oct
Nov
Dec
Average
77
79
79
76
73
70
68
67
68
68
70
74
Jan
Feb
Mar
Apr
May
Jun
Jul
Aug
Sep
Oct
Nov
Dec
Average
25
26
26
24
23
21
20
19
20
20
21
23
Jan
Feb
Mar
Apr
May
Jun
Jul
Aug
Sep
Oct
Nov
Dec
Inches
0
0.1
0.7
0.1
0
0
0
0
0
0
0
0
Centimeters
0
0
2
0
0
0
0
0
0
0
0
0
Jan
Feb
Mar
Apr
May
Jun
Jul
Aug
Sep
Oct
Nov
Dec
Days
3
2
2
3
2
1
2
0
0
2
1
1
Jan
Feb
Mar
Apr
May
Jun
Jul
Aug
Sep
Oct
Nov
Dec
Percent
73
71
72
73
75
76
78
78
77
76
74
74