Matarani (Arequipa), Peru
To see discounted cruises that visit or depart from this port, use the Find a Bargain box on the left.
Matarani is located on the southwestern coast of Peru and is the gateway to Arequipa which sits approximately 75 miles away. Arequipa holds history that spans more than 10,000 years and is full of Inca archaeology. In addition to the historical sites, coming to Arequipa from Matarani allows visitors to experience the beautiful landscapes and delicious foods that the region has to offer. Meet friendly people, go on an adventure through Colca Canyon and the natural reserves, take a shopping trip to find top quality woven goods, or enjoy a dish of rocoto relleno.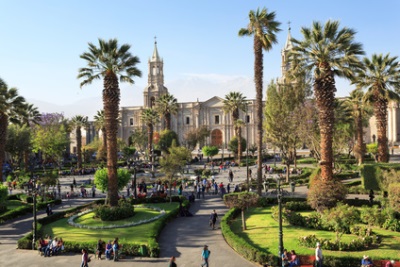 Language: Spanish, English
Currency: Nuevo sol (PEN)
Matarani (Arequipa), Peru Weather
Jan
Feb
Mar
Apr
May
Jun
Jul
Aug
Sep
Oct
Nov
Dec
High
69
68
69
70
70
69
69
69
71
71
70
70
Low
51
51
51
49
47
46
46
46
47
48
48
49
Average
60
60
60
60
59
58
58
58
59
59
60
60
Jan
Feb
Mar
Apr
May
Jun
Jul
Aug
Sep
Oct
Nov
Dec
High
21
20
21
21
21
21
21
21
22
22
21
21
Low
11
11
11
9
8
8
8
8
8
9
9
9
Average
16
16
16
16
15
14
14
14
15
15
16
16
Jan
Feb
Mar
Apr
May
Jun
Jul
Aug
Sep
Oct
Nov
Dec
Inches
1.1
1.6
.7
.1
--
--
--
--
--
--
--
.3
Centimeters
3
4
2
0
--
--
--
--
--
--
--
1
Jan
Feb
Mar
Apr
May
Jun
Jul
Aug
Sep
Oct
Nov
Dec
Percent
65
70
70
55
40
30
30
30
30
35
40
50