Muscat, Oman
To see discounted cruises that visit or depart from this port, use the Find a Bargain box on the left.
Oman's capital city, Muscat is situated along the country's namesake gulf and blends modern flair with Old World charm. Three forts dating to the 1500s are installed on the rocky shoreline, the historic Muttrah Corniche district is lined with 19th-century homes and bright minarets, and new Dubai-style structures showcase current architectural trends. Popular attractions include the Oman Aquarium (one of the largest in the Middle East), the history-heavy Muscat Gate Museum, the National Museum and the Sultan's Armed Forces Museum. You could spend an entire day touring the Muttrah Fish Market, where more than 100 traders tout their fresh catches and produce, or shopping in the local souq, a traditional Arabian marketplace where vendors hawk textiles, jewelry and even a few antiques. Visitors are welcome in the opulently decorated Sultan Qaboos Grand Mosque-a must-see for any Muscat visitor.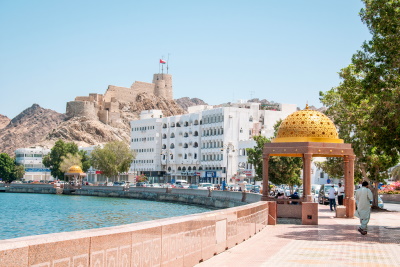 Language: Arabic, English
Currency: Omani Rial (OMR)
Driving Directions and Parking Information
Port of Sultan Qaboos PSQ
Mutrah High St, Muscat, Oman
The Port of Sultan is located approximately a half hour from Muscat International Airport.
Exit the airport and head south for 4km. Merge onto Route 1 and drive for 23km, then at the roundabout, take the 3rd exit onto Harat A'shamal St to Port of Sultan.
Muscat, Oman Weather
Jan
Feb
Mar
Apr
May
Jun
Jul
Aug
Sep
Oct
Nov
Dec
High
76
77
83
92
101
102
100
95
95
92
85
79
Low
65
66
71
79
86
89
88
84
83
79
71
67
Jan
Feb
Mar
Apr
May
Jun
Jul
Aug
Sep
Oct
Nov
Dec
High
24
25
28
33
38
39
38
35
35
33
29
26
Low
18
19
22
26
30
32
31
29
28
26
22
19
Jan
Feb
Mar
Apr
May
Jun
Jul
Aug
Sep
Oct
Nov
Dec
Days
3
5
4
2
1
1
1
1
1
1
1
3
Jan
Feb
Mar
Apr
May
Jun
Jul
Aug
Sep
Oct
Nov
Dec
Percent
71
70
64
53
47
55
68
77
72
63
65
74