Olympia (Katakolon), Greece
To see discounted cruises that visit or depart from this port, use the Find a Bargain box on the left.
Located on Greece's Peloponnese peninsula in the Ionian Sea, Katakolon features shops, art galleries and restaurants serving seafood delicacies. Soak up the sun on Kourouta Beach or take a tour of the surrounding countryside before heading 35 miles east to Olympia to enjoy adventures such as rafting, cycling, kayaking and kite-surfing. The town also is home to the Archeological Site of Olympia, where the first Olympic Games were staged in 776 B.C. Strolls around the complex offer a look at the remains of the original stadium, gymnasium and Temple of Zeus, which once housed one of the Seven Wonders of the World: Phidias' approximately 40-foot-tall Statue of Zeus. Close to the ruins, the Museum of the History of the Olympic Games of Antiquity boasts more than 400 exhibits with artifacts that date to the prehistoric period.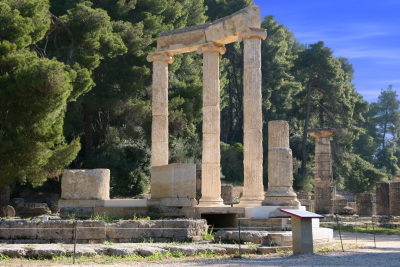 Language: Greek
Currency: Euro (EUR)
Olympia (Katakolon), Greece Weather
Jan
Feb
Mar
Apr
May
Jun
Jul
Aug
Sep
Oct
Nov
Dec
High
54
56
61
68
76
84
89
88
82
75
64
57
Low
39
41
45
50
58
65
70
69
63
56
49
43
Jan
Feb
Mar
Apr
May
Jun
Jul
Aug
Sep
Oct
Nov
Dec
High
12
13
16
20
24
29
32
31
28
24
18
14
Low
4
5
7
10
14
18
21
21
17
13
9
6
Jan
Feb
Mar
Apr
May
Jun
Jul
Aug
Sep
Oct
Nov
Dec
Inches
2
2
2
1
2
1
1
1
1
2
3
3
Centimeters
5
5
5
3
5
3
3
3
3
5
8
8
Jan
Feb
Mar
Apr
May
Jun
Jul
Aug
Sep
Oct
Nov
Dec
Days
7
7
6
5
5
4
2
2
4
6
7
8
Jan
Feb
Mar
Apr
May
Jun
Jul
Aug
Sep
Oct
Nov
Dec
Percent
78
77
75
72
72
69
63
63
67
76
80
81