Petra (Aqaba), Jordan
To see discounted cruises that visit or depart from this port, use the Find a Bargain box on the left.
Located in southwest Jordan, ancient Petra was once a flourishing spice trade center and capital of the Nabatean kingdom between 400 B.C. and A.D. 106. After sitting deserted for centuries, the UNESCO World Heritage Site was rediscovered in the 1800s and excavations began in 1958. Standout sites among the soaring sandstone cliffs include a large tomb known as Khaznah ("Treasury"); Al-Dayr ("the Monastery"), a tomb façade used as a church during Byzantine times; and the well-preserved High Place of Sacrifice, an altar dating to biblical times. Archaeologists continue to excavate the temples, tombs and theaters, as only 15% is believed to have been uncovered. Weave through the slot canyons on foot, climb to the high points -- considered the most holy -- for a bird's-eye view or explore Petra atop a camel or horse. Special night tours wander the Lost City by candlelight. Aqaba -- Jordan's Red Sea port and resort town, located 80 miles southwest -- boasts historical sites as well as spectacular coral reefs.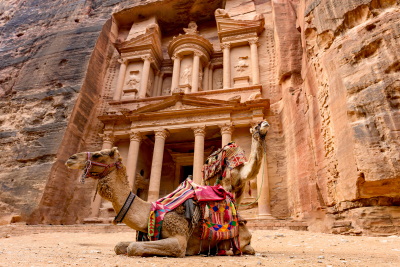 Language: Arabic
Currency: Jordanian Dinar (JOD)
Petra (Aqaba), Jordan Weather
Jan
Feb
Mar
Apr
May
Jun
Jul
Aug
Sep
Oct
Nov
Dec
High
65
69
75
85
92
97
99
98
94
88
78
68
Low
50
54
59
67
73
78
81
81
78
71
61
53
Jan
Feb
Mar
Apr
May
Jun
Jul
Aug
Sep
Oct
Nov
Dec
High
18
21
24
29
33
36
37
37
34
31
26
20
Low
10
12
15
19
23
26
27
27
26
22
16
12
Jan
Feb
Mar
Apr
May
Jun
Jul
Aug
Sep
Oct
Nov
Dec
Days
1
2
2
--
1
--
--
--
--
1
1
2
Jan
Feb
Mar
Apr
May
Jun
Jul
Aug
Sep
Oct
Nov
Dec
Percent
71
70
67
58
49
49
53
57
66
67
66
72