Reggio Calabria, Italy
To see discounted cruises that visit or depart from this port, use the Find a Bargain box on the left.
Considered the "toe" of the Italian peninsula and the primary launching point for ferries to Sicily, Reggio Calabria is a major functional pole in the region. It is home to the prestigious National Archaeological Museum of Magna Graecia, which holds the Bronzes of Riace which is an example of Greek bronze sculpture and the symbol of the city. Though devastated by an earthquake in 1908, this town has rebuilt itself to become a vacationer's paradise for ancient history. While here, visitors can revel in nature and witness the interweaving of art and culture. Go birdwatching, take a trip to the Fogliatelle Waterfalls, ski down the slopes of Gambarie, or enjoy a cup of homemade gelato.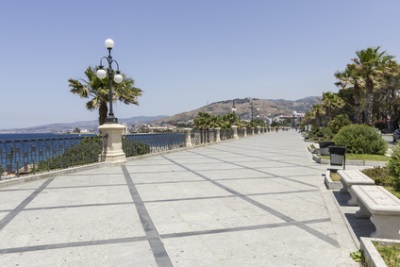 Language: Italian
Currency: Euro (EUR)
Reggio Calabria, Italy Weather
Jan
Feb
Mar
Apr
May
Jun
Jul
Aug
Sep
Oct
Nov
Dec
High
58
58
61
65
72
80
87
87
82
75
66
60
Low
48
47
49
53
60
67
74
74
68
63
55
49
Average
53
53
55
59
66
74
80
81
76
69
61
55
Jan
Feb
Mar
Apr
May
Jun
Jul
Aug
Sep
Oct
Nov
Dec
High
14
14
16
18
22
27
31
31
28
24
19
16
Low
9
8
9
12
16
19
23
23
20
17
13
9
Average
12
12
13
15
19
23
27
27
24
21
16
13
Jan
Feb
Mar
Apr
May
Jun
Jul
Aug
Sep
Oct
Nov
Dec
Days
23
22
19
18
12
8
4
6
10
17
24
28
Jan
Feb
Mar
Apr
May
Jun
Jul
Aug
Sep
Oct
Nov
Dec
Percent
82
79
79
78
75
75
72
74
77
82
81
79