Santa Cruz, Galapagos Islands, Ecuador
To see discounted cruises that visit or depart from this port, use the Find a Bargain box on the left.
Formed by volcanic cones, lava flows and tuffs from a now-dormant volcano, Santa Cruz is the second-largest of the Galapagos Islands. Most cruises that call here include visits to the Charles Darwin Research Station, where a visitor center lends insight into geography, climate and conservation programs. Santa Cruz is home to marine iguanas, giant tortoises known to reach up to 475 pounds and roughly 20 species of birds like waved albatross and blue-footed boobies. Excursions include dinghy rides to Black Turtle Cove for up-close looks at sea turtles, reef sharks and rays in the shallow waters, as well as trips to Dragon Hill, where a walking trail leads along pristine shores to a lagoon lookout for pink-flamingo sightings. Guests also can stroll through lava tunnels, sunbathe near basking sea lions and venture to the highlands for massive tortoise sightings.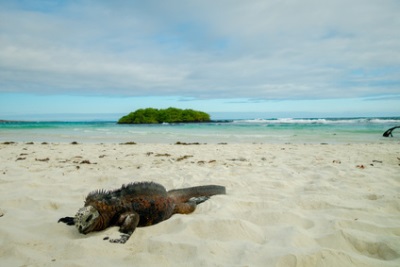 Language: Spanish
Currency: US dollar (US$)
Santa Cruz, Galapagos Islands, Ecuador Weather
Jan
Feb
Mar
Apr
May
Jun
Jul
Aug
Sep
Oct
Nov
Dec
High
82
86
86
82
81
81
77
75
75
75
77
79
Low
64
66
64
66
64
63
61
59
59
56
61
63
Jan
Feb
Mar
Apr
May
Jun
Jul
Aug
Sep
Oct
Nov
Dec
High
28
30
30
28
27
27
25
24
24
24
25
26
Low
18
19
18
19
18
17
16
15
15
13
16
17
Jan
Feb
Mar
Apr
May
Jun
Jul
Aug
Sep
Oct
Nov
Dec
Inches
7
6
7
6
3
4
5
3
3
3
3
5
Centimeters
18
15
18
15
8
10
13
8
8
8
8
13
Jan
Feb
Mar
Apr
May
Jun
Jul
Aug
Sep
Oct
Nov
Dec
Days
14
12
8
8
8
9
12
12
12
11
10
10