Santa Fe Island, Galapagos Islands, Ecuador
To see discounted cruises that visit or depart from this port, use the Find a Bargain box on the left.
Santa Fe Island is a small, relatively flat island at the center of the Archipelago, to the southeast of Santa Cruz Island. Geologically, it is one of the oldest volcanoes, with rock formations below the surface of the water that date back 3.9 million years. Santa Fe is home to two species endemic to the island: the Santa Fe Land Iguana (Conolophus pallidus) and the Santa Fe Rice Rat (Oryzomys bauri).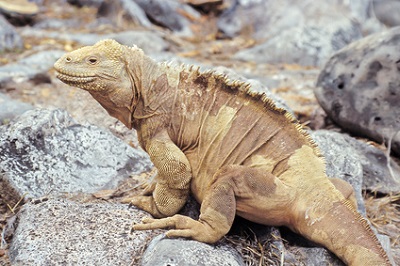 Language: Spanish
Currency: US dollar (US$)
Santa Fe Island, Galapagos Islands, Ecuador Weather
Jan
Feb
Mar
Apr
May
Jun
Jul
Aug
Sep
Oct
Nov
Dec
High
87
87
87
87
87
85
80
84
81
84
85
86
Low
70
71
70
70
69
67
66
65
66
66
67
69
Average
78
79
79
79
78
76
73
75
74
75
76
77
Jan
Feb
Mar
Apr
May
Jun
Jul
Aug
Sep
Oct
Nov
Dec
High
31
31
31
31
31
29
27
29
27
29
29
30
Low
21
22
21
21
21
19
19
18
19
19
19
21
Average
26
26
26
26
26
24
23
24
23
24
24
25
Jan
Feb
Mar
Apr
May
Jun
Jul
Aug
Sep
Oct
Nov
Dec
Inches
3.2
4.1
3.9
2.4
4.7
2.1
0.8
0.5
0.8
1.1
1.4
0.9
Centimeters
8
10
10
6
12
5
2
1
2
3
4
2