Sir Bani Yas Island, UAE
To see discounted cruises that visit or depart from this port, use the Find a Bargain box on the left.
Sir Bani Yas is the largest island of the UAE and is the home of the Arabian Wildlife Park. This park is a safe haven for thousands of wild, free-roaming animals such as the Arabian oryx, sand gazelle, Sudan cheetah, Urial sheep, striped hyena, and many more. Travelers can embark on a game drive, nature walk, mountain bike, or horseback ride to experience all that Sir Bani Yas has to offer. There are also water activities, for those who want to get their feet wet. Dive in for a snorkeling tour or pearl dive, head out for a deep sea fishing experience, or grab a paddle board and kayak for a glimpse at some more unique indigenous animals. Due to its conservation efforts, the island has become an important sanctuary for animals, and a spectacular spot for travelers to admire.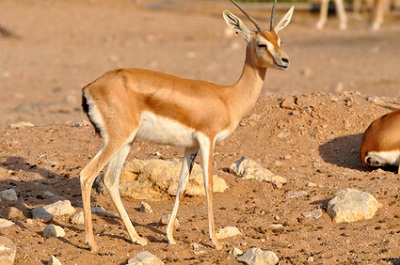 Language: Arabic, English
Currency: UAE dirham (AED)
Sir Bani Yas Island, UAE Weather
Jan
Feb
Mar
Apr
May
Jun
Jul
Aug
Sep
Oct
Nov
Dec
High
73
75
81
90
99
102
105
105
101
95
86
78
Low
56
58
62
68
74
79
84
85
79
72
64
59
Average
65
66
72
79
87
90
93
93
89
83
74
69
Jan
Feb
Mar
Apr
May
Jun
Jul
Aug
Sep
Oct
Nov
Dec
High
23
24
27
32
37
39
41
41
38
35
30
26
Low
13
14
17
20
23
26
29
29
26
22
18
15
Average
18
19
22
26
31
32
34
34
32
28
23
21
Jan
Feb
Mar
Apr
May
Jun
Jul
Aug
Sep
Oct
Nov
Dec
Inches
.6
1.2
.5
.3
.2
.2
.2
.2
.2
.2
.4
.8
Centimeters
2
3
1
1
1
1
1
1
1
1
1
2