St. Vincent, Cape Verde Islands
To see discounted cruises that visit or depart from this port, use the Find a Bargain box on the left.
St. Vincent is an island in the Cape Verde archipelago. Its capital city, Mindelo, is home to European, African, and Portuguese influences that have joined together over time. The landscape is ruled by the peak of Monte Verde from which you have a spectacular view of the surrounding countryside. Venturing further into town from the harbor, guests will encounter the Mercado de Peixe and the Torre de Belem, a replica of the tower found near Lisbon. Other attractions include taking a walk in the Praca Nova quarter, visiting the Quiosque Praca Nova, and stopping by the shops of African traders to purchase handicrafts.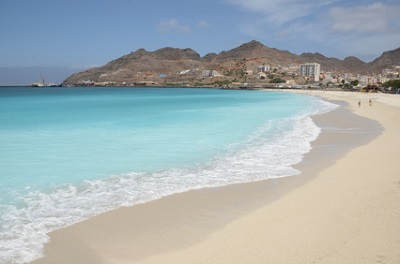 Language: Portuguese
Currency: Portuguese Escudo (PTE), Euro (EUR)
St. Vincent, Cape Verde Islands Weather
Jan
Feb
Mar
Apr
May
Jun
Jul
Aug
Sep
Oct
Nov
Dec
High
74
72
74
75
76
78
81
81
79
78
79
76
Low
66
66
66
66
67
70
71
73
74
73
71
69
Average
70
69
70
70
71
74
76
77
76
75
75
72
Jan
Feb
Mar
Apr
May
Jun
Jul
Aug
Sep
Oct
Nov
Dec
High
23
22
23
24
24
26
27
27
26
26
26
24
Low
19
19
19
19
19
21
22
23
23
23
22
21
Average
21
21
21
21
22
23
24
25
24
24
24
22
Jan
Feb
Mar
Apr
May
Jun
Jul
Aug
Sep
Oct
Nov
Dec
Inches
.1
.1
--
--
--
--
--
.7
1.5
.6
.3
.3
Centimeters
0
0
--
--
--
--
--
2
4
2
1
1
Jan
Feb
Mar
Apr
May
Jun
Jul
Aug
Sep
Oct
Nov
Dec
Days
.4
.3
.1
--
--
--
.1
1.5
3
1.4
.8
.8
Jan
Feb
Mar
Apr
May
Jun
Jul
Aug
Sep
Oct
Nov
Dec
Percent
66
65
65
65
67
69
70
73
74
72
68
66