Stephens Passage, AK
To see discounted cruises that visit or depart from this port, use the Find a Bargain box on the left.
Stephens Passage is a channel that runs through the southeastern region of the Alexander Archipelago in Alaska. Named in 1794 by George Vancouver, Stephens Passage was also first charted in that same year by Joseph Whidbey during his 1791-1795 expeditions. At approximately 105 miles long, the passage stretches from Admirality Island over to Douglas Island. One of the most notable experiences for travelers is the opportunity for whale watching. Two of the main species seen breeching near Juno are the Orca and the Humpback whales.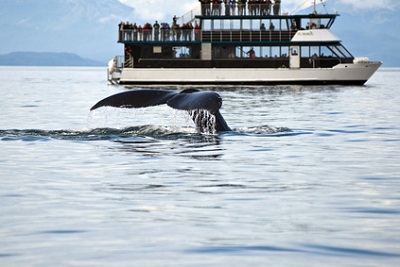 Language: N/A
Currency: N/A
Stephens Passage, AK Weather
Jan
Feb
Mar
Apr
May
Jun
Jul
Aug
Sep
Oct
Nov
Dec
High
32
35
39
48
56
62
63
62
55
47
37
34
Low
23
25
28
33
40
46
50
49
44
37
29
25
Average
28
30
33
40
48
54
56
55
50
42
33
29
Jan
Feb
Mar
Apr
May
Jun
Jul
Aug
Sep
Oct
Nov
Dec
High
0
2
4
9
13
17
17
17
13
8
3
1
Low
-5
-4
-2
1
4
8
10
9
7
3
-2
-4
Average
-2
-1
1
4
9
12
13
13
10
6
1
-2
Jan
Feb
Mar
Apr
May
Jun
Jul
Aug
Sep
Oct
Nov
Dec
Inches
5.4
4.1
3.8
2.9
3.4
3.2
4.6
5.7
8.6
8.6
6
5.8
Centimeters
14
10
10
7
9
8
12
14
22
22
15
15
Jan
Feb
Mar
Apr
May
Jun
Jul
Aug
Sep
Oct
Nov
Dec
Days
18
17
18
17
17
15
17
18
20
24
20
21
Jan
Feb
Mar
Apr
May
Jun
Jul
Aug
Sep
Oct
Nov
Dec
Percent
84
84
77
76
73
76
83
84
89
88
86
86