Talan Island, Russia
To see discounted cruises that visit or depart from this port, use the Find a Bargain box on the left.
Located on the northern coast of the Sea of Okhotsk, Talan is a known destination for researchers to monitor the activity of seabirds. Most famous for its population of Crested Auklets, there are also many other birds such as Spectacled Guillemots, Stellar's Sea Eagles, and Tufted Puffins. Red foxes can also be seen on the island during their breeding season when the ice connecting the mainland is strong enough to support their weight.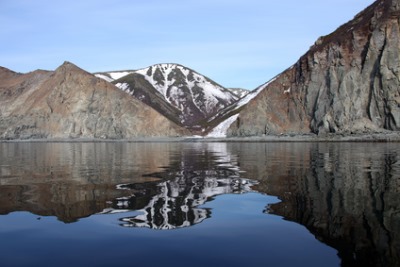 Language: Russian
Currency: Russian Ruble (RUB)
Talan Island, Russia Weather
Jan
Feb
Mar
Apr
May
Jun
Jul
Aug
Sep
Oct
Nov
Dec
Average
-17
-11
-.2
19
37
50
56
55
44
24
--
-15
Jan
Feb
Mar
Apr
May
Jun
Jul
Aug
Sep
Oct
Nov
Dec
Average
-27
-24
-18
-7
3
10
13
13
7
-4
--
-26
Jan
Feb
Mar
Apr
May
Jun
Jul
Aug
Sep
Oct
Nov
Dec
Inches
1.4
1.0
1.2
1.8
2.1
2.1
2.8
3.2
3.9
4.3
3.2
1.8
Centimeters
4
3
3
5
5
5
7
8
10
11
8
5