Tracy Arm (Twin Sawyer Glaciers), AK
To see discounted cruises that visit or depart from this port, use the Find a Bargain box on the left.
Tucked away in Tongass National Forest about 45 miles south of Juneau, Tracy Arm boasts some of the most spectacular scenery in North America. This 30-mile fjord, formed centuries ago by glacial activity, is flanked by colossal granite cliffs, with snow-capped mountains looming beyond. Boat cruises, Zodiac expeditions and kayaking adventures lead you past cascading waterfalls and a diversity of wildlife, from goats and whales to brown bears and bald eagles. Come springtime, you can spot harbor seals tending to their newborns. At the end of the waterway are the main attractions-the twin Sawyer Glaciers, which calve every hour or so, sending slabs of clear blue ice plummeting into the water below. Witnessing these purges is a memorable experience, one that allows you to see, hear and feel the full force of nature.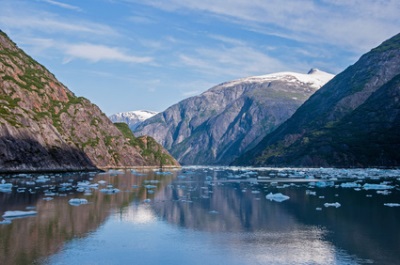 Language: English
Currency: US dollar (US$)
Tracy Arm (Twin Sawyer Glaciers), AK Weather
Jan
Feb
Mar
Apr
May
Jun
Jul
Aug
Sep
Oct
Nov
Dec
High
29
34
39
47
55
61
64
63
56
47
37
32
Low
18
22
26
32
39
45
48
47
43
37
28
23
Average
24
28
33
40
47
54
56
55
50
42
33
28
Jan
Feb
Mar
Apr
May
Jun
Jul
Aug
Sep
Oct
Nov
Dec
High
-2
1
4
8
13
16
18
17
13
8
3
0
Low
-8
-6
-3
0
4
7
9
8
6
3
-2
-5
Average
-4
-2
1
4
8
12
13
13
10
6
1
-2
Jan
Feb
Mar
Apr
May
Jun
Jul
Aug
Sep
Oct
Nov
Dec
Inches
4
4
3
3
4
3
4
5
7
8
6
5
Centimeters
10
10
8
8
10
8
10
13
18
20
15
13
Jan
Feb
Mar
Apr
May
Jun
Jul
Aug
Sep
Oct
Nov
Dec
Days
18
17
18
17
17
15
17
18
20
24
20
21