Trieste, Italy
To see discounted cruises that visit or depart from this port, use the Find a Bargain box on the left.
This modern, lively city enjoys a prominent location on a hillside surrounded by rugged countryside and a beautiful coastline. The vast Piazza Unità d'Italia is a popular meeting place, with sidewalk cafés and a number of buildings of architectural interest. Trieste is regarded as one of the most famous coffee towns in the world, so be sure to enjoy a cup of coffee in a local cafe. Among Trieste's highlights are the Cathedral of San Giusto, containing beautiful Byzantine mosaics and medieval frescoes. At the Piazza della Borsa stands the neoclassical former stock exchange, which serves now as the Chamber of Commerce. Crowning the hilltop is the Castello de San Giusto, home to a museum with excellent exhibits of weaponry, armor, furniture and tapestries.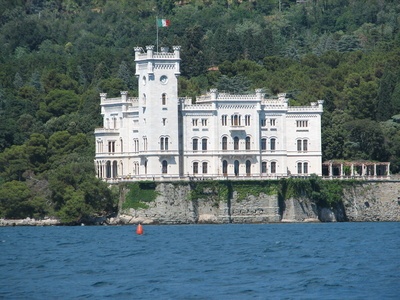 Language: Italian
Currency: Euro (EUR)
Driving Directions and Parking Information
Trieste Marine Terminal
Punto Franco Nuovo Molo VII
34123 Trieste TS, Italy
Driving to Trieste Marine Terminal from Marco Polo Airport (Approximately 2 hours):Head southeast on Viale Galileo Galilei to Via Triestina/SS14. At the roundabout, take the 2nd exit onto Raccordo Marco Polo. Take the exit toward Trieste/Udine. Merge onto Tangenziale di Mestre/A57, then merge onto A4/E70. Keep right at the fork to stay on A4/E70, follow signs for A34/Trieste/Gorizia. Keep left to continue on E70. Continue onto RA13, then continue onto Galleria Carso. Take the exit toward Trieste/Cattinara and keep left, follow signs for Trieste Centro/Burlo/Garofolo/Montebello/Fiera/Capodistria/Koper/Rabuiese and merge onto SS202. Continue onto Via Carnaro, then continue onto Piazzale delle Puglie. Turn left onto Via Federico Seismit Doda. Turn right onto Via Bartolomeo D'Alviano. Turn left onto Via della Rampa. Turn left to stay on Via della Rampa and at the roundabout, take the 1st exit.
Trieste, Italy Weather
Jan
Feb
Mar
Apr
May
Jun
Jul
Aug
Sep
Oct
Nov
Dec
High
45
47
53
61
70
76
81
81
74
64
53
47
Low
39
40
44
50
58
64
69
68
63
55
47
41
Average
42
44
49
56
64
70
75
75
69
60
50
45
Jan
Feb
Mar
Apr
May
Jun
Jul
Aug
Sep
Oct
Nov
Dec
High
7
8
12
16
21
24
27
27
23
18
12
8
Low
4
4
7
10
14
18
21
20
17
13
8
5
Average
6
7
9
13
18
21
24
24
21
16
10
7
Jan
Feb
Mar
Apr
May
Jun
Jul
Aug
Sep
Oct
Nov
Dec
Inches
3
2
3
3
4
4
3
4
4
5
4
3
Centimeters
8
5
8
8
10
10
8
10
10
13
10
8