Ocean Cay Marine Reserve, Bahamas
To see discounted cruises that visit or depart from this port, use the Find a Bargain box on the left.
Located 20 miles south of Bimini, the Ocean Cay MSC Marine Reserve is an exclusive getaway that provides some of the finest beaches in the world and offers a variety of Caribbean-inspired experiences. The island is 95-acres of pristine beach front and Marine Reserve land full of distinguishing Caribbean features like a Bahamian village, Jamaica Dogwood trees, Mangroves, Beach Morning Glory, and various other plants around the island. A seafront pier allows passengers to step off the ship and right onto the island. Ocean Cay Marine Reserve boasts a unique night life with live music and entertainment found in large amphitheatre. There are also many restaurants and bars that guests can explore at their leisure as they move freely between ship and island during their stay. Other highlights in the cay are an inland lagoon, a family beach with kid-friendly restaurants, and a zip wire that crosses the island.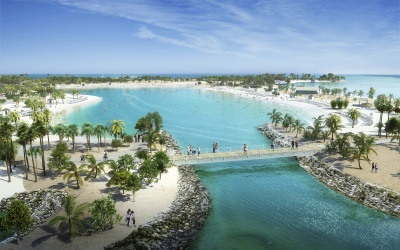 Language: English
Currency: Bahamian Dollar (BSD)
Ocean Cay Marine Reserve, Bahamas Weather
Jan
Feb
Mar
Apr
May
Jun
Jul
Aug
Sep
Oct
Nov
Dec
High
74
74
77
79
82
85
87
87
86
83
78
75
Low
62
63
66
70
74
76
78
78
77
74
69
64
Average
68
69
71
74
78
81
82
83
81
78
74
70
Jan
Feb
Mar
Apr
May
Jun
Jul
Aug
Sep
Oct
Nov
Dec
High
23
23
25
26
28
29
31
31
30
28
26
24
Low
17
17
19
21
23
24
26
26
25
23
21
18
Average
20
21
22
23
26
27
28
28
27
26
23
21
Jan
Feb
Mar
Apr
May
Jun
Jul
Aug
Sep
Oct
Nov
Dec
Inches
2
2
2.2
2.9
4.9
7.1
4.3
5.2
7.1
5.5
2.6
1.9
Centimeters
5
5
6
7
12
18
11
13
18
14
7
5