Panama Canal (Full Transit)
To see discounted cruises that visit or depart from this port, use the Find a Bargain box on the left.
The Panama Canal is both an engineering masterpiece and a natural wonder. Connecting the Atlantic and Pacific oceans, the passageway crosses the huge, man-made Gatun Lake and the amazing Gaillard Cut, blasted out of solid mountainside. The great locks raise and lower your ship along a 50-mile waterway -- sometimes with just inches to spare on either side.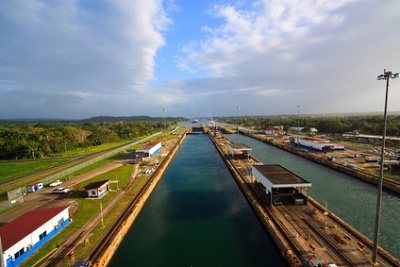 Language: Spanish
Currency: Panamanian Balboa (PAB), US dollar (US$)
Panama Canal (Full Transit) Weather
Jan
Feb
Mar
Apr
May
Jun
Jul
Aug
Sep
Oct
Nov
Dec
High
84
84
85
86
87
86
85
85
87
86
84
84
Low
76
76
76
77
76
75
75
75
75
74
74
75
Jan
Feb
Mar
Apr
May
Jun
Jul
Aug
Sep
Oct
Nov
Dec
High
29
29
29
30
31
30
29
29
31
30
29
29
Low
24
24
24
25
24
24
24
24
24
23
23
24
Jan
Feb
Mar
Apr
May
Jun
Jul
Aug
Sep
Oct
Nov
Dec
Inches
4
2
1
4
11
14
16
16
11
18
24
13
Centimeters
10
5
3
10
28
36
41
41
28
46
61
33
Jan
Feb
Mar
Apr
May
Jun
Jul
Aug
Sep
Oct
Nov
Dec
Days
7
5
4
5
15
17
19
18
18
19
22
16
Jan
Feb
Mar
Apr
May
Jun
Jul
Aug
Sep
Oct
Nov
Dec
Percent
79
78
77
79
86
87
88
88
87
88
89
85