Muara (Bandar Seri Begawan), Brunei
To see discounted cruises that visit or depart from this port, use the Find a Bargain box on the left.
The port of Muara is located 17 miles east of Bandar Seri Begawan, the only town of any size in the country. It is a neat, modern city, split into three main areas: the "old" 1950s-built central area, which is being redeveloped with new buildings around the Omar Ali Saifuddien Mosque; the Seri Complex, a commercial area on the way out to the Sultan's palace, which dates from the 1970s; and Gadong, with its newly built shopping center and numerous restaurants. BSB, or simply Bandar as the capital is commonly called, still features a sprawling maze of wooden houses built on stilts along the Brunei River. Muara is mainly known for its spectacular beach and fish market. On a clear day there are fine views across to Mount Kinabalu.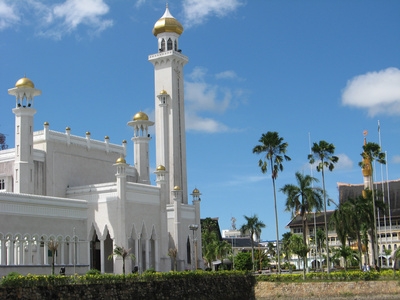 Language: Bahasa (Malay)
Currency: Brunei dollar (BND)
Muara (Bandar Seri Begawan), Brunei Weather
Jan
Feb
Mar
Apr
May
Jun
Jul
Aug
Sep
Oct
Nov
Dec
High
85
86
88
90
89
90
89
89
89
88
87
87
Low
75
75
75
75
75
74
74
74
74
74
74
74
Average
80
81
82
83
83
82
81
82
82
81
81
81
Jan
Feb
Mar
Apr
May
Jun
Jul
Aug
Sep
Oct
Nov
Dec
High
29
30
31
32
32
32
32
32
32
31
31
31
Low
24
24
24
24
24
23
23
23
23
23
23
23
Average
27
27
28
28
28
28
27
28
28
27
27
27
Jan
Feb
Mar
Apr
May
Jun
Jul
Aug
Sep
Oct
Nov
Dec
Days
19
14
14
18
21
17
20
19
22
23
25
23